Located right in the city's heart, Rainbow Street, originally named Abu Bakr al Siddiq Street, is one of the must-see places in Amman. It's the perfect place for a relaxing walk, while being surrounded by colorful decorations and funky cafes. Rainbow Street in Amman is a youthful destination where you'll find beautiful souvenir shops, amazing restaurants and a vibrant architecture.
This was the first place I visited in the city and I loved it. Amman is also known as the city of seven hills. Rainbow Street is located in Jebel Amman district, on top of the hill offering amazing views of the surrounding neighborhoods.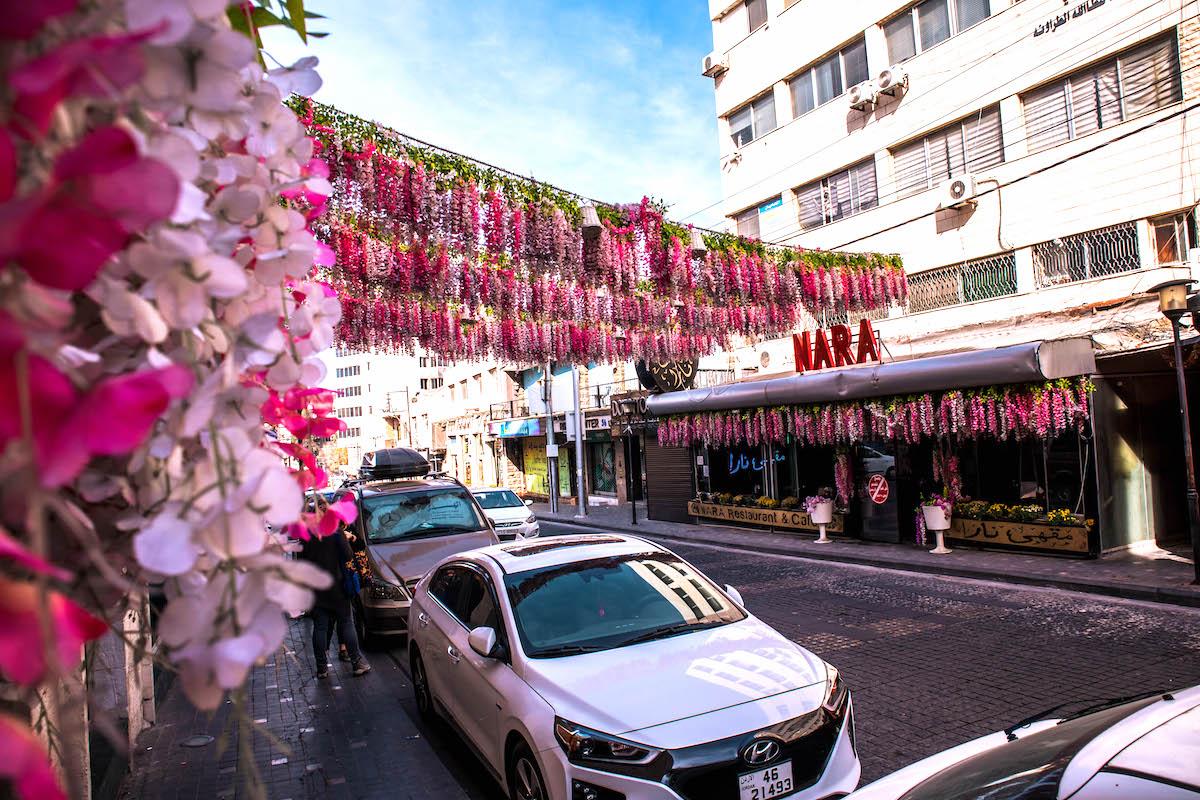 Whether you're visiting this colorful street in Amman for its nightlife or you prefer to visit it during the day, there's a lot to explore here. In this guide, I'll share everything you need to know when visiting this incredible place.
1. The best time to visit the Rainbow Street in Amman
You can either visit this street during the day or during the night. It's open 24/7. If you're looking for some fun and you want to experience the nightlife in Amman, I recommend visiting Rainbow Street during the night.
You'll find lots of bars and rooftop terraces where you can relax and have a great time. However, there are a few things you should keep in mind:
given the fact that Jordan is an Islamic state, try and dress conservatively even when going out during the night. It's recommended that both girls and boys should cover their shoulders and knees. Try to steer clear from revealing clothes if you're trying to avoid unwanted attention. Read more about the Jordanian dress code here.
In the Islamic world, the weekend is from Friday until Saturday. If you want to meet new people, I recommend visiting Rainbow Street during the weekend when it's the liveliest.
Even though you won't find many nightclubs on Rainbow Street, you'll find beautiful lounges where you can enjoy a shisha with your friends while listening to good music.
There are lots of activities to do during the day too. You can admire the street art, try one of the restaurants, shop for souvenirs or clothes, or simply take a walk and relax.
2. The best bars and lounges on Rainbow Street Amman
Here are some of the best lounges and bars on Rainbow Street for the nightlife enthusiasts.
These are just a few of the pubs and clubs near Rainbow Street in Amman, but now let's talk about the things you can do here during the day.
3. The best restaurants on Rainbow Street Amman
Most people come to Rainbow Street for a quick bite while catching up with friends. From pizza to burgers and local dishes, there is something delicious for every taste on Rainbow Street. Here are some of the best restaurants in the area: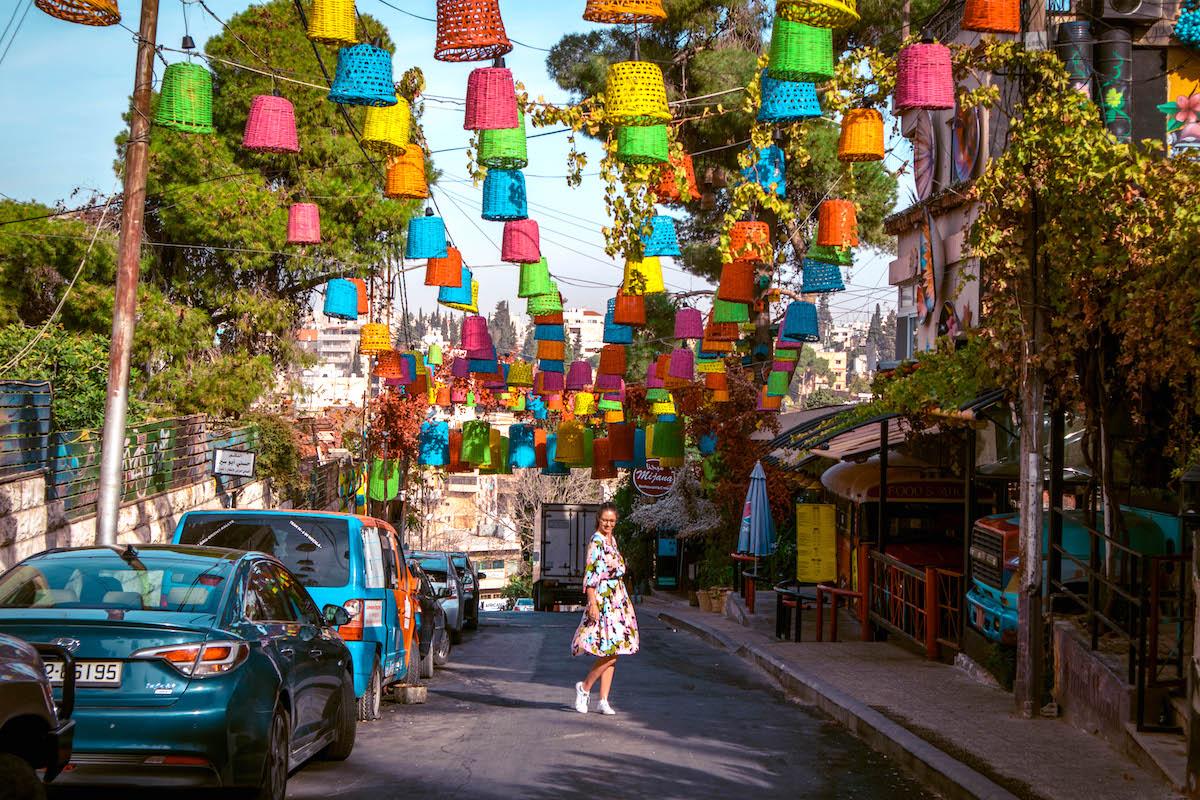 4. Other things to do at Rainbow Street Amman
4.1 Explore Souq Jara
From mid-May until the end of September, Souq Jara is located near the end of Rainbow Street. This open-air flea market is the perfect place to buy some souvenirs. The market opens at 10 am and closes late in the evening. There are lots of shops selling anything from small trinkets to clothes and decor items.
4.2 Visit the Wild Jordan Center
Owned by the Royal Society for the Conservation of Nature, Wild Jordan Center is home to a few restaurants, pubs and even a luxury boutique hotel. The center's purpose is to raise money for some of Jordan's nature reserves, such as Dana Biosphere and Wadi Mujib.
4.3 Admire the views
The best part about Amman Rainbow Street is its location. From the top of the hill you can admire the surrounding views. The houses in Amman all look pretty much the same – earthy color and built only on 2 or 3 levels. They blend perfectly in the scenery, creating a unique view.
There are many viewpoints in Amman, the best being Amman Citadel, but Rainbow Street is nearly as beautiful.
4.4 Taste something sweet
For those with a sweet tooth, I have the perfect place for you – Rawan Cake Rainbow. Here you'll find cakes, ice-cream and all kinds of sweets that will instantly brighten your day.
5. Rainbow Street entrance fee and opening hours
I have good news for you! The street is open 24/ 7 and there is no entrance fee! Rainbow Street is one of the free things to do in Amman.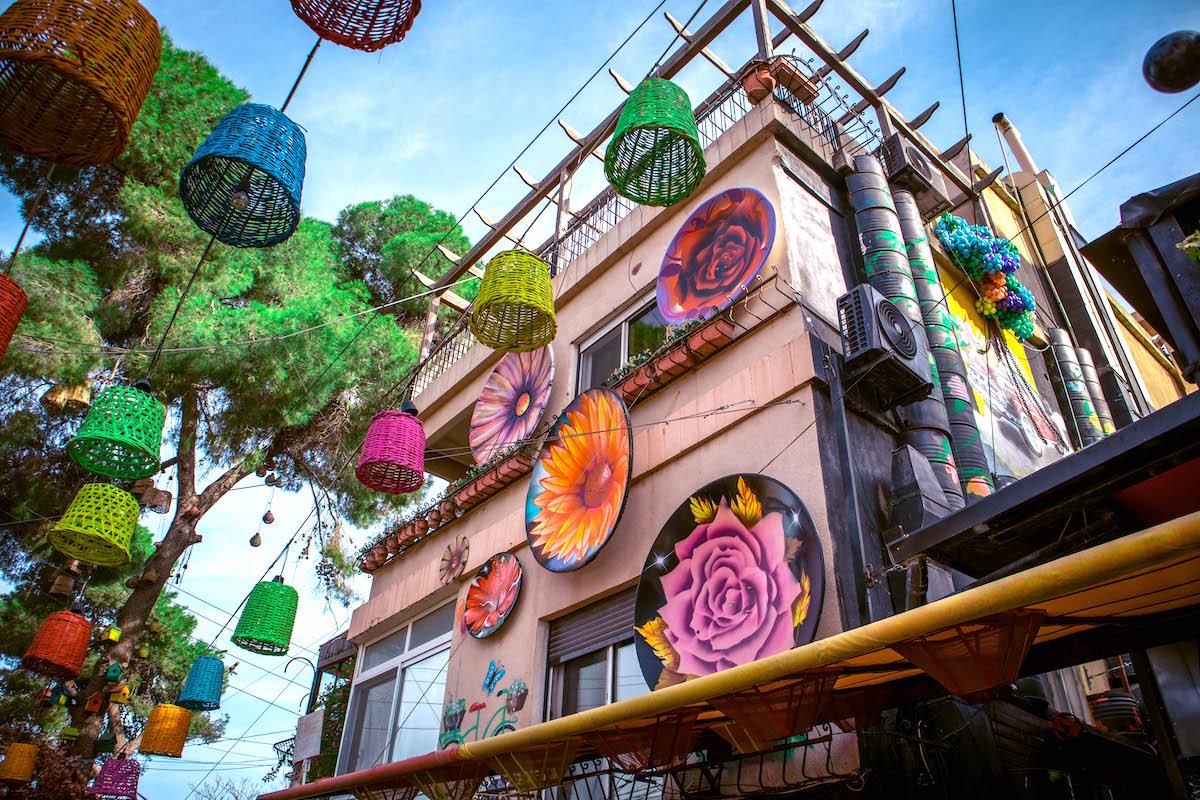 6. The best hotels near Rainbow Street Amman
There are lots of hotels to choose from near Rainbow Street. There are a few hostels for those traveling on a budget as well as luxurious hotels for those looking for a fancy place.
If you're looking for the best hotels near Rainbow Street, here are my recommendations:
Budget – Nomads Hotel – good location, friendly staff, clean and comfortable rooms, breakfast included
Mid-Range – Layaali Amman Hotel – modern and spacious rooms, beautiful terrace, great amenities, breakfast included
Luxury – Royal Villa Mira – spacious apartment with incredible terrace and views, clean rooms, good neighborhood
7. Final thoughts
Rainbow Street was one of the highlights of exploring Amman. It feels like a breath of fresh air from heavy traffic and chaotic streets. Amman is a busy city, where everything is constantly on the move. However, if you're looking for a quiet place with great restaurants and breathtaking views, head to Rainbow Street for an hour or two.
After visiting Jordan's capital city, it's time to move on and visit other incredible places. Float in the Dead Sea, explore the tombs of Petra and take a jeep tour in Wadi Rum!
If you have any questions about this colorful street in Amman, let me know in the comments section below. May the travel bug bite you!
Pin it for later!
Disclosure: Please note that this post may contain affiliate links. If you make a purchase through these links, I will earn a small commission at no extra cost to you. I only recommend companies and products that I trust and the income goes to keeping this website running. Thanks!