When planning our one-month trip to the Philippines, one of the places that I was the most excited about was Siargao. I was intrigued by this destination's raw beauty and natural sights and I wasn't disappointed.
After visiting Palawan, Bohol and Siquijor we finally arrived to this hidden corner of paradise. Siargao is an incredible island, known for its awesome surf waves, pristine beaches and sea of palm trees. I was lucky enough to explore it for a little over a week and one of the places that I had the chance to visit was the Instagram-famous Siargao Bent Palm Tree Swing.
This famous Siargao swing situated in the middle of the jungle, on the banks of Maasin River is one of the top attractions on the island together with the island hopping tours, Cloud 9 Beach and Pacifico Beach. Most people come here to take photos for their Instagram while others are intrigued by the unique bent palm tree.
In this travel guide I'll share with you everything you need to know when planning a visit to this famous palm tree in Siargao. Here's what you need to know!
1. Siargao Bent Palm Tree – what to expect
I'm sorry to disappoint you but one thing you should know from the start is that this famous photography location doesn't look exactly like in the photos. It's one of those places made famous by Instagramers who heavily edit their photos.
Don't get me wrong, the place is beautiful but don't expect it to be like in the pictures. Moreover, the Siargao palm tree swing is located close to a busy street, in a small village.
What looks like a secluded place in the photos is actually not that secluded. I'm not trying to convince you not to visit the bent palm tree, I just want to warn you that it doesn't look like in the photos.
When I visited, we arrived there early in the morning and there were only two other tourists. We parked our motorbike on the side of the road and passed below the bridge to get to the tree.
At the swing, there were a few local children who asked us if we wanted to use the swing. We passed the invitation since the water was very muddy. I don't remember exactly but I believed that it rained one day before.
Anyway, we took some photos and admired the children who climbed on the palm tree, grabbed the rope and jumped into the river. They were definitely pros, doing backflips and double backflips.
Is it safe to jump? Definitely yes! The river is about 2 meters deep.
Even if this is a tourist attraction and the children there did those tricks to impress the visitors and convince others to try the swing, for a few seconds I felt like I discovered a secret local playground.
Good to know – if you want to avoid the crowds, I recommend arriving at the Massin River Swing as early in the morning as possible. Some of the island tours include a stop at this swing and towards the middle of the day when the tours arrive, the place can get very busy.
2. Maasin River Swing entrance fee + renting a boat price
The entrance fee to the swing is 20 PHP and you will have to pay it as soon as you go down the bridge. When we visited, there was a local lady collecting the money.
If you want to rent a boat to paddle on the river, you'll have to pay another 150 PHP for one hour. There's also a beautiful bamboo raft that you can rent for another 20 PHP and take a photo.
There's also another option. You can rent a boat with a guide for 500 PHP and he will take you to a secret lagoon towards the end of the river.
We chose to pass this activity. I talked to a few travelers and they said it's not worth it. The lagoon is quite small and not too impressive.
No time to read now? Pin it for later!
3. How to get to the Siargao Palm Tree Swing
To get to the famous Siargao swing you have two options – you can either rent a motorbike and drive there or you can join a guided tour that includes a stop here. I'll tell you more about each option below.
Join a guided tour
If you want a hassle-free experience, I recommend joining a guided tour. For example, this top-rated tour includes stops at Magpupungko Rock Pools and the famous Coconut Road.
Rent a motorbike and drive by yourself
From General Luna to the Maasin Swing (for the exact location, click here) it's a 25-minute drive. Before arriving at the swing, you'll pass by the famous Coconut Tree Lookout Point.
We stopped at the Coconut Tree View Deck for a few minutes and took some awesome photos with our drone. There were a few local stalls selling snacks and drinks.
After admiring the views, we turned the first right, from the first village and took a short ride through the palm tree jungle. We were the only ones there, away from the crowds and enjoyed this place by ourselves.
How to rent a motorbike in Siargao?
The easiest way to rent a motorbike in Siargao is directly from your hotel or hostel. Make sure to ask your receptionist and he or she might be able to help you.
The price is usually set at 500 PHP per day but if you're booking your motorbike for more than one day, you can negotiate this price.
While exploring Siargao, we chose to rent a motorbike because it gave us the freedom to explore all the tourist attractions at our own pace.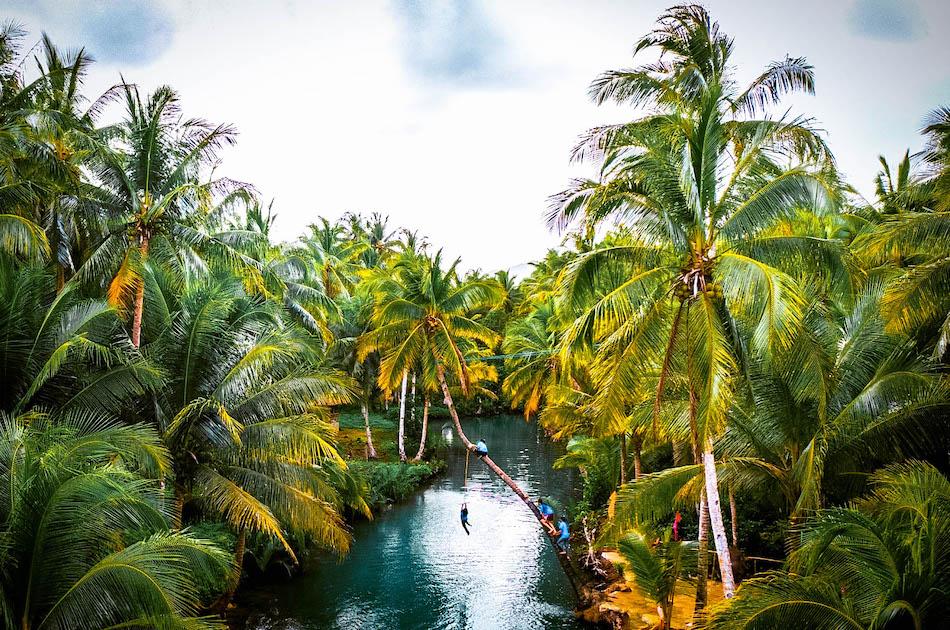 4. Where to stay in Siargao
Siargao is a big island but almost all hotels and hostels are located in General Luna. This is the biggest city on the island and the place where you'll find supermarkets, restaurants and ATMs.
Below are the best accommodation options for every budget. I chose only the top-rated hotels and hostels, with awesome reviews.
Budget – Ilakai Hostel – good location, clean rooms & bathrooms, friendly staff, good facilities, good value for money
Mid-Range – DomuMia Villa – good location, great amenities, awesome staff, clean and spacious rooms
Luxury – Las Palmas Villa – incredible pool, great location, luxurious rooms with amazing amenities, friendly staff, private and quiet
5. Final thoughts
Thanks to Instagram, Maasin Swing also known as the Bent Palm Tree Swing in Siargao is now one of the top attractions on the island. If you really want to have the place to yourself, aim to be there before 8 am when the groups of tourists start to arrive.
When planning a visit to this swing, remember that even if it doesn't look exactly like in the pictures it's still a beautiful place, worth visiting.
While in Siargao, you also need to go island hopping. If you're planning to visit the nearby islands, make sure to read my guide. Also, add Pacifico Beach to your itinerary!
May the travel bug bite you!
Disclosure: Please note that this post may contain affiliate links. If you make a purchase through these links, I will earn a small commission at no extra cost to you. I only recommend companies and products that I trust and the income goes to keeping this website running. Thanks!