I visited many incredible places in Bulgaria, but Nessebar is in my top three. This small peninsula, full of history, is the perfect place to spend a few days. Enjoy the beautiful views, the Black Sea and the delicious Bulgarian cuisine!
If you're planning a trip to Nessebar, I'm here for you! Below you'll find 15 incredible places you need to visit when in Nessebar. Let's get to it!
TOP Things to do in Nessebar
1. Visit the Archaeological Museum in Nessebar
If you're looking for awesome things to do in Nessebar, then make sure you visit the Archaeological Museum! It's the perfect place to learn about the town's history as there's a great collection of historical artifacts that date back to Nessebar's origin.
The Museum covers six different cultures; Ancient Greek, Bulgarian, Byzantine, Eneolithic, Roman, and Thracian so there's a lot to learn about! "Nessebar Down the Centuries" is one of the museum's permanent exhibits, and it details the journey of this ancient town.
Some of the great artifacts you'll get to see include golden jewelry, beautiful pieces of art, pottery, and marble. Although only small, this museum has so much to offer so make sure it's included in your itinerary.
-> For entrance fees, click here.
2. Take a boat tour
One of the best things to do in Nessebar is taking a boat tour, and I've got the perfect one for you! This 4-hour boat tour will take you along the Bulgarian coast and explore the bays of Nessebar, Ravda, and Pomorie.
You'll get to admire the area's beauty, swim in the black sea, and sunbathe on the deck during this tour, so it's the perfect way to relax. This tour also includes a BBQ on the deck and unlimited drinks from the bar so is great value for money! You'll also get to learn about the area's wildlife and ecosystem.
3. Visit the Church of Christ Pantocrator
The Church of Christ Pantocrator is one of the most popular places to visit in Nessebar. With its extensive history, remarkable architecture, and intricate ornaments – it's not hard to see why!
It's not only one of the most beautiful churches in Nessebar, but it's also one of the best-preserved too. Dating back to the 13th or 14th century, the Church of Christ Pantocrator is a must-visit during your trip to this incredible city.
Although the church is spectacular from the outside, you can also explore the interior where you'll get to see arched windows and traces of mural paintings. There's also a medieval tomb found underneath the church floor, so allow yourself plenty of time to explore.
4. Have fun at Aquapark Nessebar
Everyone loves a good waterpark, so make sure you head to Aquapark Nessebar. It's perfect for a family day out, and is home to the largest variety of water attractions in Europe!
With 38 slides, 60 different water attractions, and plenty of springboards – you can easily spend a full day here. There are also plenty of pools including a spa pool, wave pool, the lazy river, and the rafting river.
However, the highlight of Aquapark Nessebar has to be its 'extreme' attractions. This includes the Dragero, Looping Rockets, Kamikaze, and the surf simulator.
The park is also home to the Space Shuttle which is the longest slide in Europe and the King Cobra water slide. Just keep in mind height and age requirements apply!
5. Admire the Old Windmill
The Old Windmill is found at the entrance to Nessebar's old town. It's one of the city's most iconic landmarks and is one of the most photogenic locations in Nessebar.
This black sea-style windmill is estimated to be from the Bulgarian revival period, although its construction date is unknown. Actually, not much is known about this windmill at all so it's one of the town's many mysteries.
However, it's still a great spot to visit so if you're looking for Nessebar attractions then don't miss out on this windmill. There are a couple of benches located nearby too, so you can sit back and enjoy the sea views during your visit.
6. Visit St. Stephen's Church
Nessebar is full of incredible churches, and St. Stephen's Church is one of them! If you're wondering what to do in Nessebar Old Town, make sure this church is at the top of your list.
Dating back to the 11th-13th century, St. Stephen's church has plenty of history and was later elongated during the 16th century. The church's interior remains how it was back during the 16th century, so as you walk through the doors you'll honestly feel like you've stepped back in time.
Inside, there are 258 murals and over 1000 paintings that depict scenes from the 'Miracle of Christ'. This church is one of the most important cultural sites in Bulgaria and is a true wonder to behold. 
-> For entrance fees, click here.
7. Take a day trip to Ravadinovo Castle
Visiting Ravadinovo Castle is the perfect day trip from Nessebar! It feels like you're walking into a fairytale, as you wander past picturesque towers, beautiful gardens, and stunning lakes. 
Ravadinovo Castle was built in the 1990s, and additions are still being made to it even now! Also known as 'In Love with the Wind', this is easily one of the most beautiful places in Bulgaria.
To make the most of your visit to this stunning castle I'd recommend allowing at least 2-3 hours. This gives you enough time to marvel at the castle, walk around the grounds, and visit some of the other popular attractions including the small zoo, and the wishing well.
8. Visit the Church of Saint Sophia
The Church of Saint Sophia is also known as 'The Old Bishopric' and 'Hagia Sophia Basilica'. It dates back to the 5th century and is one of the most important cultural spots not just in the Baltics, but across the whole of Europe.
The church was eventually deserted in the 1800s, but until then it was an important place of worship. Not only is this church one of the most popular Nessebar tourist attractions, but it's also one of the oldest.
Parts of the Old Bishopric are reasonably well preserved so you can still see some of its archways and stone pillars. This is one of the top places to visit during your trip to Nessebar!
9. Eat at Cabar Ship Restaurant
You won't be short of dining options in Nessebar, but I recommend heading to Cabar Ship Restaurant. As the name suggests, the restaurant is set on an old ship and offers stunning views of the Black Sea.
Just make sure you save your visit for a clear day, as there's no cover apart from some table umbrellas! There are plenty of choices when it comes to food, and it's also the perfect place to grab a cheap beer if you're a fan of alcohol.
With stunning sea views, unique decor, and cheap food – what more do you need? The restaurant is also situated within Nessebar's old town so it's close to the major tourist attractions.
10. Spend a few hours on the small Nessebar beach
If you're heading to Nessebar to relax, then make sure you spend a few hours at this beach. It's located in the old town, just a 3-minute walk from Cabar Ship Restaurant.
Although the beach is small, it's very sheltered and there are no waves here making it perfect for families with small children. It's also possible to hire sun loungers and umbrellas here if you're looking to make a day of it. 
There's even a beach bar where you can grab a drink too, so what else do you need?
11. Admire the wooden houses
If there's one thing Nessebar is known for, it's the unique architecture. Many of the houses within the old town date back to the 18th and 19th centuries and their upper level is made of wood.
They have a unique story behind them as the ground floors used to house livestock, whilst the upper level housed people. All the old houses have a very unique design, and they are photogenic too – especially during the early morning when there aren't too many people around.
Trust me – it's nothing like you've ever seen before and you'll want to allow some time to simply just wander around.
12. Get lost on the narrow streets and shop for some souvenirs
There's no better way to explore a destination than walking around a town's narrow streets. This way you can admire the unique architecture, and take your time exploring the beauty and charm of the area.
Nessebar has been around for over 3,000 years making it one of the oldest towns in Europe. So, there are plenty of charming and historic alleyways to wander through! You'll also find lots of small gift shops and vendors throughout the old town where you can grab a souvenir to remember your trip.
13. Enjoy the nightlife in Sunny Beach
Sunny Beach is the most popular holiday resort in Bulgaria and is found on the Black Sea Coast. It's also one of the biggest and offers a variety of water-sports, water parks, and activities such as mini-golf.
However, it's probably most famous for its nightlife as it's one of the best party destinations in Europe. You'll find endless bars and clubs in this area, and many of them offer themed nights and cheap alcohol.
Flower Street is the main strip of Sunny Beach, and this is where you'll find the best bar crawls and drink offers.
14. Take a walk along the Nessebar promenade
Nessebar peninsula is surrounded by a beautiful, wide promenade. Take a walk at sunset and admire the sea, the old houses and the harbour. You'll pass by the Basilica of the Holy Mother of God Eleusa, which is a former monastery and many other beautiful sites.
After a day of sightseeing in Nessebar, taking a walk on the promenade is the best idea!
15. Take a day trip to Varna
Varna is one of the most beautiful cities in Bulgaria. Full of historical sites, tourist attractions and beautiful beaches, Varna is a must-see!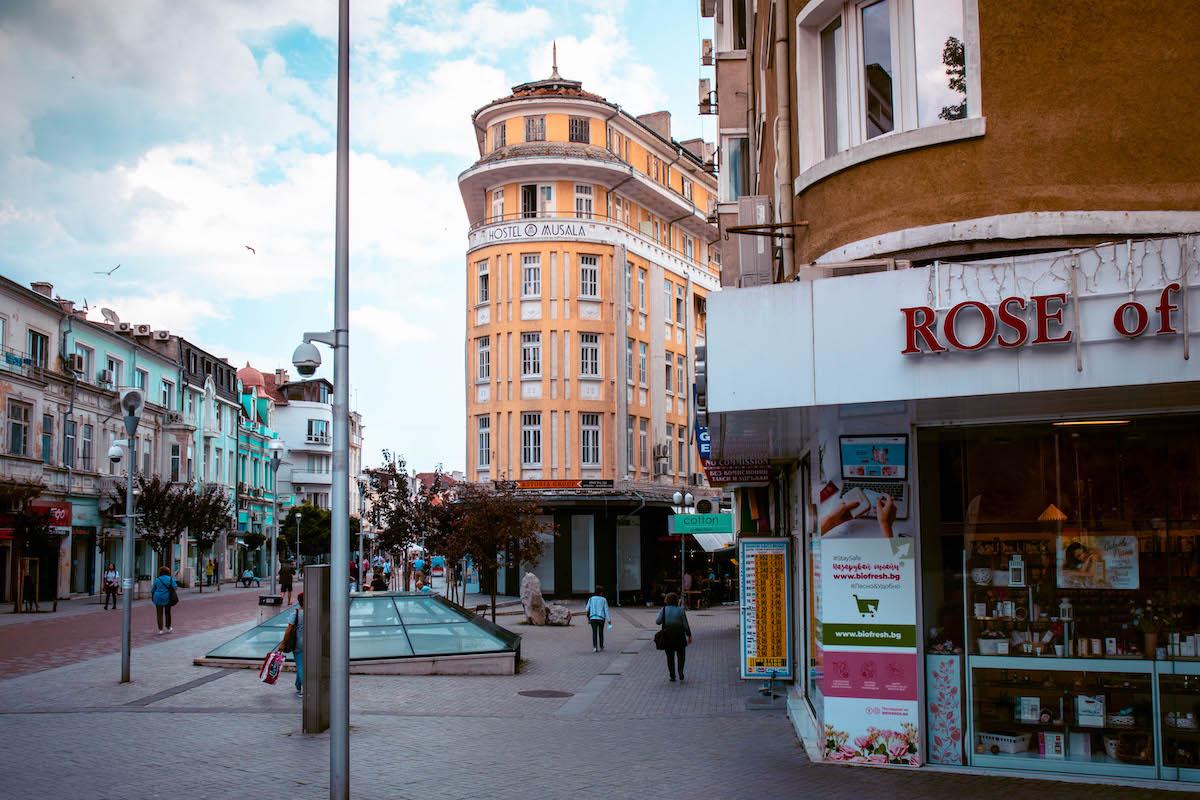 You can visit Varna in just one day and here are some of my favorite places in the city – Dormition of the Mother of God Cathedral, Varna Opera, the Roman Baths, Euxinograd Palace and the Petrified Forest.
To get to Varna from Nessebar, I recommend renting a car (2 hours one way).
Where to stay in Nessebar
The old Nessebar is rather small, but there are plenty of accommodation options available. I've been searching for the best hotels and guesthouses for every budget and here are my recommendations.
Budget – Daniel Guest House – clean rooms, good location, private bathroom, good amenities, good location
Mid-Range – Guesthouse Zanier – modern, spacious and clean rooms, lovely hosts, good location
Luxury – Aphrodite Beach Hotel – excellent location, incredible pool, spacious rooms with sea view and balcony, restaurant with Bulgarian cuisine
Final thoughts
Nessebar is one of the most beautiful places in Bulgaria. It has beautiful beaches, incredible historical sites, amazing restaurants and breathtaking views. If you're planning to visit it, I hope that this guide helped you plan your trip.
If you have any questions, don't hesitate to ask me in the comments section below. May the travel bug bite you!
Pin it for later!
Disclosure: Please note that this post may contain affiliate links. If you make a purchase through these links, I will earn a small commission at no extra cost to you. I only recommend companies and products that I trust and the income goes to keeping this website running. Thanks!