I have spent 4 days in the land of fire and ice and I loved every single minute of it! It's so hard to decide which place I liked the most because every single piece of Icelandic land is unique and gorgeous. From infinite hills to abrupt mountains, it is all full of beauty! 
Are you planning a road trip around Iceland? Check out these life-saving tips & tricks.
I'll do my best and I'll name my top 5 must see places in Iceland below:
1. Jokulsarlon Glacier Lagoon
Jokulsalron is a glacial lake at the edge of Vatnajokull National Park. The lake was formed because of melting of the glaciers. Visiting Jokulsarlon is a breathtaking experience and a wake up call in the same time. Seeing first hand the impact of climate change will make you think twice about contributing to it.
However, the beauty of this place is just beyond imagination! I remember when I was a little girl, watching TV documentaries about glaciers and thinking how awesome it would be to see one. Watching the seals swimming between the big chunks of ice is definitely a once in a lifetime experience. If you are lucky enough to also see the Northern Lights, you've hit the jackpot!
Read more about the best time to see the Northern Lights in Iceland here.
2. Vik Black Sand Beach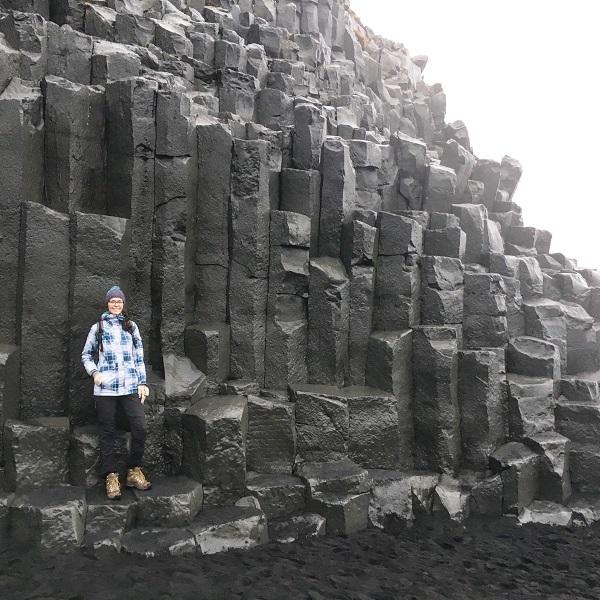 The black sand combined with the basalt columns make Vik a trully unique place. Just make sure the be careful about the waves. The waves at Vik Beach are known as sneaker waves. Even though it might seem that it is safe to get near them, it is not. Keep a decent distance from the sea and enjoy the beautiful landscape. 
Check out this amazing 7-day itinerary in Iceland.
3. The Blue Lagoon
Many people say that the Blue Lagoon is overrated but can you actually leave Iceland without going? Personally, I loved the lagoon. The milky hot water combined with the surrounding black rocks create a spectacular view. After a day full of sightseeing, the Blue Laggon was an oasis of relaxation. Don't forget to also try the silica mud mask!
Even though you are traveling to Iceland during winter, do not forget to bring your swim suit – the Blue Lagoon is open all year long!
Read my 20 Iceland tips and tricks here.
4. Skogafoss Waterfall
With so many beautiful waterfalls, it was a challenge to choose my favorite one but I think I'll go with Skogafoss. The waterfall combined with the moss covered hills make for the perfect photo. Although it is not the biggest one, it has it's own charm and beauty.
5. Reykjavik
I know you will be tempted to spend less time in Reykjavik and more seeing the wonders of Iceland but the city is actually beautiful and unique and it deserves a full day of sightseeing. You can visit the Hallgrímskirkja, and the beautiful streets in the city center or even visit the Open Air Museum where you will get the chance to see traditional Icelandic homes. Also, let's not forget about the Harpa!
With so many beautiful places it is tough to choose only 5 but I did my best. I hope that Iceland is on your travel bucket list. If not, make sure to add it and visit it as soon as possible. Tourism is on the rise and soon you might not be able to enjoy all these beautiful places by yourself. I hope you have enjoyed my top 5 must see places in Iceland.
May the travel bug bite you!
More about Iceland:
Pin it for later!