Slovenia is a beautiful country with lots of incredible places to discover, some of them more popular, others hidden from the eyes of tourists. If you're planning a backpacking trip in the Balkans, you need to visit Slovenia too.
You'll discover breathtaking mountains, pristine beaches, stunning waterfalls and many other incredible places. If you're planning to visit this country, I'm here to help you plan your trip.
I've carefully selected the top 10 things you need to know when planning to backpack in Slovenia. Here they are!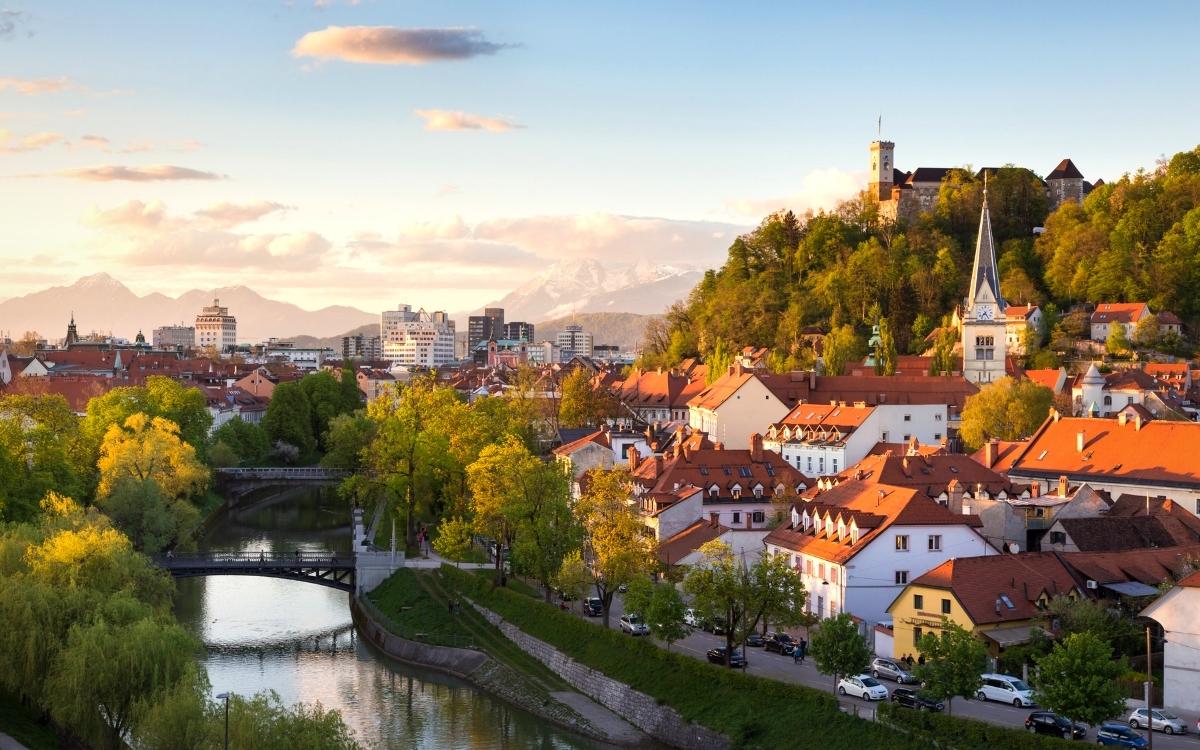 Backpacking in Slovenia – tips & tricks
1. Tipping in Slovenia
I'll start with some good news – you don't have to tip in Slovenia. However, small tips are always appreciated. When going to a restaurant or a guided tour, tip only if you feel like it. When using taxis, round up the sum you have to pay. For more advice about the tipping etiquette in Slovenia, click here.
2. Travel off-season to save money
If you can, avoid backpacking in Slovenia during summer. Try visiting this beautiful country during the shoulder season or even winter. You'll find lots of things to do and you'll save a lot of money!
During the shoulder season, prices for hotels, food and other tourist activities go down. Also, there won't be that many tourists around. You'll be able to explore popular destinations such as Lake Bled without worrying about the hordes of tourists.
3. Get off the beaten path
The best advice I can give you when visiting Slovenia is to get off the beaten track. I know everyone visits Lake Bled and Ljubljana but what about Cerknica Lake, Lake Bohinj or Skofja Loka? There are so many beautiful, hidden gems in Slovenia!
4. Take advantage of free walking tours and free museums
If you want to visit Slovenia on a budget, you have to search for free walking tours. You can find many such tours in Ljubljana and at Lake Bled. Of course, a small donation is always welcomed.
Another way to save money is to visit free museums. For example, the entrance fee to the Slovene Ethnographic Museum in Ljubljana is free every first Sunday of the month. Also, most museums in the country have free entrance on International Museum Day (18th of May).
No time to read now? Pin it for later!
5. Hitchhiking in Slovenia
Even though it's not as popular as it once was, hitchhiking in Slovenia is still doable. Most locals speak English and they'll be more than happy to help you get to your destination. Hitchhiking is always a great way to make friends but always be aware of surroundings and take care!
6. Try the local food!
I'm sure that backpacking in Slovenia will be an amazing adventure and while exploring this amazing country, you'll need a lot of energy. For those with a sweet tooth, I recommend trying the famous Kremsnita. It was invented in the Bled area so if Lake Bled is on your itinerary, make sure to try it.
Another dish I recommend trying is Struklji which is similar to rolled dumplings, served as a side dish for meat or sausages. For more delicious Slovenian dishes, click here.
7. Don't confuse Slovenia with Slovakia
As a backpacker in Slovenia, you'll most probably make a lot of friends. Locals are very friendly and they're eager to bond with people visiting their country. Whatever you do, don't mistake Slovenia for Slovakia. They're two different countries and even if their names are quite similar, it's not cool to mistake them for one another.
8. Have a drink but don't get drunk
When it comes to alcohol consumption, Slovenia is one of the top countries in Europe. It is estimated that each adult consumes between 10 and 13 litres of pure alcohol per year which, by any standard, is quite a lot.
Slovenia is famous for its wines, craft beer and schnapps. Schnapps is also called zganje by locals and you can find it in most bars around the country. It comes in different flavours – peach, pear and even lemon.
9. Head to the beach
When it comes to summer destinations even the locals prefer Croatia but Slovenia has many beautiful beaches that are worth visiting. Some of the best beaches in the country include Piran Beach, Portoroz Beach and Izola Beach.
10. Create some incredible memories!
Backpacking in Slovenia is incredible! It gives you the freedom to be the master of your itinerary and make lots of friends along the way! Have fun while exploring the beautiful destinations in this country and create some unforgettable memories!
If you're planning to backpack Croatia next, I wrote a detailed guide that includes all the info you need to know about this country. Check it out here!
Final thoughts
Backpacking is fun but whatever you do, always take care of yourself. Slovenia is a wonderful destination and it has a lot to offer to every kind of tourist. Those passionate about hiking can go to the Alps, those who like the city life can head to Ljubljana and those who love beaches can go to Piran.
If you'd like to read about Slovenia's hidden gems, make sure to check out this post. I hope that this guide about backpacking in Slovenia was an interesting read.
If you have any questions, make sure to ask me in the comments section below. May the travel bug bite you!

Disclosure: Please note that this post may contain affiliate links. If you make a purchase through these links, I will earn a small commission at no extra cost to you. I only recommend companies and products that I trust and the income goes to keeping this website running. Thanks!