Travel makes us more understanding and more aware. It sets us free and shows us how diverse and spectacular this world is. If there is one thing that travel taught me, it would be to be more patient and more grateful for everything I have.
I traveled to over 40 countries and made friends all around the world. Even though travel is not always easy, I always look forward to my next adventure. Exploring the world is a blessing and experiencing the cultural diversity of this Earth is priceless.
These short travel quotes will inspire you to travel and be adventurous, to take risks and live like there is no tomorrow. Here are the 65 best short travel captions.
1. Short Travel Friendship Quotes
For those who are looking for short quotes about traveling with friends, these unique captions will inspire you to cherish the friends you have and spend as much time as possible with them. Traveling with friends is always a good idea and the memories you create will last forever.
No time to read now? Pin it for later!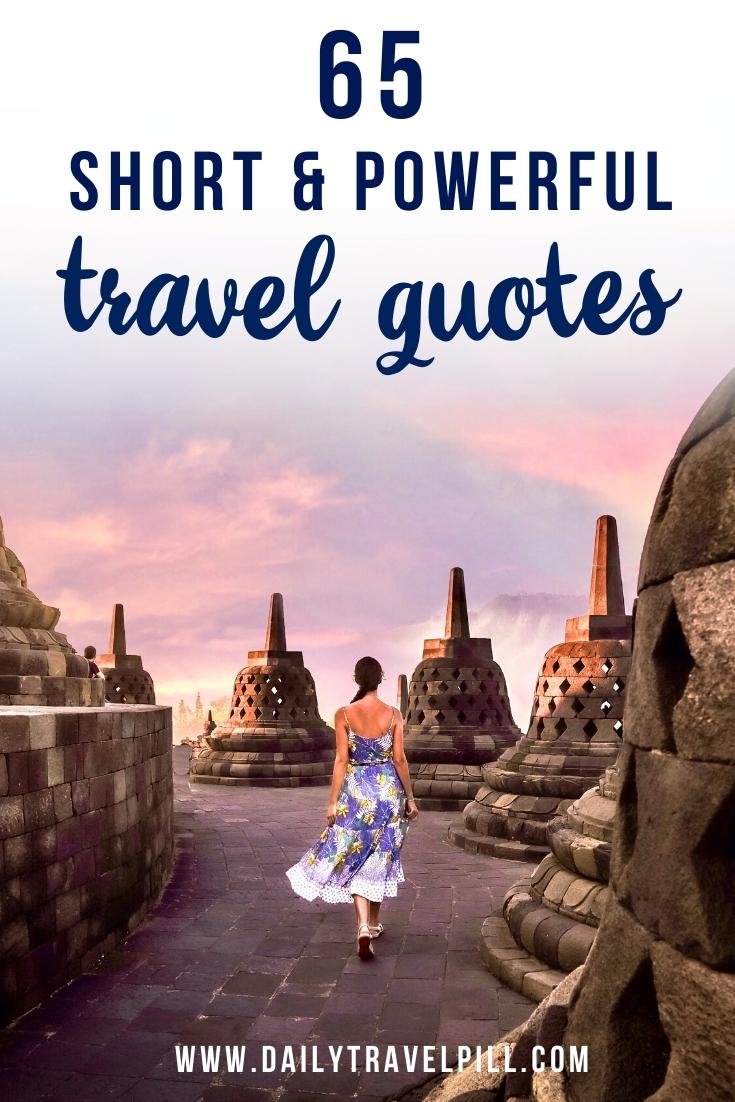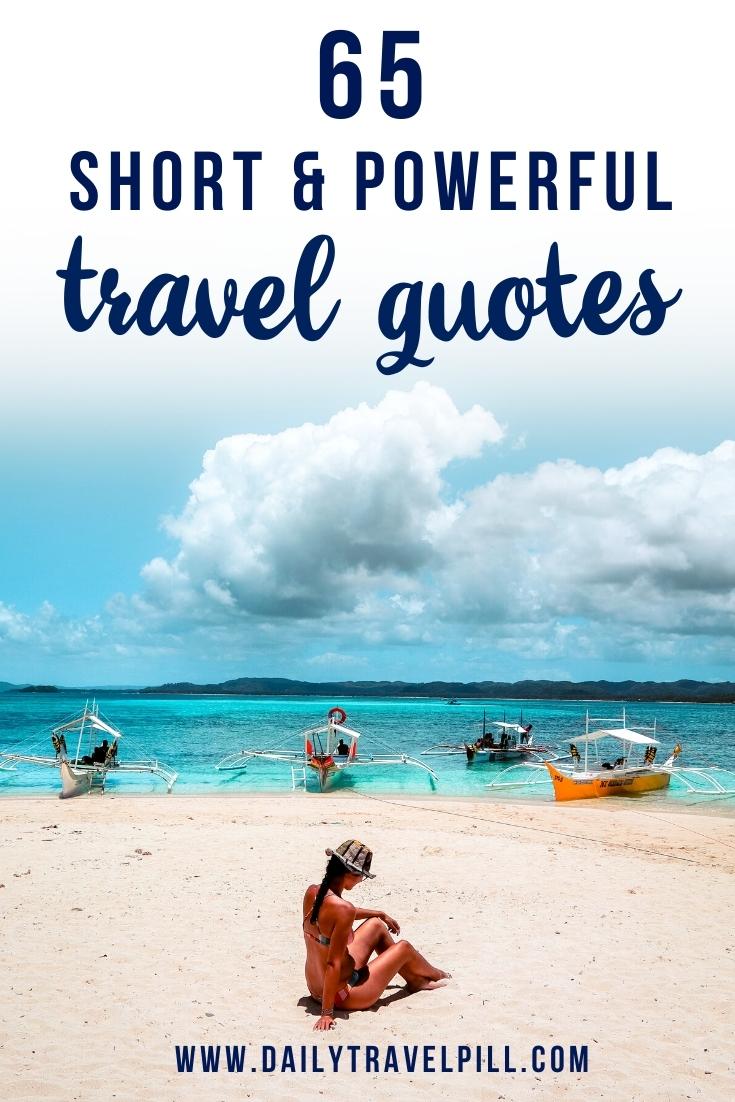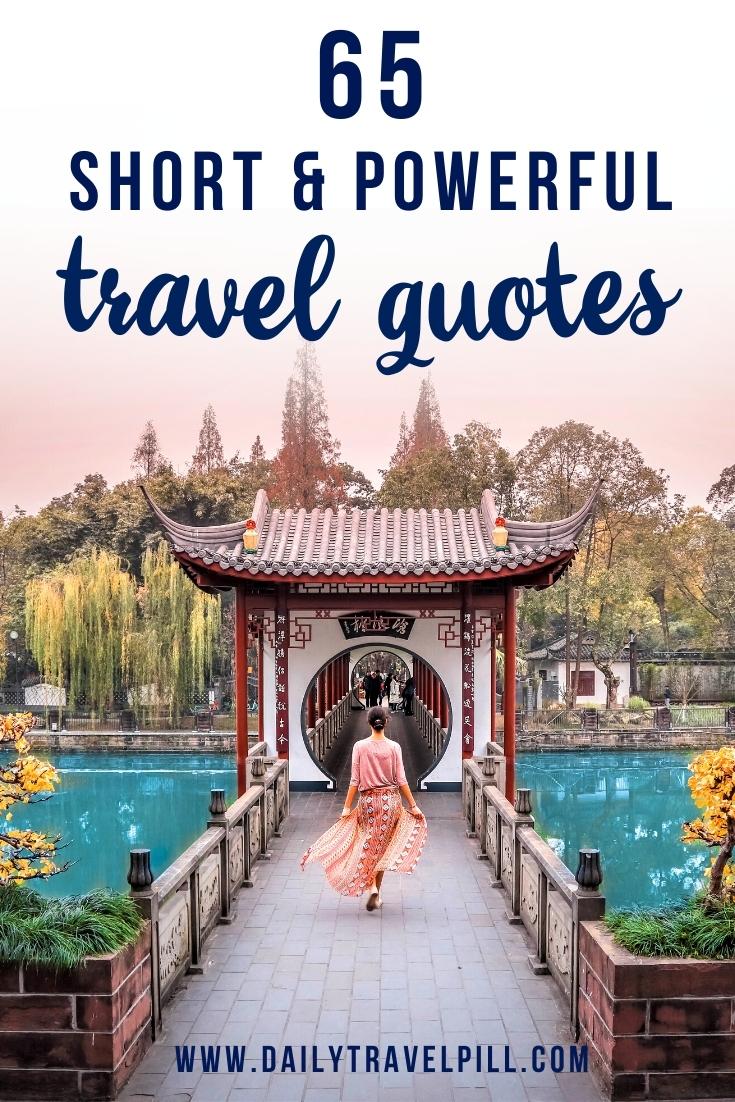 "In life, it's not where you go, it's who you travel with." – Charles Schulz
"Travelling in the company of those we love is home in motion." – Leigh Hunt
"Life was meant for great adventures and close friends." – Anonymous
"Let's find some beautiful place to get lost." – Anonymous
"There is an unspoken bond you create with the friends you travel with." – Kristen Sarah
"We travel not to escape life, but for life not to escape us." – Robyn Yong
"A journey is best measured in friends, rather than miles." – Tim Cahill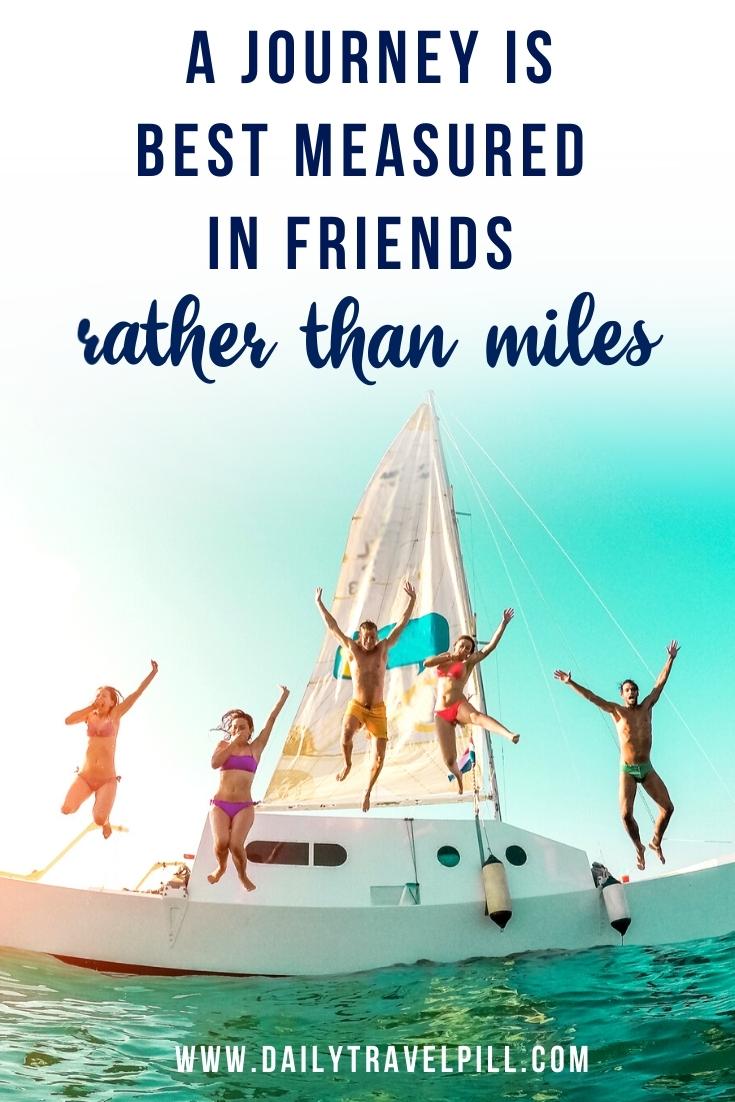 "Good company in a journey makes the way seem shorter." – Izaak Walton
"There is a whole world out there. Pack your backpack, your best friend and go." – Anonymous
"We'd rather have a passport full of stamps than a house full of stuff." – Anonymous
2. Short Couple Travel Quotes
Are you planning to travel with your loved one? These short quotes about couple travel are everything you need! Share these with your partner and duel his or her wanderlust! Enjoy reading!
"Happiness is planning a trip somewhere new, with someone you love." – Marty Rubin
"We followed our hearts, and it led us to the airport." – Anonymous
"Love is the food of life, travel is dessert." – Anonymous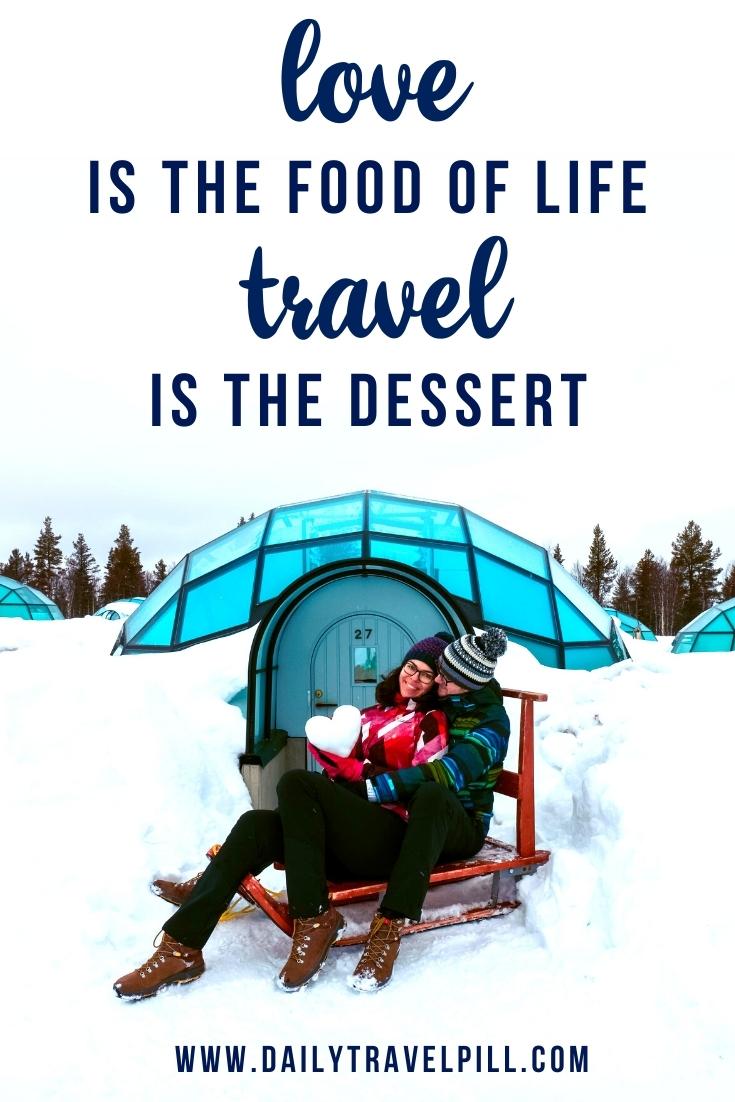 "We have nothing to lose and a world to see." – Rainie Rainie Navarro
"I would gladly live out of a suitcase if it meant I could see the world with you." – Anonymous
"Let's change the world, one adventure at a time." – Anonymous
"As soon as I saw you, I knew you would be an adventure of a life time." – Winnie the Pooh
"Hold my hand & I'll go anywhere with you." – Anonymous
"When traveling with someone, take large doses of patience and tolerance with your morning coffee." – Helen Hayes
"Home is wherever I'm with you" – Edward Sharpe and the Magnetic Zeros
"You keep me safe, I'll keep you wild." – Anonymous
"Love is being with you anywhere." – Anonymous
"To the world, you may be one person, but to one person you may be the world." – Dr.Seuss
"We haven't been everywhere, but it's on our list." – Susan Sontag
3. Short Adventure Travel Quotes
Are you and adventurer? Do you like hiking, cliff jumping and other adventurous activities? If the answer is yes, these short adventure travel quotes are perfect for you. Use them as captions for Instagram or Facebook or simply let them inspire you to plan your next adventure!
"If it scares you, it may be a good thing to try" – Seth Godin
"Life begins at the end of your comfort zone" – Neale Donald Walsch
"Love is meant to be an adventure." – Gordon B. Hinckley
"Borders? I have never seen one. But I have heard they exist in the minds of some people." – Thor Heyerdahl
"Jobs fill your pocket, adventures fill your soul" – Jaime Lyn Beatty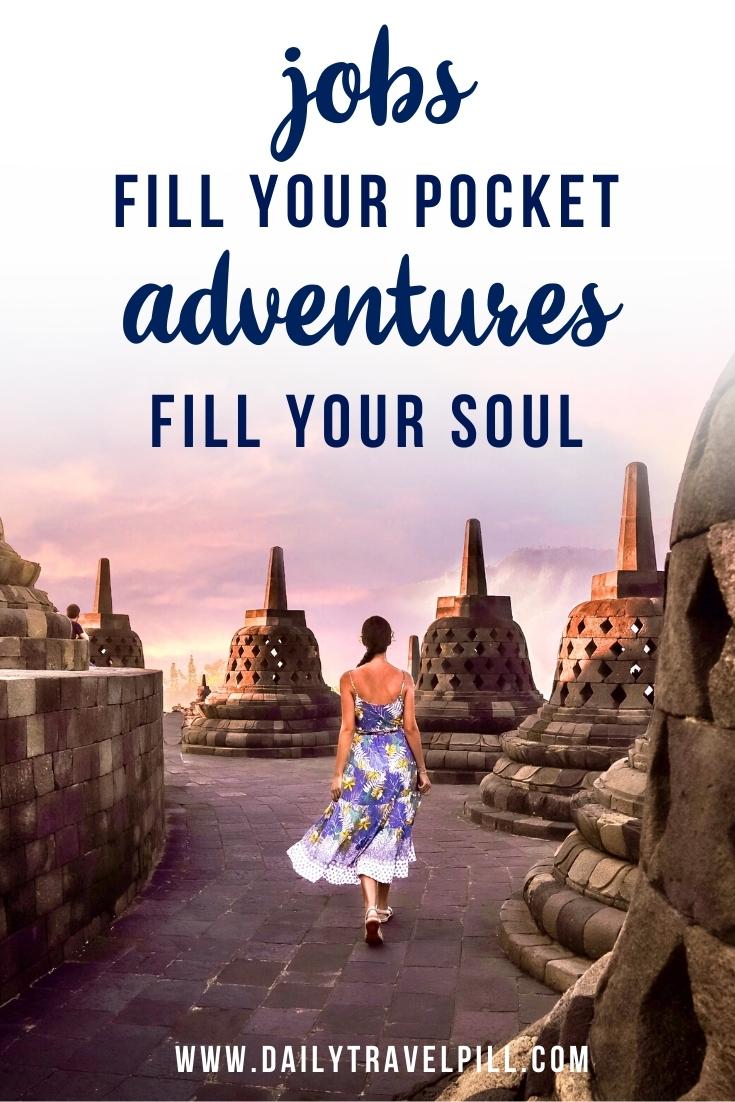 "The biggest risk in life, is not taking one" – Mark Zuckerberg
"Oh Darling, Let's Be Adventurers." – Anonymous
"Life is either a daring adventure or nothing at all." – Helen Keller
"If you think adventure is dangerous, try routine. It's lethal." – Paulo Coelho
"Adventure may hurt you but monotony will kill you." – Anonymous
"The biggest adventure you can ever take is to live the life of your dreams." – Anonymous
"A ship in harbor is safe, but that is not what ships are built for." – John A. Shedd
4. Short Vacation Quotes
These short journey quotes are some of the most inspiring and powerful travel quotes you'll ever read. If you're planning your next vacation, these words of wisdom are what you need!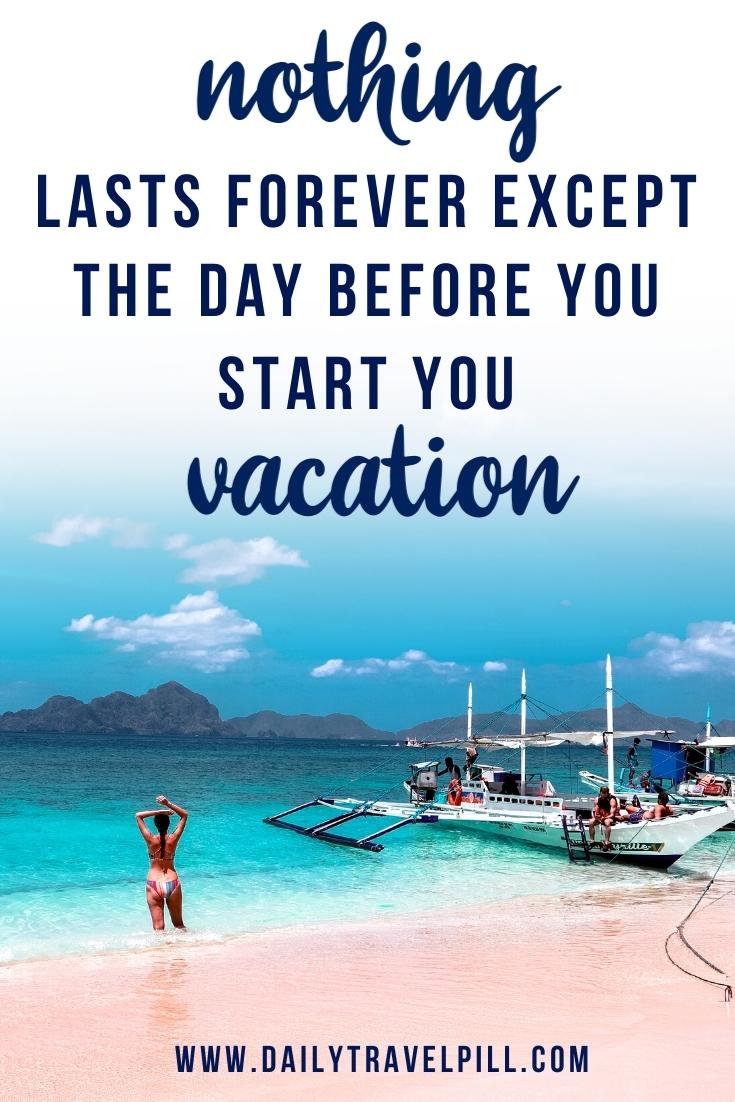 "Nothing lasts forever, except the day before you start your vacation." – Gayland Anderson
"Fancy clothes and diamond rings? No, honey. Passport, tickets, and a backpack." – Anonymous
"Blessed are the curious for they shall have adventures." – Lovelle Drachman
"To me, travel is more valuable than any stupid piece of bling money can buy." – Raquel Cepeda
"All good things are wild and free." – Henry David Thoreau
"When was the last time you did something for the first time?" – John C. Maxwell
"The traveller sees what he sees. The tourist sees what he has come to see." – G.K. Chesterton
"You don't have to be rich to travel well. " – Eugene Fodor
"Life is short and the world is wide." – Anonymous
"Paris is always a good idea" – Audrey Hepburn
"To travel is to discover that everyone is wrong about other countries." – Aldous Huxley
"You'll miss the best things if you keep your eyes shut." – Dr. Seuss
"Live your life and forget your age." – Norman Vincent Peale
"The most beautiful thing in the world is, of course, the world itself" – Wallace Stevens
5. Short Travel Quotes for Instagram
Are you looking for short ravel captions for you Instagram posts? Look no further! These short quotes about traveling will inspire your followers to dream about exotic destinations and book their next trip. Enjoy reading!
"I'm gonna tell my momma that I'm a traveler, I'm gonna follow the sun" – Parov Stelar
"If we were meant to stay in one place, we'd have roots instead of feet" – Rachel Wolchin
"Freedom. Only those deprived of it know what it really is" – Timothy Cavendish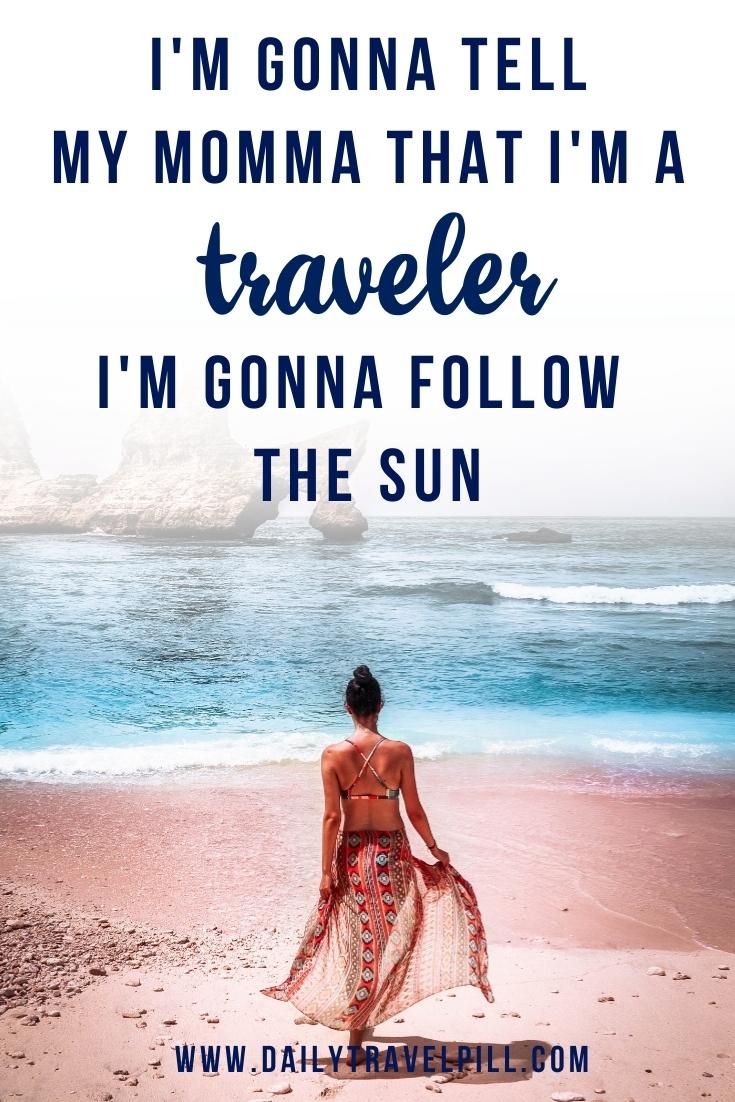 "Be fearless in the pursuit of what sets your soul on fire." – Jennifer Lee
"I am not the same, having seen the moon shine on the other side of the world." – Mary Anne Radmacher
"Travel is never a matter of money but of courage." – Paolo Coelho
"The goal is to die with memories not dreams." – Anonymous
"Travel makes one modest, you see what a tiny place you occupy in the world" – Gustave Flaubert
"The world is big and I want to get a good look at it before it gets dark." John Muir
"Whatever is good for your soul, do that." – Anonymous
"Wherever you go becomes a part of you somehow." – Anita Desai
"Let's wander where the wifi is weak." – Anonymous
"Life itself is a privilege. But to live life to the fullest – well, that's a choice." – Andy Andrews
"To live is the rarest thing in the world. Most people just exist." – Oscar Wilde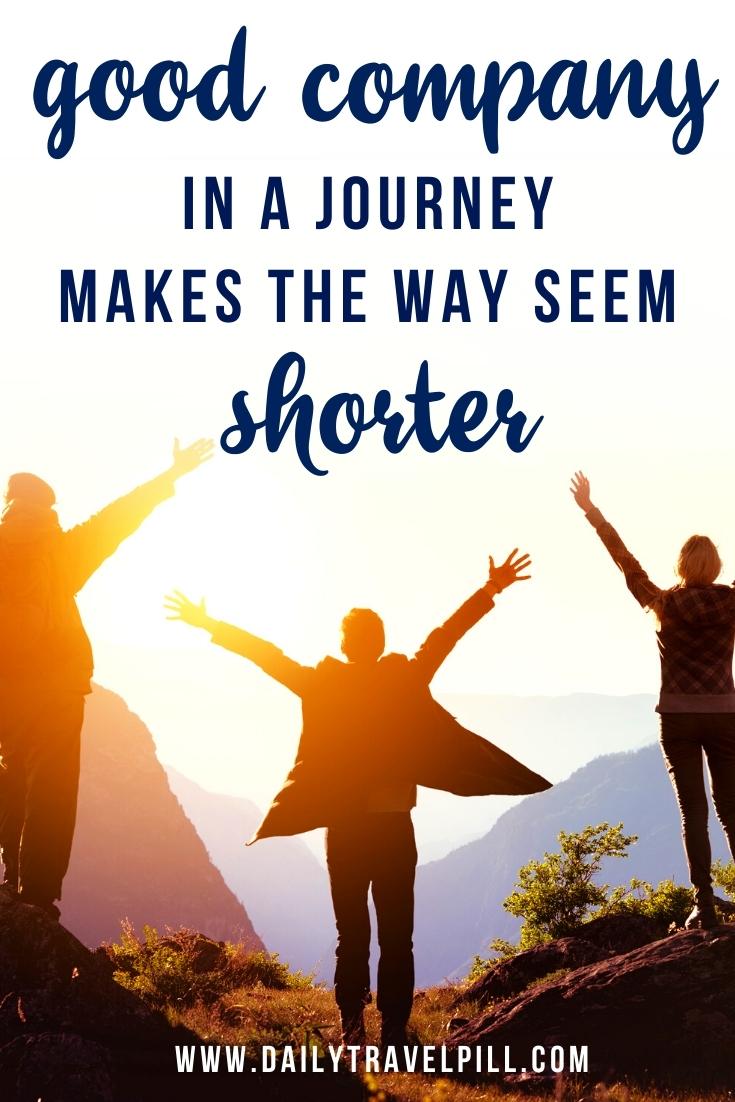 6. Final thoughts
I hope that these short getaway quotes inspired you to travel and be adventurous. A few years ago I decided to travel full-time with my boyfriend, Dan, and it was the best decision ever. We visited more than 40 countries together and we're currently planning our next adventure.
If you'd like to read more about the destinations we visited, click here. I wrote hundreds of travel guides about countries like Portugal, Indonesia, the Philippines and many others.
Let me know if you liked these short travel sayings in the comments section below. May the travel bug bite you!
Disclosure: Please note that this post may contain affiliate links. If you make a purchase through these links, I will earn a small commission at no extra cost to you. I only recommend companies and products that I trust and the income goes to keeping this website running. Thanks!