Yogyakarta is one of the most beautiful destinations in Java. It's a city full of history, known for its iconic Buddhist temples, delicious cuisine and historical landmarks. This city is one of the most popular destinations in Java and for a good reason.
There are many places worth exploring, but in this guide, I've only included the best. If you're looking for the perfect Yogyakarta one-day itinerary, you're in the right place. After spending a few days in this beautiful city, I'm here to share the best tourist attractions with you.
1. Is one day in Yogyakarta enough?
Yogyakarta is a big city and it has a lot to offer. There are also a few attractions located nearby that are worth visiting such as Seribu Batu Songgo Langit and Bukit Panguk Kediwung.
If you can, I recommend spending at least two days in the city. However, I know that not everyone can afford to spend that much time and that's why I decided to write this guide that is perfect for those looking for an epic one-day itinerary of Yogyakarta.
Tip – if you have an extra day to spend in Yogyakarta, visit the incredible Timang Beach!
2. How to spend one day in Yogyakarta – Itinerary
I know nobody likes to wake up early in the morning, but if you want to see the best of Yogyakarta, you'll have to. We'll start our day with a visit to one of the most beautiful temples in Asia – Borobudur. After that, we'll head back to the old city of Yogyakarta and explore it and we'll end the day with a visit to Prambanan Temple. Are you ready?
No time to read now? Pin it for later!
1st STOP – Sunrise at Borobudur Temple
One of the most iconic Buddhist temples in the world, Borobudur is famous for its bell-shaped stupas. A UNESCO World Heritage Site, Borobudur is the largest Buddhist temple in the world.
The temple was built in the 9th century and it covers an area of 123 x 123 meters. It has 9 platforms – the first six are square and the last 3 are circular. From the top of Borobudur you can admire one of the most spectacular views on the island of Java. That's why this temple is famous as a sunrise location.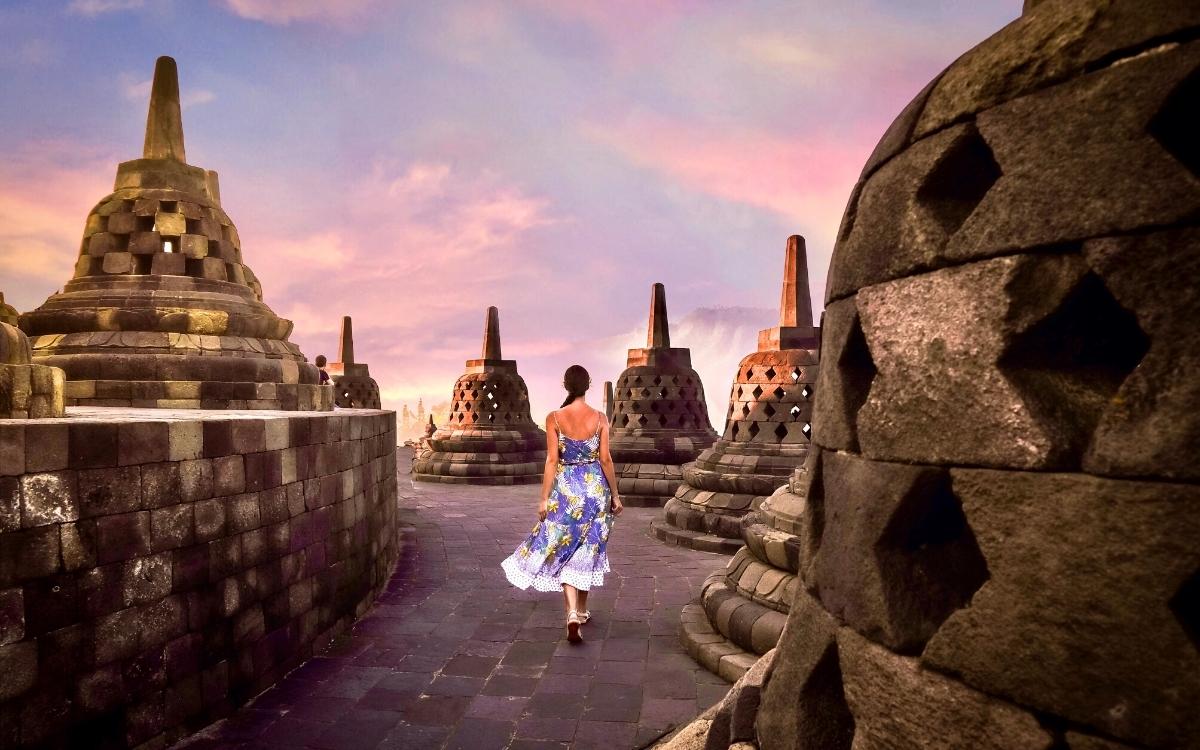 Plan at least one hour to explore the temple. Its architecture is incredible! If you peek inside the circular stupas you'll see Buddha statues.
Borobudur officially opens at 6 AM, but you can get in at 4 AM if you buy your tickets from Manohara Resort. This temple is a must-see if you only plan a day trip to Yogyakarta.
I wrote an entire guide about visiting Borobudur, so make sure to check it out! It has all the info you need!
Good to know – It's a one-hour drive from Yogyakarta to Borobudur so plan your time carefully. We took a Grab, but you can also book a private driver or join a tour.
Entrance fee – IDR 350 K if you buy your tickets from the official ticket office or online, IDR 475 K if you buy your tickets from Manohara Resort. You can also get a combo ticket Borobudur + Prambanan for IDR 580 K. I recommend the combined ticket for both temples since this itinerary also includes a stop at Prambanan.
2nd STOP – Shop on Malioboro Street
Malioboro Street is the biggest shopping district in Yogyakarta. Here you'll find restaurants, souvenir shops, clothing stores and much more! If you want to buy a few souvenirs and see how the local life unfolds, Malioboro Street is the place to be!
Start near the train station and make your way to Alun-Alun. It's a 20-minute walk and there's plenty to see!
Fun fact – It's said that if you succeed to walk blindfolded between the two banyan trees at Alun-Alun, you can have any of your wishes granted.
3rd STOP – Visit the Palace of Yogyakarta
The Royal Palace, also known as the Kraton, is the seat of the reigning Sultan of Yogyakarta. The complex was built between 1755 and 1756 and now serves as the Sultan's home and as a museum.
The Royal Palace is a beautiful example of Javanese architecture and it consists of several halls, pavilions and courtyards. Plan at least half an hour to explore it!
Interesting fact – The Sultanate of Yogyakarta is the last monarchy in Indonesia.
Opening hours – daily from 08.30 AM to 01.30 PM except on Friday when it closes early at 12.30 PM.
Entrance fee – IDR 15,000 per person
4th STOP – Explore Taman Sari and the Underground Mosque
Just a short walk away from the Kraton are the beautiful Taman Sari and the unique Underground Mosque. These are some of the main attractions in Yogyakarta. They're worth exploring if you only have one day in Yogyakarta.
Taman Sari Water Castle is a former royal garden, home to a beautiful artificial lake, bathing areas and a few pavilions. The buildings are no longer used by the Sultan and his family but they still preserve the charm of royalty. Even though they're not very well preserved, you can imagine how luxurious and beautiful they used to be.
With the entry ticket for Taman Sari you can also visit the unique Underground Mosque (Sumur Gumuling), just a short walk away from the Water Castle. Built in the 18th century, this is one of the most interesting places I have ever visited.
To enter the mosque, you'll have to walk through a tunnel. Soon after, you'll reach a series of windows, all looking towards the centre of the mosque where four sets of stairs lead to a platform. The Underground Mosque has quite an unusual architecture, which makes it the perfect place for photos and selfies.
Taman Sari and the Underground Mosque are opened every day, from 9 AM until 3 PM. The entrance fee is IDR 12,500 per person.
5th STOP – Visit the Jogja National Museum or the Batik Museum
Depending on what you're interested in, you can either visit the Batik Museum or the Jogja National Museum. If you decide to visit the Batik Museum, grab a taxi from the street or install the Grab App on your phone to easily order a taxi.
The Jogja National Museum is a contemporary art museum with various exhibits of local artists. The exhibitions change monthly and there's always something interesting to see at this museum. Opening hours – 9 AM to 4.30 PM, closed on Sundays.
If you want to learn more about the local culture and the famous batik, I recommend visiting the Batik Museum. The museum has an extensive collection of batik, some of them even dating back from the 19th century. Here you can learn more about the process of making the batik and its history.
The Batik Museum is open from 9 AM until 3 PM and a ticket costs IDR 35.000.
6th STOP – Sunset at Prambanan Temple
Our one-day itinerary of Yogyakarta continues with one of the most beautiful temples in Asia. You can't visit Yogyakarta without exploring the incredible Prambanan Temple, the largest Hindu Temple in Indonesia.
Built in the 9th century, Prambanan Temple is actually the largest temple in the complex. There are also a few smaller ones, similarly beautiful, that are worth exploring.
My favorite one was Sewu Temple, located a short walk away from Prambanan. There were just a few tourists here, so I took advantage and took a few photos.
Prambanan Temple is the perfect place to watch the sunset in Yogyakarta. After a day of sightseeing, take a seat on a bench and watch how the sun sets behind the imposing temple. It's a unique sight, one that I won't forget too soon!
Tip – for more information about visiting Prambanan at sunset, check out my guide!
The temple is open daily from 7 AM until 5 PM. The entrance fee for Prambanan is IDR 350 K. However, I recommend buying the combined ticket (Borobudur + Prambanan ) for IDR 580 K. If you want to buy tickets only for Prambanan, book them online to skip the line.
7th STOP – Admire the Ramayana Ballet at Prambanan Temple
Near the entrance to Prambanan Temple is an open stage where Ramayana Ballet live performances take place almost each night. If you're passionate about arts or dances, I recommend attending this show.
It's actually a traditional Javanese dance performance based on the story of Ramayana. 200 dancers and performers synchronise and create a unique show. Even though there will be English subtitles projected on two big screens, I recommend reading the Ramayana story before attending the show. You can find it here.
The show was one of the highlights of my trip to Yogyakarta. The performers are super-talented and they managed to captivate me with their unique dances.
Prices for this show depend on the seats you choose. They start at around IDR 125k and can go up to IDR 375 K. The Ramayana Ballet takes place daily, from 7.30 PM to 9.30 PM.
2. Transport in Yogyakarta
You have 3 options to get around Yogyakarta. You can either rent a car with a driver, rent a motorbike or use the Grab App (taxi). I'll talk about each of these options below.
Rent a car with a driver
This is the most convenient option but the most expensive one. To rent a car with a driver, I recommend talking to your host (guest house owner or hotel reception staff). Most probably they can arrange this service for you. Prices usually start at IDR 300 K per 12 hours.
Rent a motorbike
Unless you're very confident in your driving skills, I don't recommend this option. The traffic in Yogyakarta is pretty hectic and it's pretty difficult to get around, especially if you don't know the city.
Use the Grab App for taxi
When we visited Yogyakarta, we used the Grab App for transport. You can easily book a taxi and the prices are super-affordable. If you're traveling to more destinations in Indonesia, keep this app installed because you'll need it.
3. Where to stay in Yogyakarta
If you want to be close to supermarkets, buses and restaurants, I recommend booking your accommodation somewhere in the city centre. I searched for the best hotels and hostels in Yogyakarta, for every budget, and these are my recommendations.
Budget – Wonderloft Hostel – good location, beautiful design, clean rooms, friendly staff
Mid-Range – Java Villas – beautiful pool, great location, spacious and clean rooms, great amenities, quiet area
Luxury – Hyatt Regency – excellent pool with a view, amazing restaurant, luxurious rooms, excellent amenities, beautiful gardens
4. Final thoughts
Yogyakarta was one of my favorite destinations in Java, together with Malang's Rainbow Village. Even though the traffic is hectic and sometimes the heat is unbearable, I recommend spending at least one day in this city. The two main attractions – Borobudur and Prambanan Temples are breathtaking and worth visiting.
If you want to find out more about Indonesia, read my travel guide. I've included all the info you need to know about transport, costs, places to see and much more!
If you have any questions about this itinerary or Yogyakarta, let me know in the comments section below.
May the travel bug bite you!
Disclosure: Please note that this post may contain affiliate links. If you make a purchase through these links, I will earn a small commission at no extra cost to you. I only recommend companies and products that I trust and the income goes to keeping this website running. Thanks!