Among the most beautiful temples in the world, Borobodur is one of the top places to see on Java Island together with Prambanan Temple. When I decided to visit Java, I immediately added Borobudur to my itinerary. I spent a few days in Yogyakarta, exploring everything it has to offer, but the highlight of my stay was Borobudur.
I hate waking up early and I take my sleep seriously. In fact, I sleep about 10 hours per night. One of the few times in my life when I was excited about waking up early was when I decided to see the sunrise at Borobudur.
Many travelers are drawn to this temple's beauty. At sunrise, the atmosphere is even more enchanting. It's one of those experiences that you'll never forget.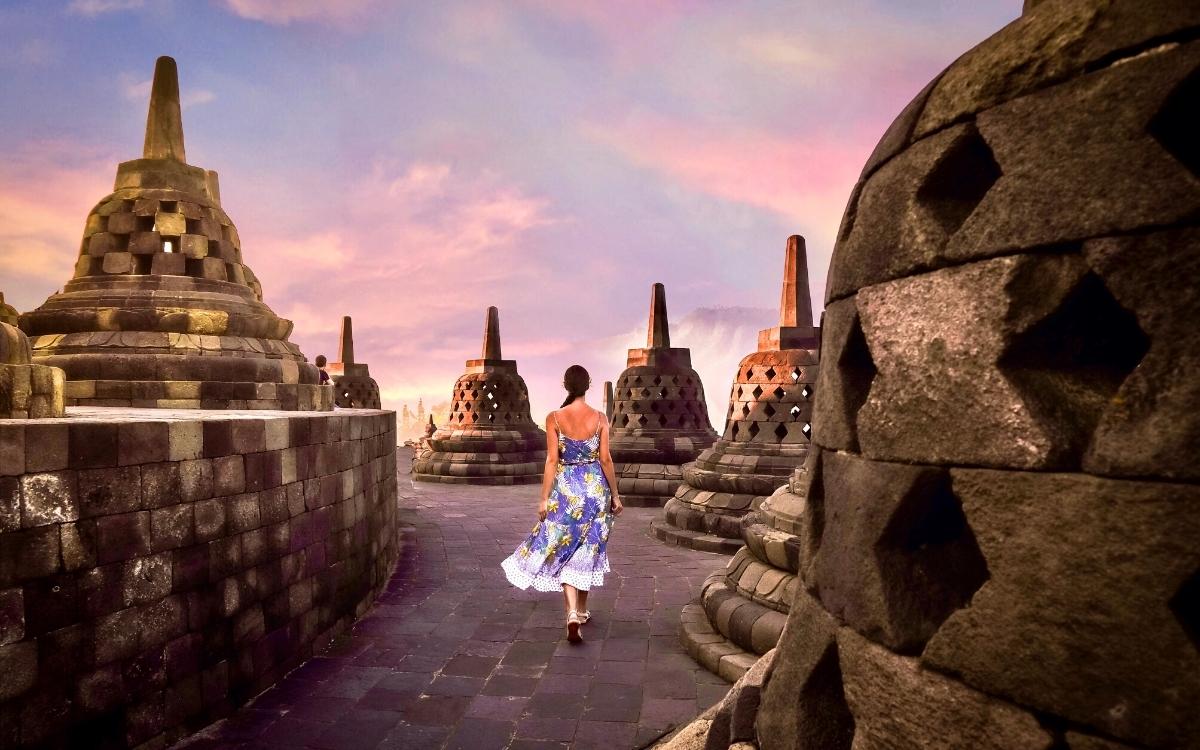 In this guide, I'll share everything you need to know when planning to visit Borobudur Temple at sunrise. I've included info about tickets, how to get there, how to take photos and much more! Let's start with a few important historical facts about this temple. It's always important to know a few things about the places you're about to visit.
1. A brief history of Borobodur
Borobudur is the largest Buddhist temple in the world and one of the oldest. It's believed that the temple was built in the 9th century during the Sailendra Dynasty.
In the 14th century, when Java's population converted to Islam, the temple was abandoned and people forgot about it. In 1814, Sir Thomas Stamford Raffles – then the British ruler of Java, discovered the temple with the help of a few locals.
Since 1814, Borobudur has been restored several times, but the largest restoration lasted from 1975 to 1982. Soon after, the temple was listed as a UNESCO World Heritage Site.
Good to know – In Indonesian, temples are called "candi". Therefore, you might hear people referring to Borobudur Temple as Candi Borobudur.
The temple has nine levels. The top three levels are round and they're surrounded by bell-shaped stupas. If you peek inside the stupas you'll see Buddha statues standing in lotus position.
Interesting fact – the pieces of stone used to build Borobudur were laid like a puzzle. No mortar or cement was used.
No time to read now? Pin it for later!
2. Sunrise at Borobudur – is it worth it?
If you don't have too much time to spend in Yogyakarta, you're probably wondering if visiting Borobudur at sunrise is worth the effort. Yogyakarta is famous for two of its landmarks – one is Borobudur and the other one is Prambanan Temple.
I've been to Angkor Wat and many other temples across Asia. From Thailand to Vietnam, I've probably seen thousands of temples, but Borobudur is among the top 5 most beautiful ones.
If you only have one day in Yogyakarta, follow this itinerary. I've included Borobudur and other must-see attractions in the city.
To sum up, Borobudur is worth visiting! It's one of the most beautiful temples in the world and one of the most visited sites in Indonesia.
3. How to see the sunrise at Borobudur
Before talking more about how to see the sunrise at Borobudur, let me tell you a few things about the opening times and ticket prices.
To see the sunrise, you have three options.
Manohara Resort Tickets – These tickets allow you to visit the temple before the official opening hour which is 6 AM. If you buy your tickets from Manohara Resort, you can enter the temple at 4.30 AM (ticket office opens at 4 AM) and enjoy the sunset with fewer tourists around. Price – IDR 500 K.
Regular Tickets – You can buy these at the entrance of Borobudur. However, with regular tickets you can only enter at 6 AM. The price is IDR 350 K. If you also plan to visit Prambanan Temple, buy the combo ticket for IDR 580 K.
Join a tour – If you want a hassle-free experience, join a tour. The guide will pick you up from your hotel and drop you back after visiting Borobudur. I recommend this tour that has excellent reviews.
If you're a photographer or simply want to take beautiful photos at Borobudur, I recommend buying your tickets from Manohara Resort or booking this tour (also with early entry). You can enter the temple at 4.30 AM and avoid most of the crowds.
If you don't care too much about taking photos, I recommend buying regular tickets. Be at the gate at 5.45 AM, buy your tickets and head straight to the top of Borobudur.
After exploring the temples, explore the surrounding park.
When I visited Borobudur I chose the regular tickets. I entered the temple at 6 AM and I went straight to the top. There weren't too many people and I managed to take plenty of beautiful photos.
4. Alternative sunrise viewpoint
If you'd rather see the temple from afar, head to Punthuk Setumbu. This viewpoint is located a few kilometres away from the temple. It offers a scenic view towards Borobudur and the entrance fee is just IDR 50,000.
It's less expensive than entering Borobudur – the perfect alternative for those traveling on a budget.
Keep in mind that most mornings are misty and foggy which means that the view from Punthuk Setumbu won't be perfect. Check the weather before deciding to head to this viewpoint. To perfectly see Borobudur you'll need a clear sky.
Good to know – This viewpoint might be a better alternative for professional photographers. If you have a zoom lens, the photos will turn out great!
5. The best time of the year to visit Borobudur
If you want to avoid rainfall, visit Borobudur from April to August. During these months, the weather is pleasant. From September to November the region experiences moderate rainfall. Also, from December to March the temperatures are very high and the region experiences heavy rainfall.
6. Visit the nearby Chicken Church
After watching an epic sunrise at Borobudur, head to the nearby Chicken Church. This is one of the most unusual buildings I've ever seen and it has an unusual story too.
Also known as Gereja Ayam, this church was initially intended to look like a dove. Daniel Alamsjah had a dream in which God told him to build a prayer house shaped like a dove.
During the 1990s he started building this church but due to the lack of funds, the church was never finished. Nowadays it's a tourist attraction and people from all over the world come here to admire its unique shape.
If you have enough time and you like quirky places, I recommend visiting this church. For the rest of the day, you can follow my itinerary. I've included all the must-see places in the city.
7. How to get to Borobudur Temple
Depending on your budget and preferences, you can choose one of the four transport options below. When we visited Borobudur, we chose to order a Grab taxi (we stayed in Yogyakarta). However, you can also rent a motorbike, hire a driver or join a guided tour. Here are all the details you need to know about each of these options.
Option 1 – Use the Grab App
If you have internet connection, you can easily order a taxi using the Grab App. The app is similar to Uber. You set your destination, the pickup point and the app will tell you the price for the journey. If you agree, you hit order and a taxi will come and pick you up. You can either pay cash or by card. A journey from Yogyakarta to Borobudur Temple costs around 150,000 IDR one way (1-4 people).
Option 2 – Rent a motorbike
If you're confident in your driving skills, you can rent a motorbike in Yogyakarta. It usually costs around 80,000 IDR per day and you can rent one directly from your accommodation. Keep in mind that the traffic in Indonesia can be pretty hectic.
Option 3 – Hire a driver for one day
Another option to get to Borobudur would be to hire a driver with a car. Prices start at IDR 300 K for 12 hours. If you decide to hire a driver, make sure to include other points of interest on your itinerary, such as Prambanan Temple and Taman Sari Water Castle. You can follow this itinerary!
Option 4 – Join a guided tour
For a hassle-free experience, I recommend joining a guided tour. Tours to Borobudur include hotel pick up and drop off, entrance ticket and an English-speaking guide. For sunrise at Borobudur, I recommend this tour.
8. How to take photos at Borobudur
If your main goal is to take beautiful photos at Borobudur, go for the Manohora tickets and enter the temple at 4.30 AM. Shooting the sunrise at Borobudur is not hard, given the beautiful view around the temple and Borobudur's incredible architecture.
Take a few minutes to explore the temple and discover the best angles. Once you found your favorite angles, set your tripod and camera and be patient. Usually, the temple is pretty crowded and it might take a while to get a shot without anyone in it. However, it's not impossible.
Don't focus too much on getting the perfect shot. Take your time to admire the temple and soak in the view. After all, visiting Borobudur is a unique experience. You don't get the chance to admire the sunrise from the top of the biggest Buddhist temple too often.
Tip – bring an extra battery for your camera and make sure you have enough free space on your memory card.
To photograph the sunrise at Borobudur you don't necessarily need a professional camera. I've seen plenty of beautiful photos taken with phones. Just focus on your composition and the results will amaze you!
9. Know before you go
When planning to visit Borobudur for sunrise, there are a few things you should know. Keep in mind these things for an unforgettable experience!
Dress code – When visiting any temple in Asia, it's important to dress modestly. Try to avoid short pants or skirts. To cover your knees, bring a scarf and tie it around your waist.
Bring mosquito repellant – At sunrise and sunset, the mosquitoes are very active. Bring a repellant if you want to avoid being bitten.
Bring a bottle of water – Climbing to the top of the temple might be challenging for some. Make sure to stay hydrated.
Temple closing time – Borobudur closes at 5 PM.
10. Best hotels near Borobudur
If you want to catch the sunrise, you'll have to wake up in the morning. It would be best to choose a hotel near Borobodur to avoid taking a taxi or tour from Yogyakarta. Here are my recommendations, for every budget:
Budget – The Omah – good location, clean and spacious rooms, private terrace, friendly hosts, breakfast included
Mid-Range – Rumah Dharma – great location, beautiful rooms, beautiful pool, close to rice fields, breakfast included
Luxury – Le Temple Hotel – excellent location, beautiful pool and garden, spacious rooms, excellent amenities, breakfast included
If you decide to stay in Yogyakarta, these are my recommendations:
Budget – Wonderloft Hostel – good location, beautiful design, clean rooms, friendly staff
Mid-Range – Java Villas – beautiful pool, great location, spacious and clean rooms, great amenities, quiet area
Luxury – Hyatt Regency – excellent pool with a view, amazing restaurant, luxurious rooms, excellent amenities, beautiful gardens
11. Final thoughts
Borobudur's architecture, location and history are just some of the reasons to visit this incredible temple. Visiting Borobudur was the highlight of my trip to Java. Witnessing the sunrise from the top of such an incredible temple is a one-in-a-lifetime experience.
After exploring Borobudur and Yogyakarta, we headed to Malang where we visited the incredible Rainbow Village and then we continued our journey in Bali, our home away from home. Make sure to read my Indonesia Travel Guide! It has all the info you need when planning a trip to this beautiful country, including details about costs, transport, best dishes, accommodation and more!
May the travel bug bite you!
Disclosure: Please note that this post may contain affiliate links. If you make a purchase through these links, I will earn a small commission at no extra cost to you. I only recommend companies and products that I trust and the income goes to keeping this website running. Thanks!