After visiting the incredible Semarang Rainbow Village (not to be confused with the one in Malang), we spent a few days in Yogyakarta exploring the famous Borobudur and Prambanan Temples then we stopped for a few days in Malang.
We visited the tea plantation, a few nearby waterfalls and the breathtaking Jodipan Rainbow Village, one of the many colorful villages on Java Island. Apart from its undeniable charm, Malang Rainbow Village has a fascinating history.
Near it, there is another beautiful village called the Blue City. It's similar to Chefchaouen in Morocco, but the Malang Blue City is much smaller. However, it's worth visiting since it's located right across the bridge from the Rainbow Village.
In this guide, I'll share everything you need to know when visiting these two unique places. I've included info about entrance fees, opening hours, things to do and much more! Let's get to it!
1. Jodipan Village – from slum to a colorful village
Kampung Warna Warni Jodipan, aka The Rainbow Village of Malang was not always a popular tourist attraction. The houses that are now painted in bright colors used to be a part of a slum, one of the biggest in Indonesia.
People here used to live in unsanitary conditions, throwing all their garbage and waste directly into the river. Given the situation, the local authorities decided to relocate the residents to other neighborhoods and demolish the slum.
The fate of this small community changed when a group of students from Muhammadiyah University of Malang proposed a plan to save this neighborhood and transform it into a colorful place, filled with creative paintings and murals.
Fortunately, the local authorities agreed and the students managed to partner with a local paint manufacturer that supported this ambitious project. In 2016 Jodipan Village was transformed from a slum to a brightly colored village that nowadays attracts hundreds of tourists daily.
Given this project's success, in 2018, another slum was transformed. Right across the bridge from Jodipan there was another poor neigborhood called Kampung Biru Arema. To rejuvenate it, this village was entirely painted blue, similarly to Chefchaouen in Morocco.
The Rainbow Village and the Blue Village are a short walk away from each other. Let me tell you a few things about what to expect when visiting these incredible tourist attractions in Malang.
Interesting fact – the story of Malang's Rainbow Village inspired other communities on Java Island and soon after, a few other rainbow villages were born. One such example is the beautiful Rainbow Village in Semarang called Kapung Pelangi.
Not time to read now? Pin it for later?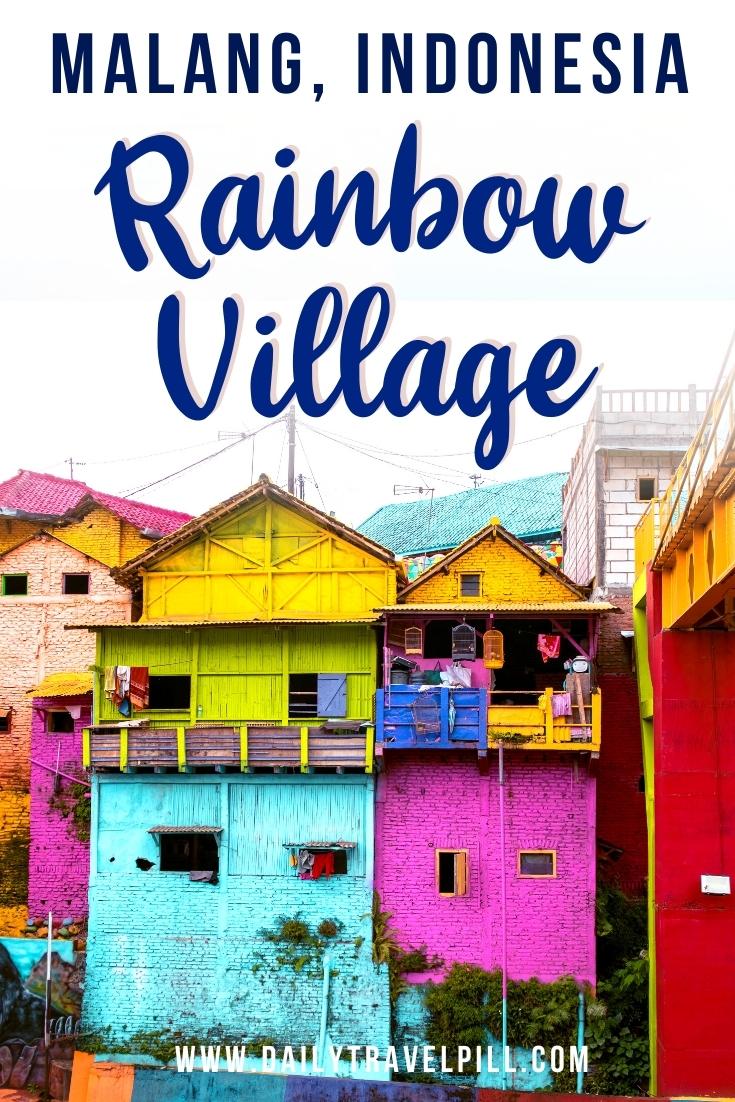 2. What to expect at Malang Rainbow Village
The Rainbow Village in Malang is one of the most colorful destinations in the world! It's divided into two sections by Brants River. Each section is beautifully colored in bright colors and from time to time, you'll be able to enjoy beautiful paintings, murals and art installations.
I entered the village from Juanda Street and as soon as I stepped inside this village, I was amazed by its beauty. Everything around me was colorful. I climbed down a few stairs and, along the way, I took many photos.
I wanted to photograph everything around me because I felt like this place is really unique. When I arrived near the river, I was amazed by the view. Right across the river, there were a few houses painted in every color imaginable and around me there were many beautiful murals.
To the left, there was this huge bridge made for cars, while to the right there was a beautiful yellow pedestrian bridge, connecting the two parts of the village.
We headed to the Jodipan Yellow Bridge and the views from the top were even more breathtaking. As we crossed the bridge, I realised how important this neighborhood's rejuvenation was for its residents.
Not only does the village look better, but it also benefits the local economy. Many locals opened small shops, selling snacks and drinks to tourists. Apart from having a beautiful home, they can now make an income from tourism. I encourage you to buy from local shops, to support the local economy.
There are a a few warungs inside the Rainbow Village but I don't recommend eating here. Stick to packed snacks and treats.
After crossing the bridge, we got a bit lost on the narrow streets, but I wasn't sad about it. At every corner, we discovered new murals and art installations. I could have spent the entire day exploring this Rainbow Village on Java Island without getting bored.
We then reached the famous Kampung Tridi, a place near the car bridge, filled with 3D art installations. Unfortunately, when we visited, Kampung Tridi was closed.
3. Don't miss the Malang Blue Village
The Blue Village is located right near the Rainbow Village so make sure to plan at least half an hour to explore it.
A labyrinth of narrow alleys, the Blue Village is yet another example of perseverance and ambition. This village was painted blue in honor of the local football team called Arema FC.
The village is home to more than 500 houses and wandering through its narrow alleys, you'll discover beautiful paintings. However, the most important thing you can do is to pay attention to how the local life unfolds.
The locals are super-friendly and they'll be happy to talk to you about their home. It's fascinating to see how a coat of paint changed the lives of so many people!
Tip – Respect the local's privacy. Don't take photos of them without their permission and try to be quiet.
4. Entrance fees and opening hours
There is a symbolic fee to enter each of these three villages (Kampung Tridi, Rainbow Village, Blue Village) of IDR 3 K ($0.2). This fee helps the local community thrive.
When I visited, I even received a small keychain in exchange for the entrance fee to one of the villages. Also, when I visited the Blue Village there was no entrance fee, but I've heard that things have changed lately.
The Rainbow Village and the Blue Village in Malang are open 24/7. However, I recommend avoiding visiting them after sunset. After all, I'm sure you'll want to take some beautiful photos inside!
5. Places to visit near the Rainbow Village
Apart from visiting the spectacular Mount Bromo and the breathtaking Tumpak Sewu Waterfall, there are plenty of things to do in Malang.
A short walk away from Malang Rainbow Village is the beautiful Alun Alun Park. It was built in 1882 and nowadays, it's one of the locals' preferred places for long walks. Right across this park, there is a beautiful mosque called Malang Jami' Mosque.
After visiting Alun Alun Park and the mosque, head to Splindit Malang. This is a huge market where only animals and plants are sold. You can find pretty much any species of plant here and all kinds of pets.
There are many small shops selling birds, lizards, cats and even worms. As an animal lover, it made me sad to see all those animals living in small cages but this market is certainly unique. I haven't seen anything like it while exploring Asia.
6. How to get to Jodipan Rainbow Village
There are plenty of transport options in Malang. You can either use the public transport, take a taxi or rent a motorbike. I'll talk about each of these options below.
Option 1 – rent a motorbike
Throughout our trip to Southeast Asia, we rented a motorbike whenever possible. It gave us the freedom to be the masters of our schedule and it was an affordable alternative too.
If you're confident in your driving skills, rent a motorbike to explore Malang and its beautiful surroundings. You can usually rent one for around IDR 80 K per day. You can ask at the reception of your accommodation.
Option 2 – Use Grab App to order a taxi (recommended)
Another option for those who don't know how to drive a motorbike is the taxi. There is a popular taxi app in Asia, similar to Uber, called Grab App. Make sure to install it on your phone. You can easily order a taxi through Grab. All you have to do is set your location, destination and hit order. You can either pay cash or by card.
Option 3 – Use the public transport
I would only use public transport as a last resort. The public transport network is underdeveloped in Indonesia and the buses are not in the best condition. Most locals own motorbikes and buses are rarely used.
7. Where to stay in Malang
If you want to be close to supermarkets and restaurants, I recommend booking a guest house or hotel close to the city center. I searched for the best accommodation in Malang, for every budget, and these are my recommendations.
Budget – RedDoorz – good location, spacious rooms, friendly staff, good WiFi
Mid-Range – Santika Hotel – beautiful pool, good location, spacious rooms with excellent amenities, breakfast included
Luxury – Tugu Hotel – excellent location, spacious and luxurious rooms, incredible pool, spa, breakfast included
8. Final thoughts
These two colorful villages in Malang are a must-see when in the city. They're the proof that a coat of paint can change the fate of hundreds of families and improve their livelihoods.
When visiting these villages, it's important to support the local economy and buy snacks and refreshments from local shops. A few cents can go a long way for the local families living in these neighborhoods.
I hope that you've found this guide useful. If you have any questions, don't hesitate to ask me in the comments section below.
May the travel bug bite you!
Disclosure: Please note that this post may contain affiliate links. If you make a purchase through these links, I will earn a small commission at no extra cost to you. I only recommend companies and products that I trust and the income goes to keeping this website running. Thanks!