There are many stories of small villages or neighborhoods that have been transformed into hugely popular sites around the world. From Taichung Rainbow Village in Taiwan to Lx Factory in Portugal, people have always tried to reinvent places. Another such example is the incredible Kampung Pelangi Village, the Rainbow Village of Semarang.
While traveling through Java, I had the chance to visit this incredible village, a place reborn from its ashes. There are actually two Rainbow Villages in Java, Indonesia. The other one is located in Malang and is called Jodipan.
Kampung Pelangi is now one of the top tourist attractions in Semarang and if you plan to visit this city, make sure to add this neighborhood to your itinerary. The Rainbow Village is a unique place, a colorful and joyful place that once used to be a slum.
I'm going to tell you everything you need to know about visiting the Semarang Rainbow Village. Let's start with the history of this place.
1. Kampung Pelangi Semarang – History
It's important to know this place's history before visiting. To attract more tourists to Semarang and grow the local economy, the local government decided to transform a small neighborhood, home to a little over 200 houses, into a thriving tourist destination.
The project was initiated by Slamet Widodo, a 54-year-old junior high principal who was inspired by Malang Rainbow Village's success. Together with the local authorities, Slamet decided to implement the same strategy in Semarang and paint an entire neighborhood with bright colors.
With a budget of 300 million rupiah (around $22 k) the authorities managed to transform the lives of many people. Once a slum, now a hot tourist attraction, Kampung Pelangi is an example of determination and innovation.
Given its success story, the authorities plan to extend the project and paint a few other nearby homes in rainbow colors.
2. What to expect at Semarang's Rainbow Village
Before visiting this village, I saw a few photos of it on Instagram and I was simply amazed. When I had the chance to explore Java while traveling full-time through Asia, I made a point to visit this village.
Once I arrived in front of Kampung Pelangi, I couldn't believe my eyes. The colorful houses covered an entire hill, creating a spectacular view. Everything around me was covered in bright colors, including a few small bridges, local shops and pathways.
-> Are you planning to visit Yogyakarta? Read my itinerary!
It seemed like I was sitting in front of one of the world's most joyful places. I crossed the bridge to the village and I started admiring the beautiful murals and street art. It was like I was exploring a museum.
Children were playing on the streets and the locals seemed to enjoy the tourists' company. Due to the influx of tourists, the local shops are thriving and the locals living in this village have a better quality of life.
It's incredible what a few buckets of paint can do!
I explored the village for a little over an hour. Every street was unique and I tried to photograph every corner of this place. I loved the paintings covering the houses' walls and the colorful sculptures and terraces.
If you're planning to visit Kampung Pelangi, I encourage you to buy souvenirs or snacks from the shops located inside the village. It's very important to support the local economy and reward the villagers for their effort of transforming their home into a tourist attraction.
Good to know – there is no entrance fee for this colorful village in Indonesia.
3. When to visit Semeranag Rainbow Village
If you want to avoid rain, the best months to visit Semarang are June, July and August. If you want to avoid the crowds and take advantage of lower prices for accommodation and activities, try to avoid the months of November, January and May.
4. How to get to Kampung Pelangi
This Rainbow Village is located just a short walk away from the famous Lawang Sewu Museum. From Lawang Sewu, follow Dr. Sutomo Street and you'll arrive at Kampung Pelangi in just a few minutes.
When exploring Semarang, I used the public transport system. It's not a big city and you can reach most of the tourist attractions easily. I also recommend installing Grab App on your phone. It's similar to Uber and you can order a taxi directly from your phone at an affordable price.
5. Where to stay in Semarang
When visiting Semarang, it's best to find accommodation close to the city center. Here you'll find lots of supermarkets, restaurants and stores. I searched for the best hotels in Semarang, for every budget and these are my recommendations.
Budget – Nomaden Urban Stay – good location, spacious and modern rooms, good amenities, quiet area
Mid-Range – Ciputra Hotel – excellent location, modern rooms with excellent amenities, beautiful pool, friendly staff
Luxury – Po Hotel – beautiful pool, luxurious rooms, excellent restaurant, breakfast included, friendly staff
6. Final thoughts
Kampung Pelangi is one of Indonesia's rainbow villages. If you're also planning to visit Malang, I recommend visiting Jodipan too, another rainbow village with a unique story.
The streets of Kampung Pelangi are now an internet sensation. You can find thousands of pictures on Instagram and people from all around the world come here to admire this unique place.
This village is the perfect example of a job well-done. Once a slum, now a veritable tourist destination. If you have any questions about visiting this rainbow town in Indonesia, let me know in the comments section below.
If you'd like to read more about Indonesia, check out my complete travel guide. It includes information about costs, transport, accommodation, places to see and much more!
May the travel bug bite you!
Pin it for later!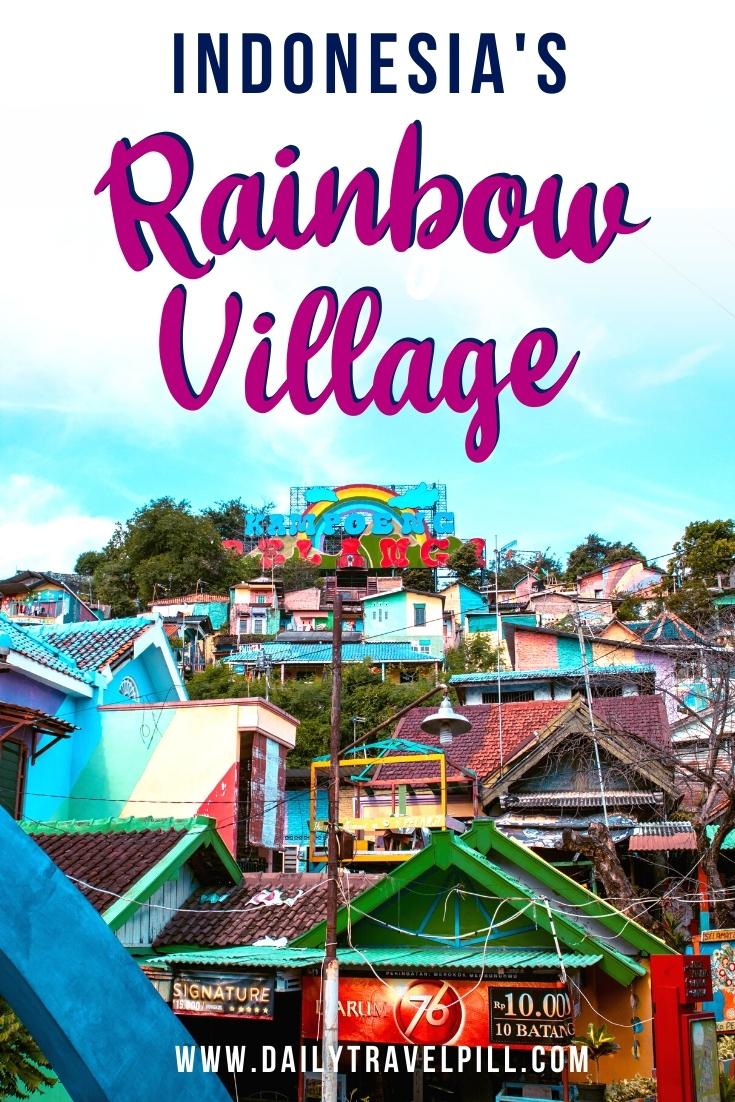 Disclosure: Please note that this post may contain affiliate links. If you make a purchase through these links, I will earn a small commission at no extra cost to you. I only recommend companies and products that I trust and the income goes to keeping this website running. Thanks!