I've been waiting for this moment for such a long time! I'm excited to share my 2020 recap with you and put everything that happened this year behind me. 2020 wasn't great.
It seems like both I and Dan anticipated that something would happen. When we were travelling full-time in Asia, Dan always said that we should really appreciate the places we visit because they will never be the same. At that point, we thought that tourism would change places like Myanmar and Cambodia, the same way that tourism changed Thailand and Vietnam.
On the other hand, I always said that a big economic crisis is coming. I predicted it 3 years ago, but I never imagined the impact it will have on all industries. I could have never thought that a global pandemic will happen and that not only tourism but every industry will be affected.
However, something told us that things will change. Every time things go really well for me I expect something bad to happen. We were living the dream, traveling full time and exploring incredible places. And then the pandemic hit and everything we built over the years turned into dust.
After traveling full-time through 2018 and 2019, we returned home to Romania towards the end of 2019. Dan got back to his old job and I continued to work full-time on this blog. Things were going pretty well and the plan was to start another full-time adventure around the world in 2020. We were thinking about visiting the US and South America and then head back to Asia.
The beginning of 2020 started with 2 awesome trips. In February we booked a trip to Portugal. I've been dreaming about visiting Portugal for years and I was super excited about this trip. We visited Lisbon, Sintra and Porto and we fell in love with pasteis de nata and the beautiful buildings covered in azulejos.
Shortly after, we received an invitation for a sponsored trip to Lapland, Finland at one of the world's most incredible hotels – Kakslauttanen Glass Igloo Hotel. News about the coronavirus was already starting to spread but there were only a few cases in Romania and nobody seemed to take things seriously. At that point, I remember thinking that it will all go away pretty fast.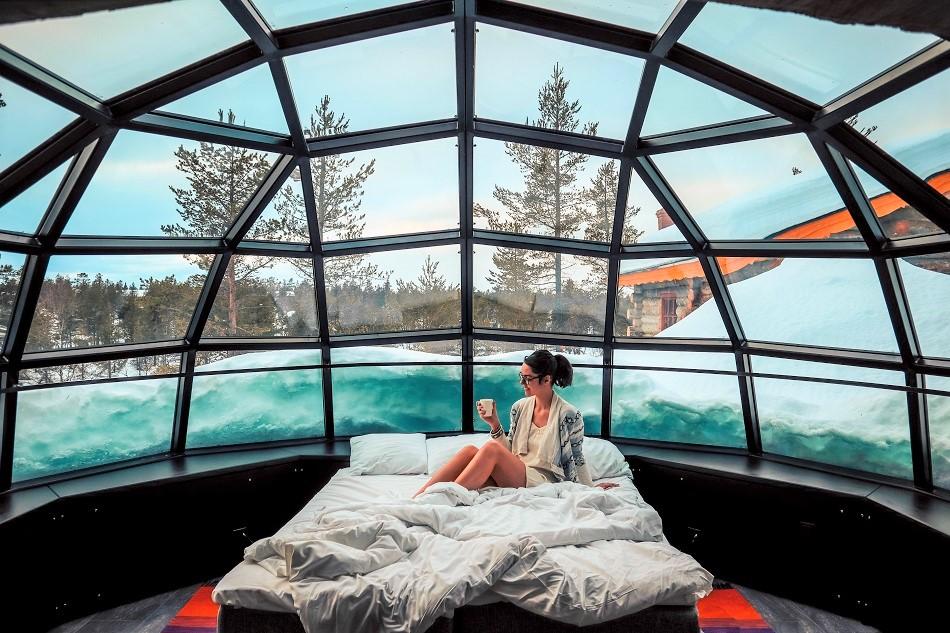 So we hopped on a plane and landed in Ivalo, a small town at the Arctic Circle covered in a thick layer of snow of about 2 meters. It was a winter wonderland! Our glass igloo room was only the tip of the iceberg. We also went on a reindeer safari, explored the wilderness in a snow tank, tried cross-country skiing and went snowmobiling. However, the best part of our trip was the husky safari.
Ever since I was a child and I first saw in movies the sleighs pulled by cute husky dogs, it was my dream to go on a husky safari. Honestly, I never thought that this dream of mine would ever come true. It seemed likes such an exotic experience, something that only a few people have the opportunity to enjoy.
I can't even describe the excitement I felt once I got up in my sleigh and I saw the huskies in front of me, ready to go for a good run. It was awesome! After the huskies showed me the beauty of Lapland's wilderness, I rewarded them with a round of hugs.
We returned home from Lapland at the end of March, a few days before quarantine was installed in Romania. That's when things went from bad to worse.
The number of cases started to rise worldwide and we were under strict lockdown. For about two months we could only get out of the house for groceries or emergencies and we couldn't leave town.
At that time, we were planning a few trips in spring and summer. I was supposed to go on a paid trip to the amazing region of Bohemia in the Czech Republic and visit my friend in Berlin. Also, I and Dan were really excited about visiting Georgia, Greece and Turkey but we had to cancel all our plans.
Like us, millions of people canceled their travel plans which meant a drastic decrease in traffic to our blog. Our blog income was slashed and I felt quite lost. It took me over two years to build this blog and to see everything gone in a matter of weeks was devastating.
However, I decided to keep working on Daily Travel Pill like nothing happened. I really enjoy writing travel guides and I know that travel will eventually go back to normal. In total, I wrote around 100 blog posts this year which is not bad at all, given the circumstances.
I know that 2020 was tough for many small business owners. I have friends whose business went bankrupt and I know travel bloggers who simply had to give up their blog and get a full-time job. I was lucky to have had the chance to keep working on my dream.
Apart from those 2 trips and working on this blog, my life was far from exciting. Since Dan started working from home, we decided to move from Bucharest to my home town, Brasov. We spent our weekends exploring small villages near Brasov and avoiding crowded places.
Oh, I almost forgot! In October me and Dan were invited to one of the most famous TV shows in Romania to talk about our full-time adventure in Asia. It was an exciting opportunity and a unique experience. I really enjoyed it and I hope that in 2021 we'll have the chance to share our story with even more people. You can watch the video here (it's in Romanian).
2020 hasn't been the year I was dreaming about but I'm thankful for one thing and that's being healthy. As long as we're healthy, the rest doesn't matter that much.
Plans for 2021
With a vaccine in sight, I see the light at the end of the tunnel. In Romania, vaccination has already started, so I'm hoping to get vaccinated in the next few months. After that, I'll be able to travel safely.
Hopefully, by the end of the year we'll leave home again. We haven't decided where we're heading, but one of the options is Bali. We plan to go to Bali for a few months and then travel to some new, exciting countries.
I'll post new content regularly on this blog. I still have so many stories and travel guides to share about the places I visited. If you need travel inspiration, make sure to subscribe and I'll keep you posted with updates.
What are your plans for 2021? Let me know in the comments section below!
May the travel buy bite you!
Disclosure: Please note that this post may contain affiliate links. If you make a purchase through these links, I will earn a small commission at no extra cost to you. I only recommend companies and products that I trust and the income goes to keeping this website running. Thanks!