Color has the power to reach beyond our eyes and touch our souls. Colors can influence our mood and suggest certain emotions. Earth is full of hues and I'm here to share with you the most colorful destinations in the world.
These places will simply amaze you. From rainbow rivers to pink lakes and rainbow mountains, this guide is a splash of color that will brighten your day. Without any further ado, these are the most vibrant destinations in the world!
No time to read now? Pin it for later!
The most colorful places – MAP
To view the map of the most colorful destinations in the world, click on the map below or click here. Choose your favorite places and add them to your bucket list!
Top colorful destinations
1. Menton, France
Menton is one of the most beautiful towns in Europe and it's surrounded by picturesque beaches. Menton is a must-see when in France, with hundreds of colorful buildings and sights that attract travelers from around the world. The old town, Basilica Saint Michel, and the harbor are just some of the tourist attractions in the city. Near the beaches you can find excellent restaurants where you can enjoy some delicious dishes while admiring the view.
2. Wroclaw, Poland
Discover the charm of Wroclaw where you'll find large multi-colored buildings, markets, and destinations that will not disappoint you. Exploring the city on foot is a great way to discover the beauty of Wrolcaw. Along the way, stop at the Town Hall, visit St. Mary's Church or visit the Museum of the Second World War.
3. Jaipur, India
Jaipur, also known as the India's pink city, is one of the most colorful cities around the world. Get inspired by the Hindu and Muslim architecture that takes you back to the old times. The Jantar Mantar, Albert Hall and Hawa Mahal are just some of the attractions that will make you fall in love with India's pink city.
4. Vernazza, Italy
The picturesque view of Vernazza is hard to forget once you see it. It's like a magical place with thousands of colorful houses and stunning beaches surrounded by crystal-clear water. I recommend exploring Vernazza on foot. Along the way, you'll discover countless Instagram-worthy viewpoints.
5. Sintra, Portugal
Portugal is already famous among travelers due to its history and natural beauty. Sintra is one of the top destinations in the country, with colorful sites like Pena Palace and the old town. While in the area, stop at Europe's westernmost point, Cabo da Roca, for one of the most incredible sunsets.
6. Sighisoara, Romania
Are you tired of vacationing in crowded cities? Of course, sometimes all you want is peace and a beautiful place to explore. Sighisoara is a colorful medieval city in Romania which gives you the chance to get lost inside the last inhabited European Medieval fortress. You can climb up the clock tower and have lunch or tea in the city's colorful square.
7. Rainbow Village, Malang, Indonesia
Somewhere in East-Java, there is a small community of people living in a place known as the Rainbow Village. A group of students came with the idea of painting all the houses in different colors and now, this once-forgotten neighborhood, transformed into an incredible tourist attraction. Nearby, there is also a blue village that can be visited.
8. Colmar, France
Colmar is old, charming, and one of the most vibrant cities in the world. What makes Colmar colorful and special? It's the German and French architecture and the timber-framed houses, each having a different story. A fun fact is that the color of the house used to represent the line of work of the people who live in the house. For example, fishermen lived in blue houses while bakers lived in yellow houses.
9. Rovinj, Croatia
Rovinj is an eye-catching and colorful city in Croatia situated by the sea. With luxurious yachts sitting at the horizon, narrow streets and gorgeous courtyards, Rovinj is one of Croatia's hidden gems. Explore the old town on foot, eat gelato and go to the beach. There are lots of things to do in this stunning destination.
10. Gamcheon Culture Village, Busan, South Korea
The unique Gamcheon Culture Village is certainly the most colorful place in South Korea. Here you will find yourself surrounded by a lot of street art, mini-museums and cultural sites to explore. Plan at least two hours to visit this place and don't forget to buy a few hand-made souvenirs and try the local restaurants!
11. Pink Street, Lisbon, Portugal
The Pink street in Lisbon is a hot destination among travelers and an Instagram sensation. Calle Rosa, aka Pink Street, is a romantic and magical place for couples and a perfect photography spot for any visitor. If you want to avoid the crowds and take photos without lots of people in the background, make sure to arrive here early.
12. Neil's Yard, London, UK
Neil's Yard is a hidden gem that you have to explore when in London. Inside this colorful courtyard, you will find vibrant buildings and cozy restaurants where you can have tea or lunch with your friends and family. An alternative place in London for those with a creative soul, Neil's Yard is one of the most instagrammable spots in the world.
13. Hoi An, Vietnam
Every street in Hoi An looks like a postcard. Everywhere you look, you'll see colorful lanterns and the good news is that you can even buy a few as souvenirs! The locals make them with love and care for details and the result is always a work of art.
14. Little India, Singapore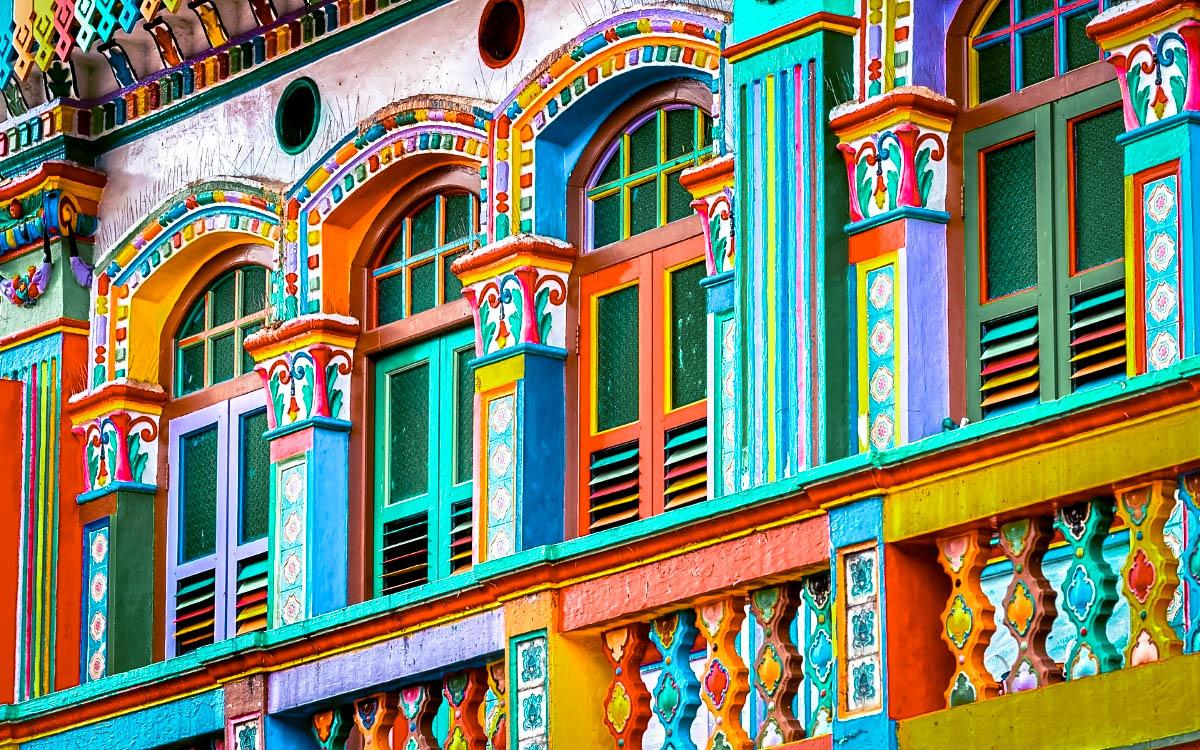 Planning to visit the most colorful and vibrant places around the world? Then, surely you cannot miss Little India in Singapore. From magnificent temples to unique shops and tasty Indian food, Little India offers something for everyone. This place is surely a treat for the eyes as well as for your taste buds.
15. Rainbow Mountain, Peru
Are you tired of hiking the same rough and dusty mountain trails? Then, add a spark of color to your future hiking journeys by choosing Rainbow Mountain in Peru. It is the second most visited tourist attraction in Peru, after Machu Picchu. The mountain is covered in a fusion of colors -turquoise, maroon and pink just to name a few.
16. Gdansk, Poland
Gdansk is a famous port city in Poland. It's the land of colorful house facades and buildings. A walk through Dlugi Targ will make you appreciate the dazzling display of local shops and eateries. From the Golden Gate to the Green Gate, every corner of this city is worth visiting. Fall in love with Polish history and culture and add this city to your bucket list!
17. Moscow, Russia
The capital city of Russia, Moscow made up the list of the most colorful places in the world and it's quite obvious why. The city is home to one of the world's most colorful and beautiful cathedrals, St. Basil's Cathedral. Moscow is a feast for the eyes and a perfect destination for history and art lovers.
18. Burano, Italy
It's a small yet friendly community that welcomes travelers with all its heart. You can reach Burano by boat, as a half-day trip from Venice. It's the perfect spot to visit if you want to avoid the crowds and take photos with the colorful homes along the canals.
19. Pachuca, Mexico
Pachuca, Mexico is famous for its utterly beautiful and colorful houses covering the hill in the city. Painted in bright colors, this neighbourhood is a tourist attraction and for a good reason. The streets in Pachuca are covered in street art. This adds a unique beauty to the city and attracts art lovers from all around the world.
20. Nubian Village, Egypt
Do you want a glimpse of all the colors of the rainbow in one place? If the answer is yes, you need to visit a Nubian Village. Located in the southern part of Egypt, these villages are super colorful and their walls are covered with intricate motifs. Visiting such a village is a unique experience and the villagers are very friendly and welcome tourists with open hearts.
21. Guatape, Colombia
In search of the world's most colorful city, I came across Guatape in Colombia. Cheerfully painted, every corner of this city is a treat for the eyes. Plaza de Zocalos is probably one of the most famous places here so make sure to stop there for a few minutes and capture it through your camera's lenses.
22. Bo-Kaap, South Africa
Bo-Kaap is one of the unique places in the world, but even if today this neighbourhood is painted in bright colors, it has a sad history. The houses here used to be the homes of slaves. It is said that when the slaves were finally allowed to buy their houses, they painted them in colors as an expression of freedom. When in the area, make sure to visit the Bo-Kaap Museum for more info about this place's history.
23. Havana, Cuba
The Spanish founded Havana in the 16th century. With a rich culture and history, Havana is today a popular tourist attraction. Explore it on foot and you'll discover beautiful colonial architecture, colorful houses and unique cars.
24. Reykjavik, Iceland
The bright and colorful cityscape of Reykjavik is beyond magnificent. It's a small city, but it's covered in awe-inspiring street art. Make sure to visit the famous Rainbow Street (Skólavörðustígur), Hallgrímskirkja Church, and the Sun Voyager. However, if you want to discover Iceland's natural beauty, rent a car and venture along the Ring Road.
25. Lake Hillier, Australia
Have you ever imagined that somewhere in Australia there is a pink lake? Discovered back in 1802 by a navy explorer, Hillier Lake has the color of a tasty strawberry milkshake. It's totally safe to swim here and even if you pour this water into a bottle, it will not change its color. The lake's pink shade is due to a microorganism present in the water called Dunaliella salina.
26. Zhangye Danxia, China
This unique Chinese destination is famous due to the colorful hills that look like they were painted by a skillful artist. The colors are actually due to deposits of sandstone and other minerals that occurred millions of years ago. This vibrant destination attracts tourists from all around the world nowadays.
27. Zalipie, Poland
One of the most beautiful villages in Europe, Zalipie is a rural village in Poland, known for its painted houses. Locals use their homes as their canvas and paint them with floral motifs inside and out. It's a unique tradition that made this village worldwide popular.
28. Kawachi Fuji Garden, Japan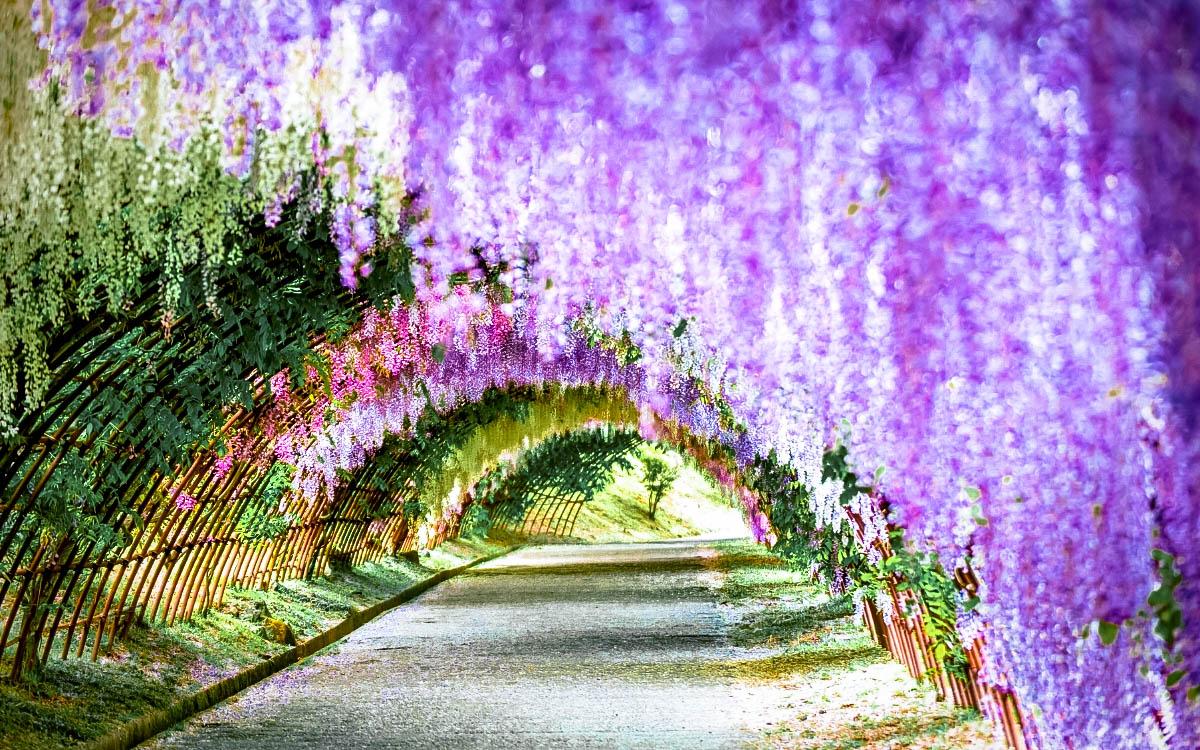 This private garden filled with wisteria flowers is open to the public in April and May and also in autumn. The wisteria tunnel is a must-see, making this place the perfect destination for couples and not only. This is a unique place that any traveler has to visit.
29. Fly Geyser, Nevada
Mother nature always surprises us and the Fly Geyser is no exception. This colorful natural wonder is covered in thermophilic algae which flourishes in hot temperatures covering this geyser green and red hues. What a unique natural phenomenon!
30. Keukenhof Garden, Netherlands
Keukenhof Garden in the Netherlands is one of the world's most beautiful flower gardens. Due to its immense beauty and display of tulips and fragrances, it is also called the Garden of Europe. To anyone who's a fan of flowers, colors, and nature, this is your ultimate escape. There are around 7 million flowers planted in this garden and it covers a whopping area of 32 hectares.
31. Caño Cristales, Colombia
Caño Cristales in Colombia is one of the most beautiful and colorful rivers around the globe. The river's water looks like a liquid rainbow. Also known as the Melted Rainbow, this incredible river is a unique sight. From dark red to crystal pink to gold, you will witness every color shade here.
32. Holi Festival, India
Holi means the 'festival of spring' or the 'festival of colors'. This festival is celebrated in India when the spring season approaches. On this day, the entire country is filled with vivid colors. People throw colorful dust in the air and on each other as an expression of love and celebration. Without any doubt, it is one of the world's most colorful festivals.
33. Rainbow Village, Taiwan
As the name suggests, the Rainbow village is yet another remarkable destination, part of the most colorful places in the world. When he heard that the town was about to be demolished, Mr. Huang painted the walls with interesting characters and saved it from demolition. Now, these colorful houses are among the top tourist destinations in Taiwan.
34. Kabukicho, Tokyo, Japan
Tokyo or the City of Lights is the biggest city in the world and, when it comes to colorful places, there is one neighborhood that you need to visit – Kabukicho. This entertainment district is famous for its vibrant nightlife and thousands of bright neons lighting the streets. It's the perfect place if you're looking for some fun!
35. Copenhagen, Denmark
Copenhagen is one of the top cities in Europe and one of the most colorful ones. Head to the Nyhavn harbor and stop and wonder at the beautiful facades. The canal is lined with the cutest and brightly-colored traditional houses and local shops.
36. Assos, Greece
Located on the island of Kefalonia in Greece, Assos village is a must-see. The colorful houses create the perfect contrast with the turquoise water. With less than 100 permanent inhabitants, this small village is a small paradise for travelers. Make sure to add this destination to your itinerary!
37. Barcelona, Spain
Beautiful masterpieces by Antoni Gaudi are scattered around the city. One of them is the unique Park Guell with its colorful mosaics and details. Another work of art by Gaudi is Casa Batllo, a masterpiece with rounded corners that feels like a home from a fairytale. Barcelona has an artsy vibe and there are colorful places to explore at every step.
38. Porto, Portugal
Covered in colorful azulejos (tiles), Porto's houses are scattered around the city's steep hills. Take a walk on Cais de Ribeira and admire the traditional houses transformed into works of art. Each and every one is different, but they're all part of Porto's history and charm.
39. Batu Caves, Kuala Lumpur
The colorful stairs of Batu Caves in Kuala Lumpur have become an internet sensation. This unique temple built on a limestone hill is one of the most important Hindu temples in the world. Home to beautiful caves and imposing statues, this is a must-see when in Kuala Lumpur. Batu Caves deserves its spot as one of the world's most colorful destinations.
40. Tallinn, Estonia
My list of vibrant places around the world wouldn't be complete without the beautiful city of Tallinn. The capital city of Estonia is a place with a rich history but also a modern touch. Near the Old Town, home to numerous historical buildings, is the artsy neighborhood of Teleskivi. Tallinn is the perfect mix of old and new.
41. Blue Temple, Chiang Rai, Thailand
Chiang Rai is home to two incredible temples, the Blue Temple and the White Temple. The Blue Temple is unique due to its vibrant blue color and golden details. It's a place for prayer for locals and also a tourist destination for tourists. To read more about it, click here.
42. Poznan, Poland
The old town of Poznan is one of the most colorful places in the world. The houses lined around the Old Market Square are beautifully decorated and what makes them unique is how narrow they are.
43. Rainbow Street in Seyðisfjörður, Iceland
Seyðisfjörður is a small village, inhabited by only 700 people who live like a family. They welcome travelers to this little paradise and make them feel like a part of this place. Travelers come here for this place's natural beauty and the famous Rainbow Street leading to the Blue Church.
44. Thean Hou Temple, Kuala Lumpur
Thean Hou Temple is one of the oldest and largest temples in Southeast Asia, famous for its undeniable beauty. With thousands of red lanterns hanging above it, this temple is an oasis of tranquility and a dream for any photographer. The temple was completed in 1987 and is dedicated to Tian Hou, the goddess who protects the fishermen.
45. Bangkok Floating Markets, Thailand
Would you like to visit a floating market? Yeah, you heard it right! You can shop for groceries in one of Thailand's floating markets. While sailing between boats and locals selling fresh produce, it's impossible not to notice the multitude of flavors and colors surrounding you.
46. Brighton Beach, Australia
Brighton Beach is located just an hour away from Melbourne. Famous for its colorful small huts lined along the shoreline, this beach is a paradise for surfers. Some of these colorful huts owners use them as holiday homes, while others come here for a few hours to enjoy nature. Either way, most of these huts don't have electricity and running water so they're not ideal homes.
47. Bergen, Norway
Bergen is surrounded by some of the tallest mountains and largest fjords in Norway. Both in summer and winter, this place will melt your heart right away. The most popular place in the city is Bryggen. Here you can admire the colorful traditional homes made out of wood. Bergen is definitely one of the most colorful places in Europe.
48. La Boca, Buenos Aires, Argentina
La Boca barrio is a fusion of art, music and culture. The most colorful part of this neighborhood is El Caminito, an alley surrounded by houses painted in all kinds of shades. This unique place deserves to be on every traveler's bucket list.
49. Nuuk, Greenland
Nuuk is a heavenly place in Greenland with a rich natural beauty, surrounded by mountains and greenery. And, if this was not enough to make you fall in love with this place, then the colorful houses of Nuuk might be the cherry on top.
50. Boudhanath Stupa, Nepal
Near Kathmandu, the Boudhanath is one of the world's largest stupas. It is a holy place for Buddhists who come here to pray and an iconic destination for tourists. This stupa is one of the most beautiful and colorful destinations around the world.
Final thoughts
Earth is a colorful place that always finds a way to surprise us. From vibrant cities to stunning natural wonders, color is always around us. I hope that you enjoyed this list of colorful destinations. Let me know in the comments which one is your favorite.
May the travel bug bite you!
Disclosure: Please note that this post may contain affiliate links. If you make a purchase through these links, I will earn a small commission at no extra cost to you. I only recommend companies and products that I trust and the income goes to keeping this website running. Thanks!