Siquijor is one of the hidden gems in the Philippines. Only a few tourists visit this incredible island, others preferring to visit Bohol or Cebu instead. Well, I'm here to tell you that after spending one month in the Philippines, Siquijor is by far my favorite island.
This island is perfect for active travelers, for those who like to spend time in nature and get off-the-beaten-path. Home to pristine beaches, stunning waterfalls and witches (yes, real witches), Siquijor is a must-see when traveling to the Philippines.
I spent one week on this island, exploring every corner and every natural wonder there is. To show you the beauty of this exotic island, I've compiled a list of the best things to do in Siquijor. But before talking about the tourist spots in Siquijor, let me tell you a few interesting facts about this island.
1. Interesting facts about Siquijor
Siquijor used to be called "Isla del Fuego" or "The Island of Fire" due to the large number of fireflies
Siquijor is known for its magical rituals. The most sold potion on the island is the love potion and even tourists can buy it. You can find it at souvenir shops near the Balete Tree.
Siquijor welcomes around 500,000 international tourists each year which is not that much compared to El Nido, Coron or Cebu.
2. Top Siquijor tourist spots – MAP
To see all the tourist attractions in Siquijor, click on the map below or click here. Choose the ones you like the most and add them to your itinerary!
3. Things to do in Siquijor
Siquijor is a small island and all the tourist attractions listed below can be visited in about 4-5 days. If you really want to enjoy this island and plan a relaxing holiday, I recommend spending 6 days here. There's plenty to do and I can guarantee you won't get bored!
1. Kawasan Falls
After visiting Cambugahay Falls, we headed to Kawasan Falls, a smaller waterfall located nearby. After a short walk through the jungle, we arrived at this beautiful waterfall. We and another couple were the only people there.
We swam into the natural pool for a while and then Dan ventured inside the small cave behind the waterfall. He also jumped into the water from the top of Kawasan. Even though this waterfall is not as impressive as Cambugahay, it's still a beautiful place and a point of interest in Siquijor.
Entrance fee – free
2. Snorkel at Tubod Beach
Among the most beautiful beaches in Siquijor, Tubod is one of the hidden gems on the island. You won't find many people here, so you can snorkel and admire the marine life in peace. Tubod Marine Sanctuary is thriving with colorful fish and vibrant corals.
The beach is quite narrow, but it's gorgeous. Tall palm trees are lined along the seashore on one side while the other side is bordered with turquoise water. It's pretty incredible! Definitely my favorite beach on the island. You can read more about Tubod Beach here.
Entrance fee – 50 PHP per person for snorkeling, 20 PHP per person for swimming
No time to read now? Pin it for later!
3. Mount Bandilaan
Mount Bandilaan is the highest point on Siquijor Island (632 meters). From the main road, where you can park your motorbike, you'll have to climb a few stairs to reach the top. It will take about 15 to 20 minutes.
Once you reach the top, you'll see a tower. Climb it and you'll be rewarded with a 360-degree view of the entire island. This is definitely one of the most beautiful things to see in Siquijor.
Entrance free – free
4. Salagdoong Beach
If you're looking for the best tourist spots in Siquijor, you have to stop for a few hours at the famous Salagdoong Beach. This is the perfect destination for adventurous travelers who like cliff jumping.
There are two jumping platforms, a 10-meter platform and a 7-meter platform. When I visited, I chickened out and I went to the beach instead. Anyway, this is an excellent place to relax and enjoy the nature while in Siquijor.
Entrance fee – 30 PHP per person, 20 PHP for motorbike parking
5. Paliton Beach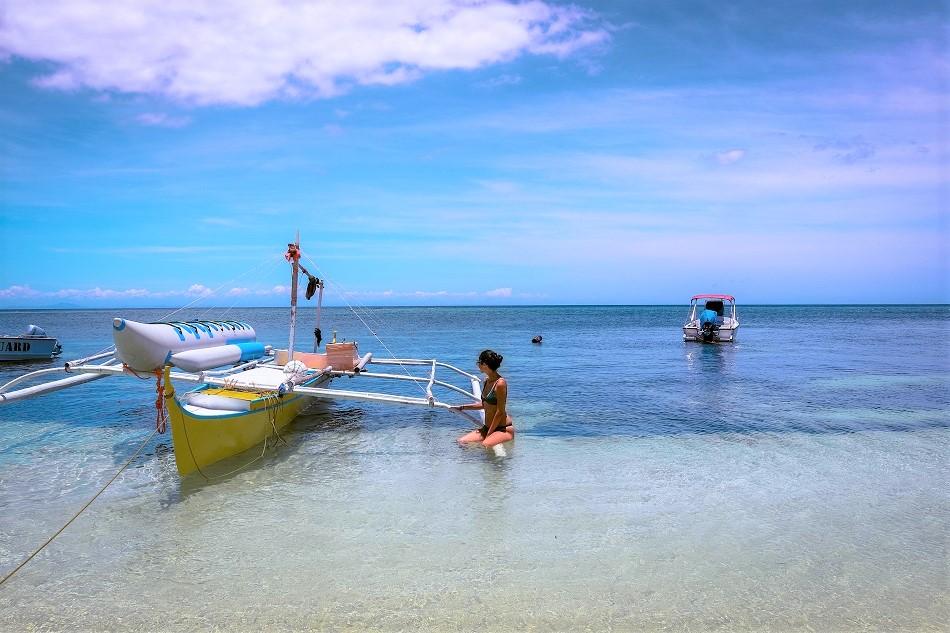 With beautiful beach bars, Paliton Beach is one of the best spots on the island to watch the sunset. The beach is wide, but unless you arrive here early, it's going to be pretty crowded. You can swim or snorkel in the crystal clear water and then buy a fresh coconut from one of the small shops.
Entrance fee – Free
6. Cambugahay Falls
One of the must-see places in Siquijor and the most popular tourist attraction on the island is the beautiful three-tier waterfall Cambugahay Falls. With milky blue water, jumping platforms and exciting swings, this picture-perfect place is one of Asia's most beautiful waterfalls.
You can even rent a wooden raft, like we did, and relax for a few minutes while surrounded by the thick jungle. Cambugahay Falls is simply stunning so make sure to add it to your itinerary!
Entrance fee – 20 PHP per person
7. Guiwanon Spring Park
One of the most famous tourist attractions in Siquijor is Guiwanon Spring Park. Here you can walk on wooden bridges between mangroves. These unique plants are extremely important for the local ecosystem and they serve as a nursery for fish.
Entrance fee – 10 PHP per person
8. Coral Cay Beach
Coral Cay Beach is one of the places you need to visit when in Siquijor. Unlike Paliton Beach and Salagdoong Beach, Coral Cay is a bit off-the-beaten-track. There are a few resorts with beach bars where you can have lunch or get a snack but otherwise, the beach is pristine.
The water gets deep gradually, making it perfect for swimming. I recommend bringing your towel because you won't find sunbeds to rent here. Click here for other awesome beaches in Siquijor!
Entrance fee – Free
9. Lugnason Falls
One of the most beautiful waterfalls on the island, Lugnason Falls is also a popular spot for those who like cliff jumping. The waterfall is quite popular and easy to reach.
From the parking spot, you'll have to walk for about 10 minutes through the jungle and then you'll be rewarded with this stunning waterfall. If cliff jumping is not for you, you can simply swim in the natural pool formed at the base of Lugnason Falls.
Tip – Don't visit it during the dry season (February, March, April) because the waterfall has no water.
Entrance fee – Free, 10 PHP per motorbike for parking
10. St. Francis of Assisi Parish
Also known as the Siquijor Church, this is one of the landmarks on the island. Founded in 1783, the church was actually completed in 1831 and is made out of coral stones. If you're spending a few days on the island, I recommend stopping for a few minutes here.
11. Lagaan Falls
From Kawasan Falls head north for a little bit and you'll arrive at Laggan Falls. This waterfall is rather small, but it's worth visiting due to its natural beauty, especially if you're in the area. There is also a free rope swing that you can use.
Entrance fee – 30 PHP
12. Old Enchanted Balete Tree
One of the best places to visit in Siquijor is the Old Enchanted Balete Tree, a place covered in mystery and magical stories. It's well known that Siquijor is popular for its healers and witches.
If you want to buy some potions, head to the Balete Tree. I'm not sure if they work, but the souvenir shops are packed with potions and other magical objects. Anyway, leaving magic aside, this 400-years old tree is worth visiting.
Entrance fee – 10 PHP
13. Take a day trip to Apo Island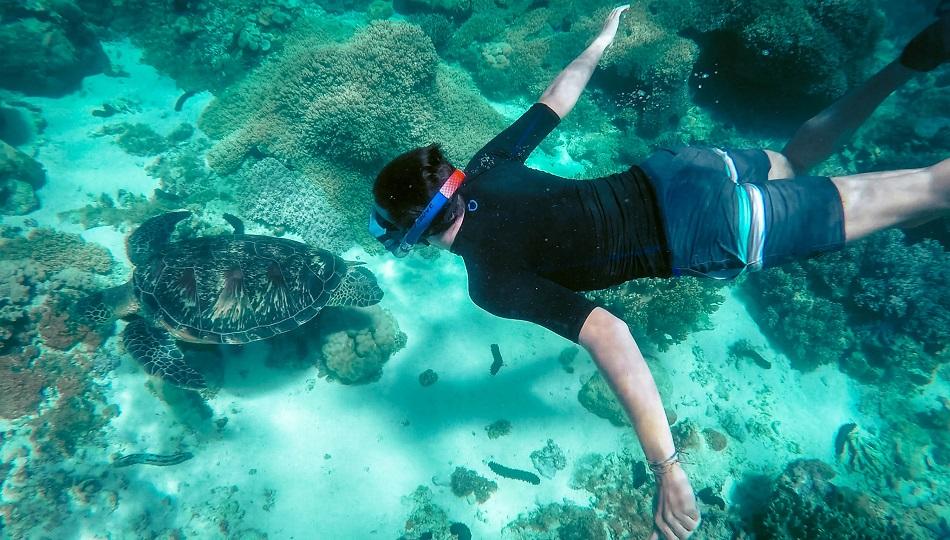 Would you like to swim with the turtles? If the answer is yes, take a day trip from Siquiijor to Apo Island. Swimming with the turtles was the highlight of my trip to the Philippines.
Apo is a small island where a small community of people lives. Apart from snorkeling or diving, there's not much to do and one day is more than enough to explore it.
Cost – 1950 PHP per day trip (it includes boat, lunch, snorkeling gear)
14. Larena Triad Coffee Shop
One of the off-the-beaten-path places in Siquijor is Larena Triad Coffee Shop. To get here, you'll need a motorbike but this coffee shop has the best view on the entire island. Grab a seat at their open terrace and admire the sea.
If you haven't tried Halo-Halo yet, I recommend ordering this Filipino dessert here. It's a mix of condensed milk, crushed ice, beans, fruits, rice and jelly. I know it doesn't sound tasty, but it actually is!
15. Butterfly Farm
This list of Siquijor tourist spots continues with the Butterfly Farm. Here you can admire beautiful and colorful butterflies. The garden is quite big and there are plenty of species to admire. Make sure to bring your camera and snap some awesome photos!
Entrance fee – 100 PHP
16. Hidden viewpoint
Somewhere in the centre of the island, a short walk away from the main road, is a beautiful hill with one of the most incredible views in Siquijor. The climb is easy and it will take about 10 minutes to reach the top.
You won't find anyone here. We saw this hill from the main road and we decided to explore it and I'm so glad we did! For the exact location, click here.
17. Cangbangag Falls
One of the most beautiful waterfalls on the island is Cangbangag. It's the tallest waterfall in Siquijor and a hidden place for most tourists. If you like offbeat places, away from the hordes of tourists, Cangbangag Falls is the perfect place for you.
Entrance fee – free
18. Eat at Monkey Business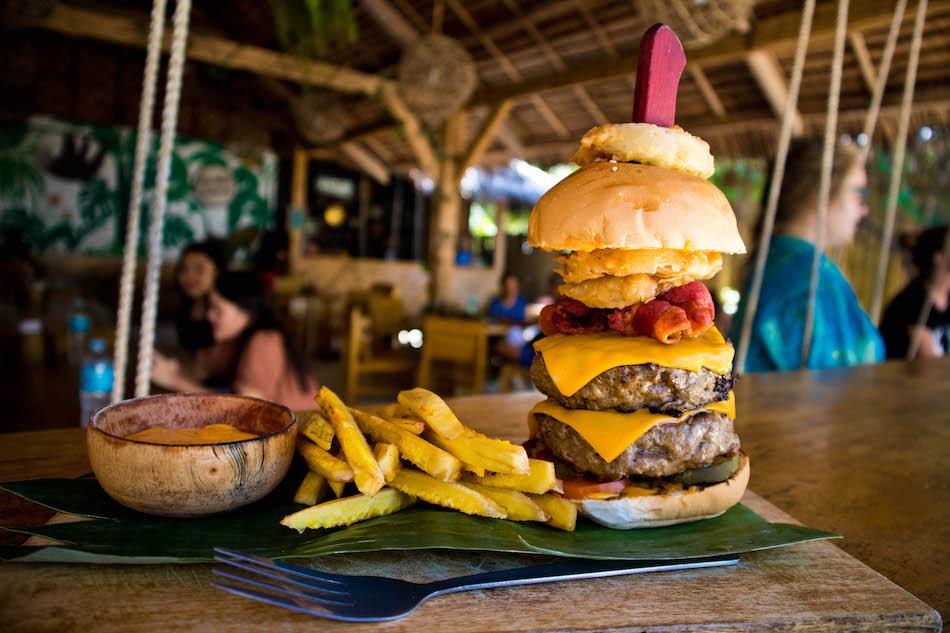 My favorite restaurant on the island is Monkey Business. The staff is super-friendly, the decor is on point and the food is great. Not to mention that the portions are huge. I chose to sit on one of their swings while I devoured my delicious burger.
19. Cantabon Cave
Located in the center of the island, Cantabon Cave is one of the top tourist attractions in Siquijor. This underground cave is 800-meters long and to explore it, you'll need sturdy shoes. Also, make sure to store all your electronic devices in a waterproof bag.
To visit this cave, you'll need a guide but you can find one at the entrance. The entrance fee will include safety equipment such as a helmet and light.
Entrance fee – 500 PHP for a group of 3 people
20. Lazi Convent
Located in the town of Lazi, this convent was built in 1884. It's the biggest one in Asia and it plays an important religious role in the local community. When visiting Lazi Convent, make sure to stop at the Siquijor Heritage Museum. Here you can admire historical items and religious artifacts.
21. Tulapos Marine Sanctuary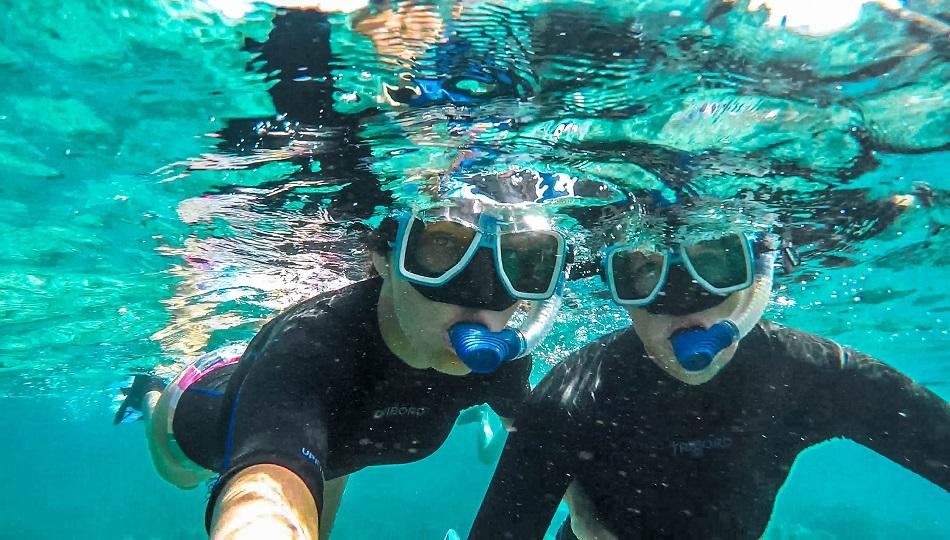 One of the best snorkeling spots in Siquijor, Tulapos Marine Sanctuary is home to incredible marine life. Colorful fish, turtles and huge corals are waiting to be discovered here.
Unlike Tubod Marine Sanctuary, you'll need a guide for Tulapos, snorkeling here without one is not allowed. The entrance fee is 300 PHP and it includes snorkeling gear and a guide.
22. Kagusuan Beach
Located away from the crowds, Kagusuan Beach is another tourist destination you need to visit in Siquijor. From the road, you'll have to walk for about 10 minutes to reach this beach, but you'll be rewarded with a pristine place with no crowds.
Of course, there are no beach bars, toilets, or any facilities here but you can enjoy being surrounded by nature and beauty for a few hours.
23. Capilay Spring Park
If you want to feel the pulse of the local community living in Siquijor, head to Capilay Spring Park in San Juan Town. The water is cool and about 2 meters deep and there are no entry fees. Everybody can enjoy this awesome spring! It's the perfect place to refresh yourself after a day of sightseeing in Siquijor.
24. Marelle's Seashell Museum
Would you like to learn more about the marine life? Stop at Marelle's Seashell Museum. Here you'll discover an impressive collection of seashells, land snails and other marine creatures. After that, try their restaurant for some delicious Filipino dishes.
Entrance fee – 100 PHP per person
25. Drive on a motorbike around the island
The best way to explore Siquijor is on a motorbike or scooter. It gives you the freedom to explore every beach and waterfall at your own pace. Also, you'll pass through local villages and you can make as many stops as you want along the way.
4. How to get to Siquijor
The only way to reach Siquijor is by ferry. To get to this island, you have three options. You can either take the ferry from Cebu, Dumaguete or Bohol. Either way, you'll arrive in Larena Port.
Dumaguete to Siquijor
To get from Dumaguete to Siquijor you have two options. You can take the ferry for about one and a half hours. The trip will cost around 150 PHP.
Another option is to book a day trip. I recommend this top-rated tour that includes stops at Cambugahay Falls, the Balete Tree and Triad Cafe.
Cebu to Siquijor
The fastest option is to take a ferry from Cebu to Tagbilaran in Bohol and then another ferry from Tagbilaran to Siquijor. The trip will take around 4 hours.
Bohol to Siquijor
From Tagbilaran, Bohol, you can take the ferry to Siquijor for about 2 hours. The ride is comfortable and there are no stops along the way. Check out my Bohol guide here.
5. Where to stay in Siquijor
Choosing the perfect hotel for your budget might be daunting, but I'm here to help you. I've been searching for the best hotels and guest houses in Siquijor for every budget and these are my recommendations.
Budget – Miki's Guest House – cozy house, good facilities (including scooter rental), AC, WiFi
Mid Budget – Tropical Fun Ta Sea – excellent location, sea view, clean and spacious rooms, excellent amenities
Luxury – Infinity Heights Resort – incredible private villa with sea view, luxurious design, very spacious, friendly staff
6. Final thoughts
Siquijor is one of the most beautiful islands in the Philippines, a hidden gem with stunning beaches, crystal-clear water and breathtaking waterfalls. I recommend spending at least 3 days on this island because it has a lot to offer!
I hope that these tourist attractions in Siquijor inspired you to book a trip to this island. Make sure to also add Bohol to your itinerary. It's famous for its Chocolate Hills and epic waterfalls.
Enjoy these Siquijor tourist spots and let me know in the comments below if you have any questions. May the travel bug bite you!
Disclosure: Please note that this post may contain affiliate links. If you make a purchase through these links, I will earn a small commission at no extra cost to you. I only recommend companies and products that I trust and the income goes to keeping this website running. Thanks!