I lived in Bali for around 8 months during my one and a half years in Asia. Bali was my home base, the place where I'd return after visiting other exciting destinations such as Vietnam, Malaysia, Thailand or the Philippines.
I always came back to Bali because I loved its laid-back atmosphere, the beautiful beach bars and the restaurants serving delicious food. If you're planning to move to Bali, make sure to read my detailed guide.
No matter if you're planning to move to Bali or simply visit it, this guide will help you decide between staying in Canggu or Seminyak. These two villages located by the sea seem to always be competing for the love of tourists.
I'll compare Seminyak vs Canggu based on the following criteria – prices, beaches, transport, vibe, nightlife, hotels, restaurants and things to do.
The best time to visit Canggu and Seminyak
Bali is crowded all around the year. If you'd like to avoid the rainy season, I recommend visiting during the summer months (June, July, August). The months with the most rain are November, December, January, February and March.
If you want to avoid part of the crowds, choose to visit Bali in April, May, September or October but expect short rains.
No time to read now? Pin it for later!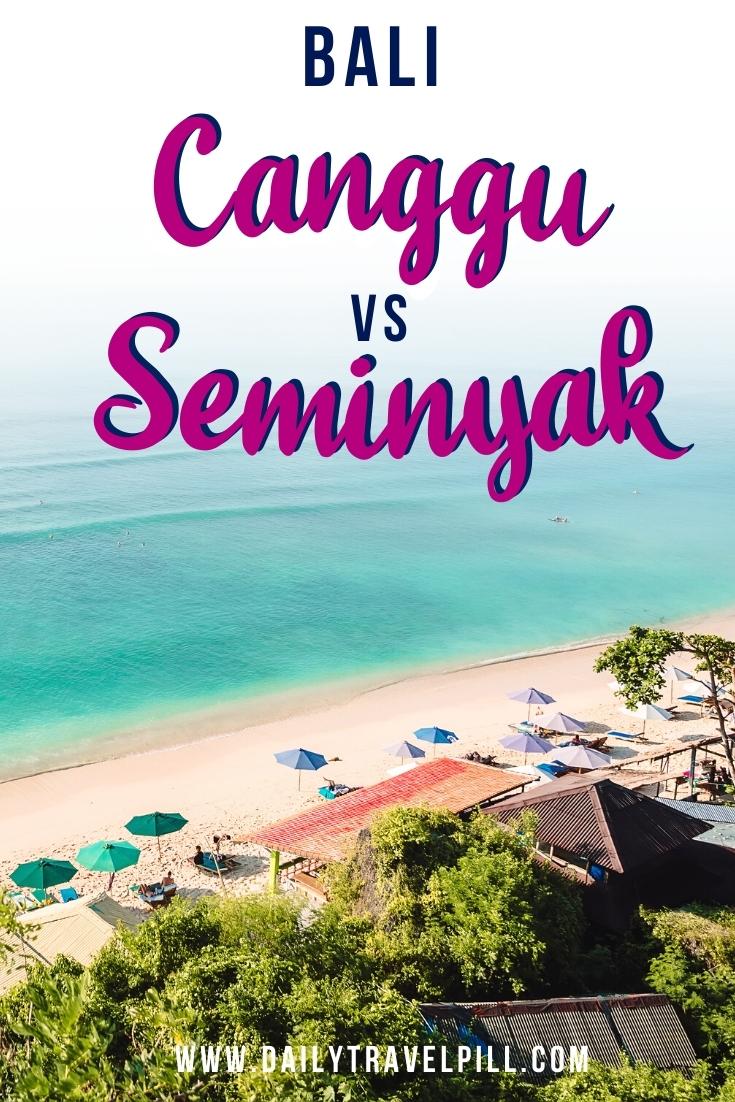 1. Canggu vs Seminyak – Accommodation
When it comes to hotels, resorts, guest houses or hostels, both villages offer plenty of options. However, Seminyak seems to have more options for those who are searching for luxury hotels. For example, you can book a few nights at the famous W Hotel as well as other hotels like Alila hotel and Seminyak Beach Resort.
If you're traveling on a budget, here are other options:
Budget – Grandmas Plus – good area, cozy rooms, good facilities, friendly staff
Mid-Range – Happy Together – good area, beautiful pool, modern and spacious rooms, good value for money
Canggu also has a few luxury resorts such as Como Uma and Planta Luxury Resort. When it comes to budget accommodation, Canggu offers plenty of options. There are many hostels and guest houses in the area, with prices ranging between $12 and $30 per night.
For about $20 per night, you'll get a private room in a villa in Canggu with a private bathroom and access to the pool. In Seminyak, you'll have to pay a bit more – somewhere around $30 for the same amenities.
Here are budget accommodation options in Canggu:
Budget – Oma Biuh – friendly owners, quiet area, clean and spacious rooms, comfortable beds
Mid-Range – The Sloth – good location, excellent facilities, spacious rooms, friendly owners, beautiful pool
If you're planning to move to Bali for a longer time, I wrote an entire guide with tips and tricks to find long-term accommodation. Check it out here!
2. Canggu vs Seminyak – Transport
When it comes to transport options, it's good to know that there are no trains in Bali. When it comes to buses, there are only a few options and they only operate between big cities.
The most popular mode of transport in Bali is the motorbike. Tourists rent motorbikes straight from their accommodation or from rental centres.
Renting a motorbike for one month costs around 60$. If you want to rent a bike just for a few days, expect to pay somewhere around $5 per day in Canggu or Seminyak. Of course, prices can vary depending on your negotiation skills.
Another option for those who don't feel comfortable driving a motorbike is renting a car with a driver. This is a very popular option among tourists in Bali. Talk to the owner of your villa or go to your hotel's reception and ask for details. The price is around $40 – $50 for 8 hours.
No matter if you choose to stay in Seminyak or Canggu, the transport options are the same – you can either rent a motorbike and explore the island at your own pace or rent a car with a driver.
3. Canggu vs Seminyak – Vibe
I lived in Canggu for a few months and I visited Seminyak countless times. The most significant difference between these two is that Canggu is more laid-back, more relaxed while Seminyak is more lively.
Canggu feels more like a local village and not a touristy destination. You'll find plenty of restaurants and stores but the overall feel is that Canggu still belongs to the locals and not the tourists.
On the other hand, Seminyak is more developed, has more stores and it even has a big mall. There are plenty of shops and restaurants and it feels more like a tourist destination.
If you want to experience the local way of life in Bali, go to Canggu. If you want to go to a touristy place with all the tourist facilities, go to Seminyak.
4. Canggu vs Seminyak – Prices
When it comes to prices, Seminyak is more expensive than Canggu. Expect the prices to be between 10% and 20% higher in Seminyak.
Clothes, souvenirs and accommodation are more expensive there. Seminyak is closer to Denpasar and the airport so this might be a factor. Canggu attracts mostly digital nomads who are staying for extended periods of time in the area so the prices are a bit lower.
5. Canggu vs Seminyak – Beaches
Batu Balong Beach and Canggu Beach are the most famous beaches in Canggu and the busiest ones. Nearby is the beautiful Berawa Beach (part of North Kuta) with dozens of beach bars and beach clubs. From Canggu is a short walk to Berawa where you can find the famous Finns Beach Club.
Some of the most beautiful and famous beach bars in Canggu are La Brisa, Echo Beach Club and Old Man's. Canggu is famous for its nightlife and one of the favorite places for partying is Old Man's. During the day, Old Man's is an excellent restaurant while during the night it transforms into a lively club.
If you want to learn how to surf or practice your skills, you want to stay in Canggu. The waves here are perfect for surfing and there are countless rental shops and instructors available.
Seminyak also has beautiful beaches such as Seminyak Beach and Double Six Beach. They're pretty crowded during the day but you can avoid the crowds if you're a morning person. Seminyak doesn't have that many beach clubs but there are plenty of restaurants and pubs to choose from.
Every beach in Canggu or Seminyak is beautiful and they're all covered in beautiful black sand. They're pretty wide too, perfect to lay your towel on the sand and get a tan.
When it comes to swimming, you must be very careful. The waves are usually pretty big and on the bottom of the ocean you can find big rocks. I only recommend swimming here to experienced swimmers.
6. Canggu vs Seminyak – Restaurants & Cafes
I love Canggu because it has such a diverse range or restaurants and cafes. From local warungs to more luxurious restaurants, you can definitely find something for your taste and budget in Canggu.
When it comes to cafes, there are plenty of options too. There are also many co-working spaces with all kinds of amenities such as pools and weekly parties.
Below are my favorite restaurants in Canggu:
Budget – local warung, Waruna – this is the most delicious Balinese food you'll find on the entire island and it's affordable too! A meal costs only $4, how awesome is that?
Mid-Range – delicious pancakes at Funky Pancakes – colorful, sweet and delicious, these pancakes are simply amazing!
Mid-Range – best tacos at La Bandita – small restaurant, with delicious Mexican food
Mid-Range – best burgers at Pit Stop – when in Canggu you have to try their burgers. They're some of the best I've ever had!
Mid-Range – best fruit bowls at Nalu Bowls – try their delicious fruit bowls with passion fruit, mango, papaya and more! For a list with the best fruit bowls in Canggu, click here.
When it comes to restaurants in Seminyak, the options are a bit more upscale. The prices are higher and it will be harder to find budget options.
There are plenty of cafes in Seminyak that became popular due to Instagram. Such an example is KYND Community. Its pink walls are now an internet sensation!
Anyway, here are my favorite restaurants in Seminyak:
Mid-Range – try the avo toast at Sea Circus – a colorful place with a varied menu. I recommend this place for breakfast.
Mid-Range – have an ice-cream at Mad Pops
Mid-Range – try the Vietnamese food at Bo & Bun – their pho soup is incredible!
Mid-Range – get a fruit bowl at Nalu Bowls – with delicious fruits and flavours, you have to try one of these bowls.
7. Canggu vs Seminyak – Nightlife
Canggu has many beach bars and clubs to choose from. However, the atmosphere is laid-back and relaxed. Don't expect too many people to dance. Locals and visitors go to clubs to grab a beer and catch up with friends rather than show their dancing moves.
When the sun sets, go grab a Bintang on one of the beaches and admire the view. After that, head to one of the beach bars and spend a relaxing evening. Parties tend to end around midnight.
Here are my favorite clubs and beach bars in Canggu:
Old Man's – probably the most popular bar in all of Canggu, Old Man's has a beautiful view of the sea and great music. Also, the prices are reasonable. Check out their Facebook page for upcoming events and parties.
Finns Beach Club – With a fantastic pool and excellent services, this is one of Canggu's most luxurious beach clubs. There is a minimum spending of 1,000,000 IDR per day but prices might chance to make sure to check out this website.
La Brisa – If you're looking for a place to spend a relaxing evening, La Brisa is the perfect choice. You can watch the sunset and enjoy some amazing drinks!
The nightlife in Seminyak is a bit more lively. There are more clubs to choose from and having fun is guaranteed. Here are my favorite clubs and beach bars in Seminyak:
La Favela – With a vintage design and modern elements, La Favela is the preferred spot for expats and hipsters. The atmosphere is awesome and the prices are reasonable.
Hotel Mexicola – Huge venue with beautiful decoration. During the day it's a quiet restaurant while during the night it transforms into a fabulous club with great music.
Potato Head Beach Club – if you're into electronic music, this place is for you. This place is usually packed with people and the atmosphere is great!
When it comes to the nightlife, Seminyak is definitely a winner.
8. Canggu vs Seminyak – Things to do
When it comes to tourist attractions, there's not much to do in any of these villages. You can go to the beach, try different cafes and restaurants and that's it. If you want to visit waterfalls, rice fields or temples you'll have to drive for a while or rent a car with a driver.
The closest popular temple to both Canggu and Seminyak is Tanah Lot. Located on top of a rock formation not far away from the seashore, Tanah Lot is one of Bali's most visited places. The entrance fee is 60,000 IDR per person.
I also recommend visiting the beaches of Bukit Peninsula. Nyang Nyang Beach, Green Bowl Beach and Tegal Wangi Beach are some of the most beautiful beaches in Uluwatu.
Also, make sure to visit the famous Uluwatu Temple. Situated on the edge of an abrupt cliff, this temple is a must-see when in Bali.
For more things to do in Bali, check out this guide. I've included info about visa, transport, prices and much more!
Final thoughts
Both Canggu and Seminyak are great destinations. Canggu is more relaxed and authentic while Seminyak is more vibrant. I'll summarise below the reasons why you should choose each of these villages.
Reasons to choose Canggu:
laid-back vibe
excellent restaurants, beach bars and cafes
affordable prices for accommodation and food
excellent surfing scene
Reasons to choose Seminyak:
incredible nightlife
beautiful beaches
a wide variety of bars and restaurants
I hope that you've found my Canggu vs Seminyak comparison useful. So, which one will choose – Canggu or Seminyak?
Are you also planning to visit Ubud? Make sure to stop at the Ubud Monkey Forest and visit these beautiful waterfalls. Another popular destination in Bali is Pura Lempuyang Temple, known as the Heaven's Gate.
If you have any questions about any of these two destinations, don't hesitate to ask me in the comments section below. May the travel bug bite you!
Disclosure: Please note that this post may contain affiliate links. If you make a purchase through these links, I will earn a small commission at no extra cost to you. I only recommend companies and products that I trust and the income goes to keeping this website running. Thanks!