Situated in Lisse, Netherlands, Keukenhof is the biggest floral garden in the world! Opened just for a limited period of time throughout the year – starting with the last week of March until May –  Keukenhof was the idea of one of Lisse's mayors. The initial concept was to create an exhibition where people across Europe could come and present their hybrid flowers.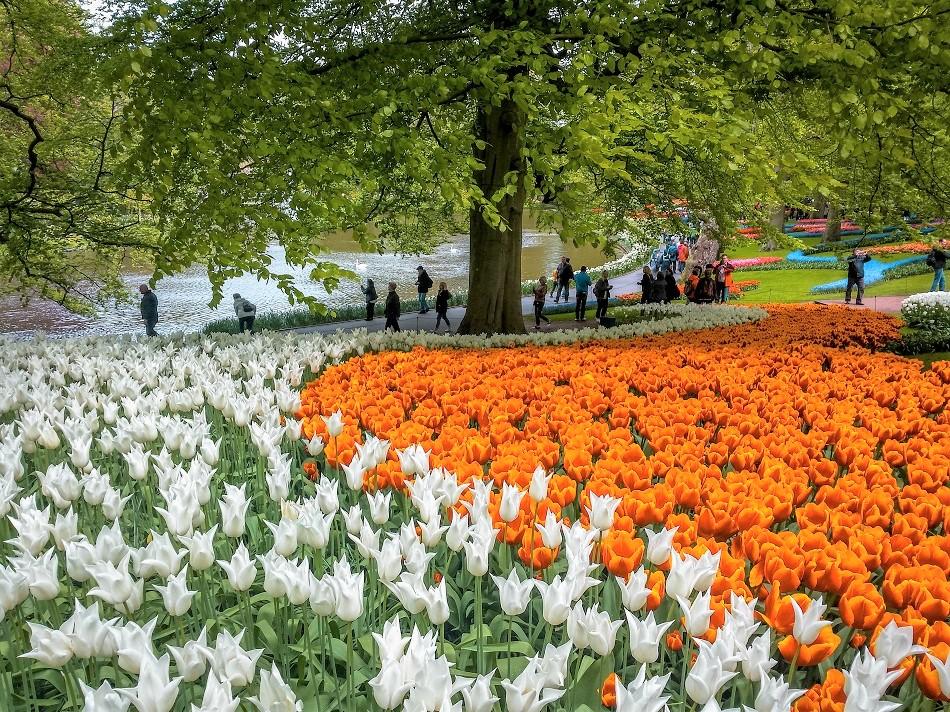 Nowadays, the garden of Europe is a place where you can gaze at millions and millions of different flowers. More specifically, about 7 million bulbs are planted every year on a surface of 32 hectares. What is interesting is that these bulbs are donated – for free – by 100 bulb growers.
When is the best time to go?
If you also want to see the fields of tulips in Lisse, the best time to visit Keukenhof is in mid April. If you go any later, the tulips will be already picked – it happened to me. It would be a shame not the see the tulip fields as they are so photogenic! However, I did saw them once from the plane.
For visiting Keukenhof, I would recommend taking a full day. The park is really big and you don't want to miss all the beautiful flower arrangements. You can totally visit Keukenhof as a day trip from Amsterdam.
There are also indoor exhibits with more exotic flowers.
How do I get there?
There are many bus tours to choose from. If you stay in Amsterdam, you would most probably see signs everywhere with tour offers. However, if you'd prefer to go by yourself, you can take the train to Schiphol airport and then the bus directly to Keukenhof.
Another option would be renting a car for one day or going by bike.
Where do I eat?
Don't worry about food as there are a few restaurants in the park. The prices are the same as in Amsterdam and the food is pretty tasty.
Facts about Keukenhof:
nearly 50 million people have visited Keukenhof since its opening
Keukenhof has a different theme each year
There are 30 gardeners who work around the year and make sure that the exhibition of tulips is perfect
Although when thinking about tulips we all connect them with the Netherlands, they are actually original from the Himalya mountains
Keukenhof is a magical place and I just couldn't resist taking about 1000 photos. Strolling around so many flowers makes you realize how much beauty is in this world.
May the travel bug bite you!
More about Netherlands:
Pin it for later!