Apart from its stunning waterfalls, breathtaking glaciers and old volcanoes, Iceland is also home to two colorful streets. Painted in the colors of the rainbow, these two streets represent Iceland's friendliness and acceptance towards its LGBTQ community.
Fact – Iceland is considered one of the most LGBTQ-friendly countries in the world.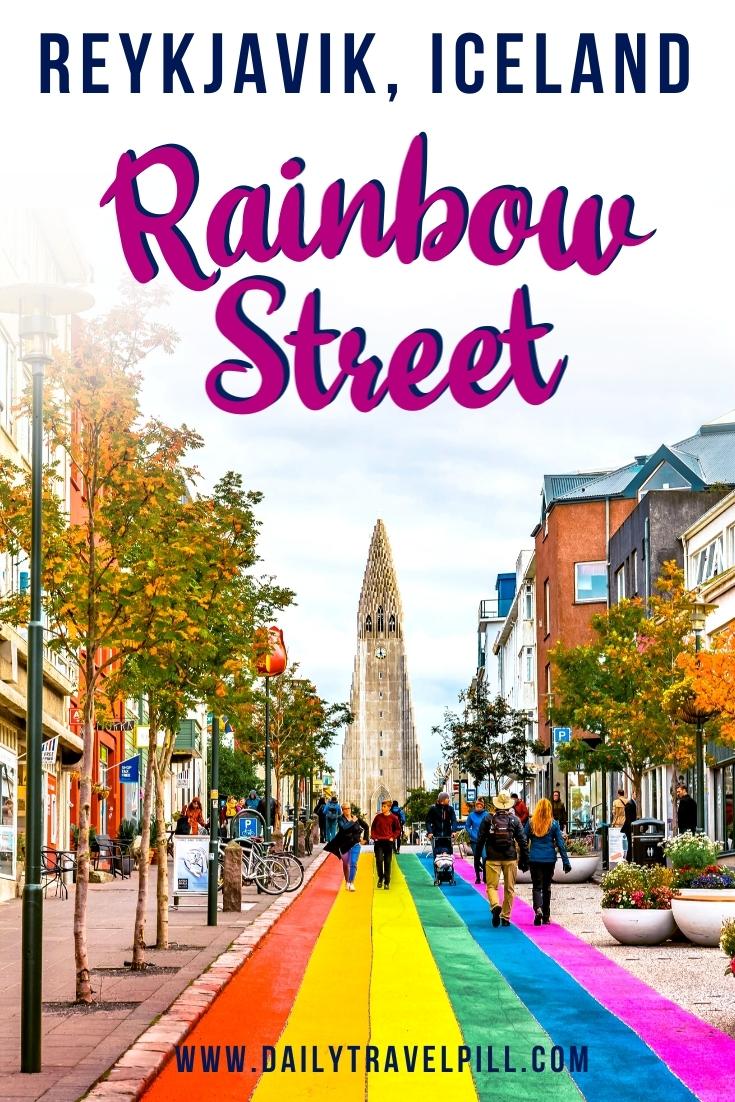 One of these streets is located in Seydisfjordur and you can read more about it here. The other one is located in the heart of Reykjavik and it has an interesting story.
In this post, I'll share with you everything you need to know about Skólavörðustígur Street, aka Reykjavik Rainbow Street. Let's start with its story.
1. The story of Reykjavik Rainbow Street, Skólavörðustígur
Reykjavik Pride is an event that takes place each year in the capital city of Iceland since 1999. Over 100,000 people take part in this celebration of diversity and joy each year.
As a part of this celebration, Skólavörðustígur Street was painted in rainbow colors, but only recently, in 2019, this rainbow street became permanent.
The residents were allowed to participate in the painting of this street so everyone had the chance to contribute to this piece of art leading to Hallgrimskirkja. Even the mayor grabbed a roller and got to work.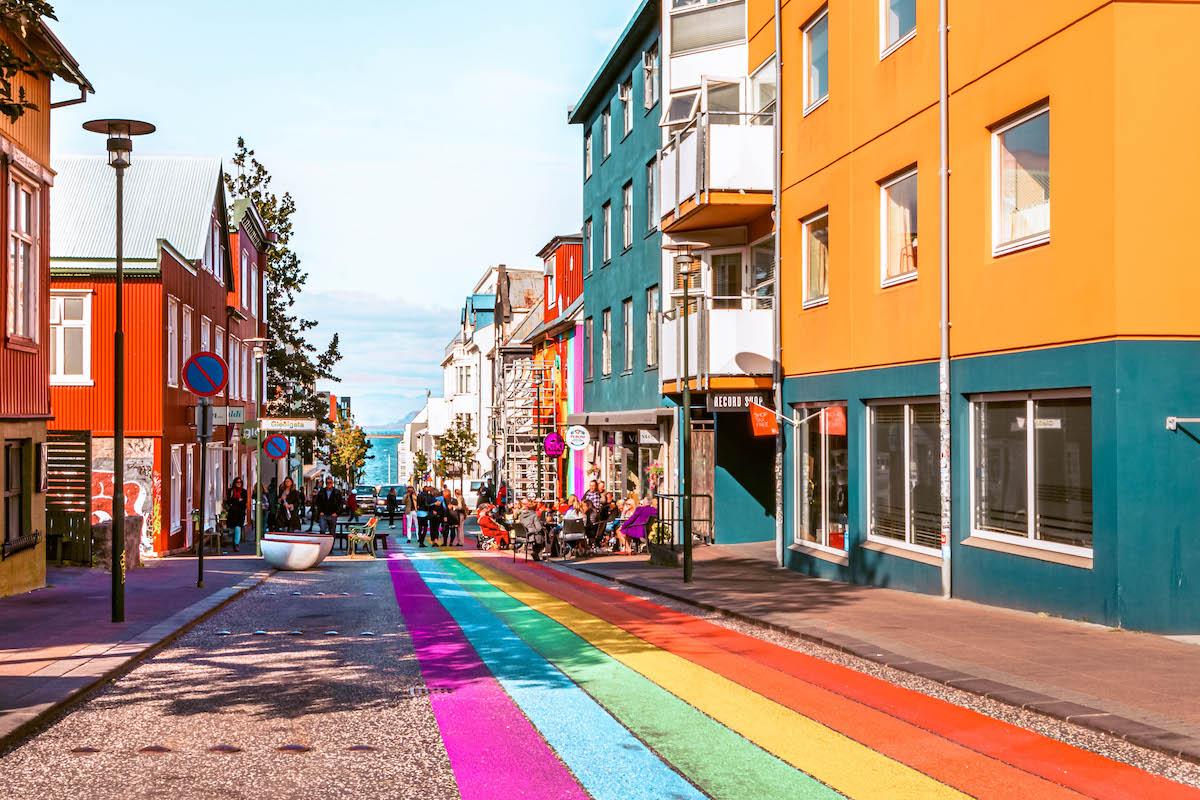 On his Facebook page he declared that "I have to say that the Rainbow that tens and hundreds of Reykjavik residents and their guests painted today on Skólavörðustígur was more powerful, stronger and more beautiful than I had dreamed of" and "This is how we made our city livelier, more humane and a better place".
I think it's a super-cool initiative and I'm glad that now the Rainbow Street in Reykjavik is a permanent piece of art, designed to remind us about respect, inclusivity and love.
-> 20 Iceland tips & tricks for the perfect holiday!
2. Reykjavik Rainbow Street – What to expect
Rainbow Street is located between Bergstaðastræti and Laugavegur, one of the busiest streets in Reykjavik. As a tourist exploring the city, you'll most probably come across it. On each side of the road, you'll find cute souvenir shops, clothing stores and cozy cafes.
Good to know – if you want to buy a traditional Icelandic sweater, head to The Handknitting Association of Iceland.
With the imposing Hallgrimskirkja Church in the background, this Rainbow Street is definitely one of the Instagrammable locations in Reykjavik. If you want to have the place to yourself and no people in the background, be here early.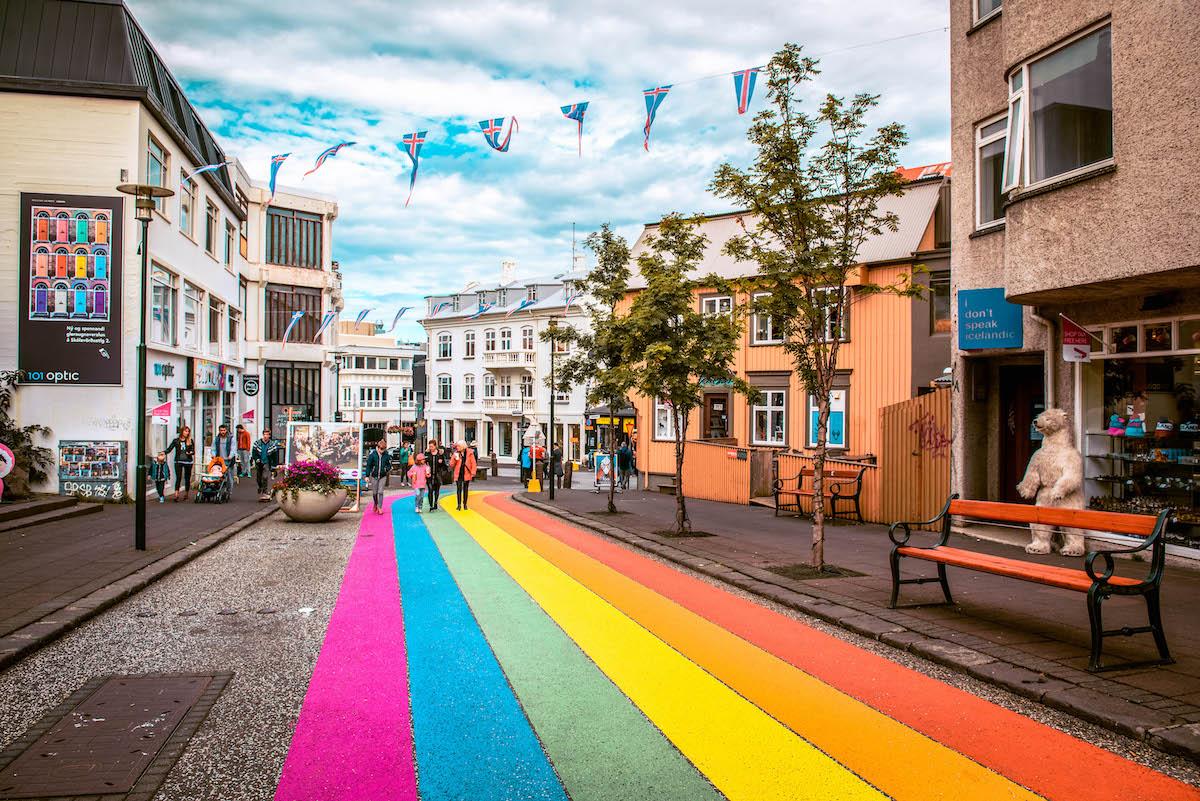 3. Reykjavik Rainbow Street location
Rainbow Street is located in the heart of Reykjavik, in the touristic area. It's easy to reach by taxi or on foot. I recommend exploring the area on foot. There are lots of cute shops and restaurants here.
4. Other attractions nearby
Reykjavik is one of the most colorful places in the world, a vibrant city where art and culture are two essential ingredients. Apart from Rainbow Street there are lots of other tourist attractions to discover. Here are a few of them, located just a short walk away from Rainbow Street.
Harpa Concert Hall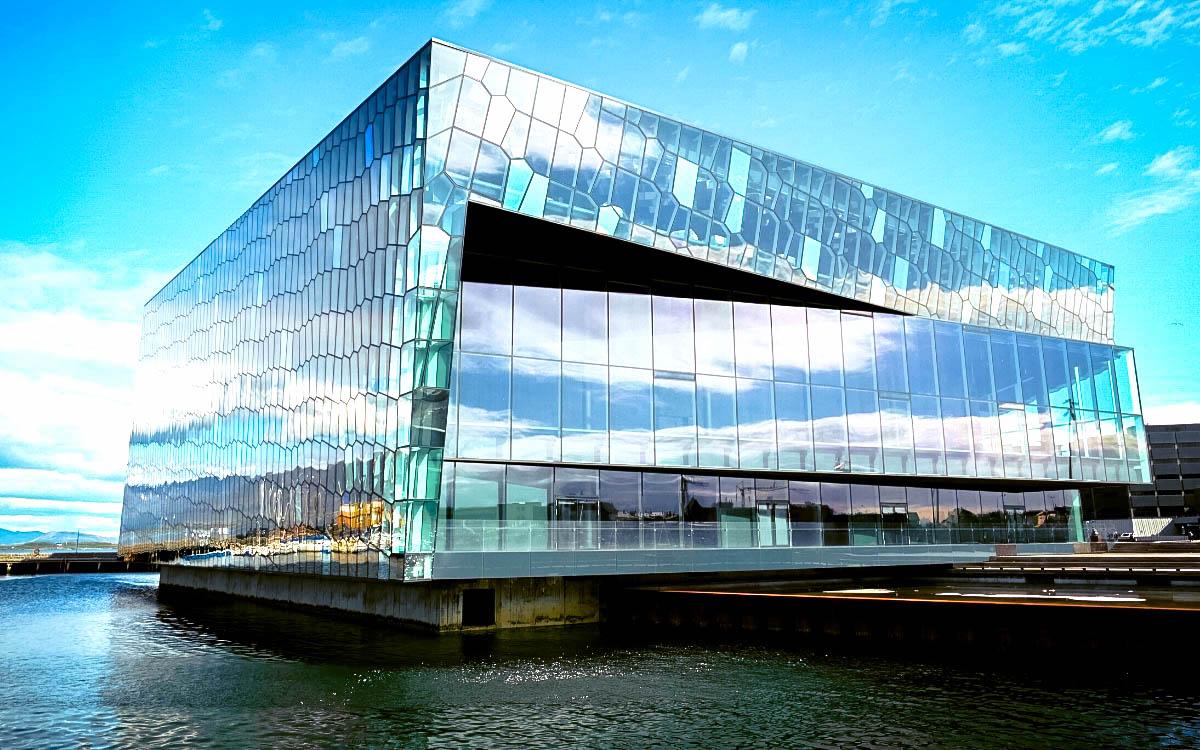 A unique structure with a unique architecture, Harpa Concert Hall is worth visiting while in Iceland. Even if you don't have the chance to attend a concert here, head inside and be amazed by the glass windows shaped like a honeycomb.
The Sun Voyager
This impressive sculpture was designed by Jon Gunnar Arnason, an Icelandic sculptor. The Sun Voyager has the shape of a boat and represents and ode to the sun. This remarkable steel ship is now one of the most visited tourist attractions in the city.
Hallgrimskirkja Church
One of the tallest buildings in the country, Hallgrimskirkja Church has a height of almost 75 meters. The church's construction started in 1945 but it was finished in 1986.
If you're not afraid of heights, you can climb to the observation tower and admire a beautiful panoramic view of Reykjavik.
Opening hours – October to April: 9 am to 5 pm; May to September: 9 am to 9 pm
5. Where to stay in Reykjavik
Reykjavik is a big city with many options in terms of accommodation. When it comes to prices, the hotels here are more expensive than in other parts of Europe. The price of budget hotels here equals the price of a medium-priced hotel in France, Spain or Germany.
I've been searching for the best hotels and guesthouses in Reykjavik, for each budget, and below are my recommendations.
Budget – Guesthouse Galtafell – good location, clean rooms, good facilities, friendly staff, good value for money
Mid-Range – Grand Hotel Reykjavik – great location, beautiful swimming pool, spacious and clean rooms, excellent facilities
Luxury – Midgardur Hotel – great location, fabulous breakfast included, spa, modern and spacious rooms, friendly staff, excellent facilities
6. Final thoughts
Rainbow Street in Reykjavik is one of the top tourist attractions in the city. Painted as sign of support for the LGBTQ community, this colorful street is now one of the city's focal points.
If you're planning a road trip in Iceland, make sure to also add the Seydisfjordur Rainbow Street to your itinerary. If you have any questions, don't hesitate to ask me in the comments section below. May the travel bug bite you!
Disclosure: Please note that this post may contain affiliate links. If you make a purchase through these links, I will earn a small commission at no extra cost to you. I only recommend companies and products that I trust and the income goes to keeping this website running. Thanks!