Are you a full-time traveler or a digital nomad looking for ways to save more money? Or maybe you just want to take a long-term vacation without going broke? Here are a few travel hacks that will help you save lots of money while traveling.
After traveling full-time for one and a half years, I learned a few travel hacks and they saved me thousands of dollars. Travel doesn't have to be expensive. You can travel the world on a low budget, you can visit amazing places, and create memories for a lifetime.
Here are my 10 tips & tricks for saving money while traveling long-term. They helped me and Dan to travel around Asia with a budget of only $1500 – $2000 per month.
1. Hand wash your clothes
I can't even stress enough how important this is. When traveling for a long period of time, you can't take too many clothes with you. Eventually, they'll get dirty and you'll have to wash them.
You'll definitely find laundries wherever you're traveling but they cost money. Even if they appear to be cheap, it will eventually add up. 
No time to read now? Pin it for later!
Here's what I did. I used the sink to wash my clothes. However, some of the hotels and guest houses I stayed at didn't have a sink with a plug. In those cases, I washed my clothes inside a plastic bag.
It's not fancy, it's messy but hand washing your clothes is a must if you want to save money when traveling.
2. Eat street food when possible
Street food is very popular, especially among Asian countries and the good news is that it's cheap too! If you're traveling to Vietnam, you have to try the famous Banh Mi. If you're traveling to Thailand, you have to try Pad Thai and Mango Sticky Rice. In Indonesia, you'll find Warungs selling yummy and cheap food at every step.
You'll find street food for all tastes in Asia and trust me, it's delicious! I could live on a diet of 3 meals of Pad Thai per day for months, I'm not kidding!
-> Check out my full-time travel surviving kit
3. When eating at restaurants, skip the drinks
We all know that drinks at restaurants are three or four times more expensive than in the supermarkets. However, something in our brain tells us to buy them. Sometimes we feel pushed by the waiter who keeps asking if we want any drinks, other times we just need something to drink after a delicious meal.
If you want to save money during your holiday, try to resist the temptation. You can go to a supermarket and buy a 2L Coca Cola for the price of a 0.5L bottle in a restaurant. Think about all the money you can save!
4. Travel off-season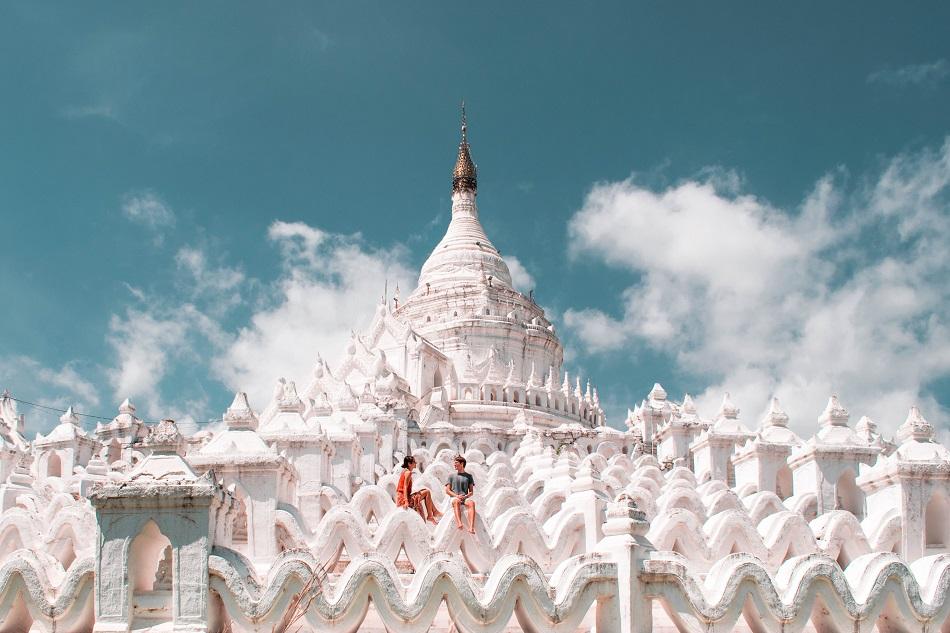 This is one of the strategies that I used to save thousands of dollars. I tried to travel off-season as much as possible. The main advantage is that the prices for food, activities, and accommodation are much lower but there's something more.
If you're visiting a place during the low season, you'll notice that the number of tourists is much lower. When I visited Myanmar, I barely saw any tourists during my one month there. When I was in Koh Samui, the beaches were almost empty.
Do your research and travel off-season to save money while on vacation!
5. Avoid airport spending
Airports are full of overpriced stuff, especially when it comes to water and snacks. That's why I recommend bringing an empty bottle of water with you. Most airports have free water dispensers.
Also, make sure to bring some snacks with you. You can even take sandwiches or fruits with you on the plane. As long as your flight takes only a few hours, you can easily survive with a few snacks.
-> Find out which are the downsides of traveling long-term
6. Avoid touristy areas
Every country has its hidden gems, away from the curious eyes. I love exploring off-the-beaten-path destinations on a budget. For example, I remember that time when me and Dan were the only tourists at the Biggest Reclining Buddha in the world.
Another time, we were the only tourists exploring the spectacular Ma Pi Leng Pass in Vietnam. However, my favorite memory is when we had an incredible beach to ourselves in Palawan, Philippines.
Avoiding touristy areas will help you spend less because the prices in these areas are much lower. It's a win-win situation.
7. Take advantage of free attractions
In Europe and America you can find many free museums while in Asia you can visit breathtaking temples for free. Also, don't forget about the free walking tours!
Take advantage of these activities and you'll not only have a great time but save some cash too! Here's a list of 53 free things to do around the world – click here.
8. Shop at local markets
Whether you want to shop for groceries, clothes, or other stuff, make sure to shop only at local markets. Here you'll find lower prices and you can also help the local economy.
How do you know the difference between local and touristy markets? Local markets are usually located outside of the touristy area. Here you'll see lots of locals shopping and fewer tourists.
9. Track your spending
Tracking your expenses is an essential step in knowing how you can save more. Maybe you're spending too much on restaurants when you could cook or maybe you spend a lot on entertainment.
Either way, you have to write down all your expenses and see where you can cut back. If I managed to travel full time on a low budget, so can you.
10. Use local SIM cards
I traveled to more than 40 countries and each time I try to buy local SIM cards. Most of the time you'll find affordable ones at the airport. Other times, you'll have to head to the city for the best prices.
Buying local SIM cards is a great way to save money while being a digital nomad or traveling for a long period of time.
If you were looking money-saving travel hacks, I hope that this guide helped you. These are the exact strategies I used to travel on a budget for one and a half years. If you have any questions, don't hesitate to ask me in the comments section below.
-> Find out which are the cheapest countries to travel to in SE Asia
May the travel bug bite you!
Disclosure: Please note that this post may contain affiliate links. If you make a purchase through these links, I will earn a small commission at no extra cost to you. I only recommend companies and products that I trust and the income goes to keeping this website running. Thanks!