With everything going on in the world at the moment, this might be my last "travel" journal for a while. I will keep posting monthly updates but since I don't have any travel plans for the foreseeable future, my next monthly updates will be about my daily life.
Before this pandemic started, I had a few exciting trips planned. Right now I should have been exploring the Czech Republic for one week. I was also planning to visit Berlin and Georgia sometime soon but I guess that won't be happening.
As a travel blogger, travel is not only my passion but also my job. Even though I can't travel right now, I still work a lot on this blog. I keep updating old posts, I write new content, and I think about new ways to bring traffic. If there's anything that you'd like to read about on this blog and I haven't covered it yet, send me a message! I could really need some fresh ideas.
I know we all love to travel and for a long time we took it from granted. If we want to explore new places soon, the best thing we can do right now is to stay at home. I've already been self-isolating for 3 weeks and I will continue to do so until the situation gets better.
The best part of staying at home is that I get to spend more time with my boyfriend, Dan. The worst part is that I have to cook more and I'm a terrible cook.
Until we can all travel again, I want to share with you a few things about my last trip before lock-down. I was invited to spend a few days at the incredible Kakslauttanen Arctic Resort in Lapland.
Lapland – a winter wonderland
Lapland has been on my bucket list for a long time but I never imagined that I would love it so much. On our way to Ivalo, we had to stop for one night in Helsinki. It was our second time in the city (the first time we visited Helsinki as a day trip from Tallinn a few years ago).
We stopped by the Market Square, bought a fridge magnet, and headed back home to our accommodation. After a good night's sleep, we continued our journey to Ivalo, Lapland.
The flight was short and comfortable. When we arrived, I couldn't believe my eyes – there was so much snow! Everything around me was covered in thick, white snow. I soon started to realize why Santa choose Lapland to be his home. This place is magical!
After we checked in, we made our way to our glass igloo room. Yep, that's right. We had the chance to sleep for a few nights in a beautiful wooden chalet with a half-glass igloo. Our room was huge but the best part was, of course, the glass igloo and the private sauna.
We spent the next few days doing some awesome activities such as going on a reindeer safari, a husky safari, snowmobiling, and Aurora hunting.
Even though I've already seen the Northern Lights in Iceland a few years ago, I was hoping to see them again. There's something magical about seeing beautiful green lights dancing in the sky. Unfortunately, the sky was cloudy and we didn't see the Northern Lights. I guess this is a good reason to plan another trip to Lapland next winter!
Out of all the activities at Kakslauttanen Arctic Resort, my favorite one was the husky safari. I've seen many movies with people exploring the wilderness in sleds pulled by huskies but I never imagined or even dreamed that I will have the chance to experience this.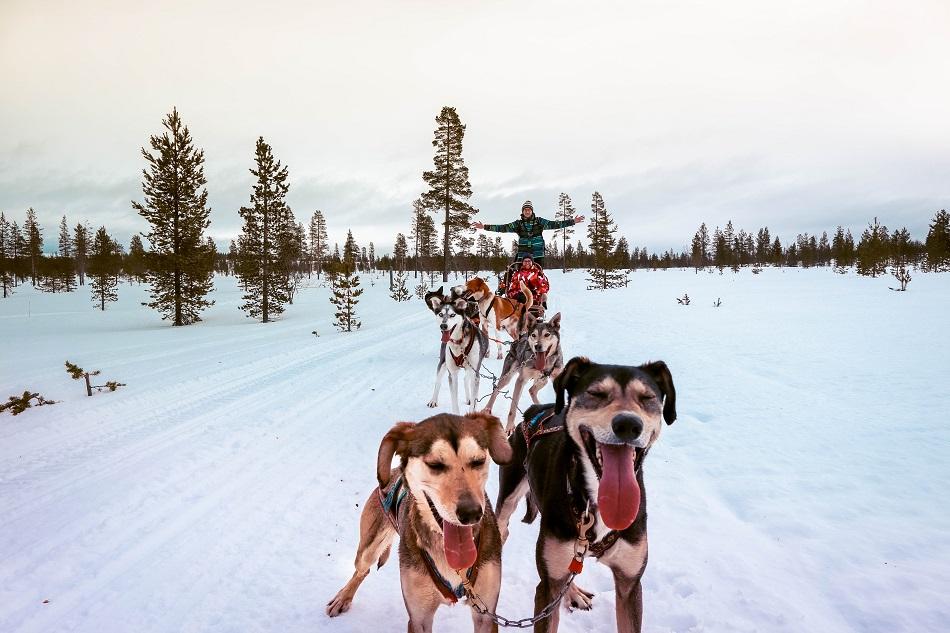 I researched a lot to find out if husky sledding is an ethical activity and I found out that huskies love running! It's their favorite activity! When we started our husky safari, the dogs were really excited and they seemed so happy to run.
Our sled was pulled by 6 furry friends and once the safari ended, I took the opportunity to thank the huskies for this experience. They were really friendly and enjoyed my cuddles.
Another activity that I really liked was the snow tank experience. Our guide, Jouni, was truly amazing. He came dressed in a t-shirt when outside there were -10 degrees Celsius. We asked him if he was cold but he said "I can't feel the cold".
How can one not feel the -10 degrees cold? I was freezing and I had 2 pair of pants, one sweater and a winter jacket on me. But that's not all. It appears that Jouni doesn't feel the heat too. After our ride in the snow tank we arrived at a wooden cabin in the middle of nowhere.
Jouni started the fire with his bare hands. He was holding the pieces of wood on fire in his hands. How is that even possible? Moreover, he built the snow tank himself from scratch. I guess that Jouni should be awarded a prize or something because he is truly amazing.
On our last day at Kakslauttanen, Santa took a break from making presents and met us at his house. He was really welcoming and said that I was good during this past year so I even got a present! Too bad I forgot to bring milk and cookies but next Christmas I'll make sure to reward Santa for his hospitality.
Our visit to Lapland was an unforgettable experience and I'm super-grateful for having the opportunity to enjoy so many exciting activities, especially now that travel is not an option for the foreseeable future.
Before closing my story about Lapland, I also have to tell you that I ate reindeer. Yes, I'm not joking – I tried reindeer stew. Reindeer meat is very popular among the locals in Lapland. Even though reindeer are a major tourist attraction, they are also a source of meat and fur for the locals. The reindeer stew was tasty but I have to admit that I feel quite guilty for eating it. Would you eat reindeer if you had the chance?
If travel will come back to normal, next year we plan to go back to Lapland and explore more of it. We want to go on a multi-day husky safari and take a cruise on an ice-breaker. Until then, we have some pretty amazing memories.
-> For my full guide about Lapland, click here
Day to day life
Daily life has slowed down. I spend my time staying inside and working on the blog. In my free time, I like to watch TV series. I started watching Breaking Bad but I constantly try to find new activities to do.
Me and Dan often play games. One of our favorites is Ticket to Ride. Too bad Dan wins almost all the time :)).
Oh, I actually did something exciting yesterday. Since Romania is in quarantine and all the non-essential businesses are closed, the hairdressers are closed too. I used to cut my hair for years (until I decided to go for a short haircut) so I tried my hand on Dan's hair. I have to say that I'm pretty satisfied with the result.
After the quarantine, I might switch jobs and become a hairdresser. Who knows?
Blog updates
Lately, I've been focusing my efforts on updating old posts but next month I plan to write new content with a focus on my trip to Portugal. Meanwhile, here are the latest blog posts I wrote.
Thanks for reading my monthly recaps. You're the real MVP. See you next month with fresh updates!
May the travel bug bite you!
Pin it for later!
Disclosure: Please note that this post may contain affiliate links. If you make a purchase through these links, I will earn a small commission at no extra cost to you. I only recommend companies and products that I trust and the income goes to keeping this website running. Thanks!