With six million tourists flocking annually to this small Indonesian island, you may think that the entire island is just one great big tourist trap (you can read more about why Bali is so popular here). But despite much of the island's landscape being reserved for upmarket hotels, villas and beach resorts, its real beauty lies in the many hidden gems of Bali, just waiting to be explored…and trust me, there are hundreds!
Be they majestic waterfalls, ancient and sacred temples, and manicured rice fields, or drop-dead gorgeous beaches and coves, along the magnificent shoreline, you can find your own piece of paradise within this island.
Below, are just a few of my favourite hidden places in Bali.
Bali hidden gems you need to visit
1. Bukit Cinta Viewpoint
For the most unforgettable view of Bali's largest active volcano, head straight to the Bukit Cinta Viewpoint, in the north-east section of the island. But to truly appreciate one of nature's daily spectacles, you must be there at dawn.
Towering over 3 000 metres high, Mount Agung rises through the morning mist blanketing the ground below, with a vivid pink sky as your backdrop. Simply stunning! Later, the mist begins to lift, revealing a landscape of green hills, manicured rice fields and lush forests.
For the perfect blend of sunrise and coffee, a visit to the Bali Asli Restaurant close by, will make the experience even more spectacular.
2. Gunung Kawi Sebatu Temple
Twelve kilometres north of Ubud, lies another off-the-beaten-path place in Bali, not many tourists visit, but is absolutely stunning. This beautiful and tranquil 11th century temple contains 10 ancient shrines carved into the cliff face, towering structures and statues, with water features and bathing pools, fed by crystal mountain spring water.
The complex is surrounded by lawned gardens with wandering deer and fowl and lush green hills as a backdrop. It is also a culturally-rich attraction for Balinese Hindu pilgrims.
3. Tegal Wangi Beach
Although close to the luxurious Ayana Resort, Tegal Wangi Beach is another of Bali's hidden gems. It's a small beach with soft golden sand, tucked beneath dramatic cliffs, unusual rock formations and with beautiful rock pools that act as natural jacuzzis. It's best to visit this place during low tide.
But it's at sunset that this secluded spot comes to life. Being west-facing, it offers some of the most spectacular sunset views you'll ever witness. There are also some awesome cliff-jumping spots around here, but I encourage you to seek advice from the locals before jumping.
4. The Abandoned Airplane
And now it's time for something completely different! A Boeing 737 resting in the middle of a field, next to the Dua Selatan Highway, near Pandawa Beach. What makes this weirder, is that nobody knows how it got there, or saw it arrive! No clues, no insignia, no nothing!
And if you thought that's creepy, five miles away, a mile south of the Ngurah Rai Airport, lies another 737 next to a donut shop. Both planes however, make great backdrops for photo shoots, drawing many curious visitors, as they pass by. Children think they are really, really cool! I do too.
5. Nyang Nyang Beach
Another one of those magnificent off-the-beaten-path places is Bali, is Nyang Nyang Beach, situated almost on the southernmost tip of the island less than a kilometre from the Uluwatu Temple. A long and secluded beach bordered by steep sloping cliffs, perfect for bathing, long scenic strolls, or just catching a tan with hardly anyone in sight.
The offshore reef offers some spectacular breaks for experienced surfers. If you stay for the sunset, you can leave before it gets dark or spend the night beneath the stars at the Bubble Hotel.
6. Green Bowl Beach
About 10 kms from Nyang Nyang, lies another Bali hidden gem – Green Bowl Beach. Hidden from the car park on the cliff top, this isolated small bowl-shaped beach is surrounded by nothing but lush green-covered hills and an inviting turquoise ocean. But there is a price to pay. The only access is via a steep 330 step stairway to the beach below, which helps to keep the crowds away.
Green Bowl Beach is perfect for swimming, snorkelling and surfing. Here you'll also find two monstrous limestone caves offering shade. Low tide is the only time to visit this secluded spot, as the waves reach the stairs at high tide, completely swamping the beach.
7. Sangeh Monkey Forest
Twenty kilometres north of Denpasar, the Sangeh Monkey Forest is a six hectare reserve filled with giant 40 metre nutmeg trees and a Hindu Temple. The temple is a 17th century masterpiece with typical Balinese architecture, while the lavish gardens are adorned with old carvings, a huge statue of Garuda and other Hindu symbols.
But the real stars are the hordes of macaque monkeys that roam around mingling with the visitors. They may be sacred, clever, funny, and well-behaved, but they are also brilliant pickpockets and thieves. Leave any food or shining objects like cameras and jewellery unattended, and they're gone.
Even though Sangeh Monkey Forest is not as popular as Ubud Monkey Forest, you should definitely add this place to your itinerary!
8. Pasut Beach
Moving up the west coast, we reach Pasut Beach, which, although not great for swimming due to big waves, is excellent for surfing, sunbathing, and biking along the firm black volcanic sand. Hundreds of tall coconut trees give it that "Hawaiian Look" creating the perfect picnic spot, particularly in the evenings as the sunsets here are breathtaking.
It's the perfect place for photographers, as the black sand creates an incredible contrast and a wonderful backdrop. One of my favorite places in Bali, and certainly one of the secret places in Bali you shouldn't miss.
9. Sidemen
This region is certainly one of the most beautiful secret places in Bali. You'll need a few days to truly capture its natural beauty and warm, friendly people. Here you'll find a landscape packed with lush green valleys, rivers, waterfalls, picturesque rice fields and quaint villages, wherever you look.
The ideal area where nature, peace and simplicity replace the bustling towns and tourist-infested resorts. The perfect place to hike, cycle, and explore, with numerous eating and lodging options dotted everywhere.
10. Goa Rang Reng Waterfall
Tucked deep into the rainforest 30 minutes from Ubud, this waterfall is a secret piece of paradise. A 10 minute walk from the car park leads to the falls with several bamboo viewing platforms along the way.
Unlike so many other Bali waterfalls that drop vertically, Rang Reng cascades gently through a valley over three separate falls, creating several shallow pools, perfect for a refreshing dip. Floating gently down the rapids on rented float tubes, is a great way of taking in the splendid jungle scenery as you drift by. An added bonus is to explore the sacred cave at the falls with a guide. Certainly one of the best hidden spots of Bali.
11. Bangkian Djaran Waterfall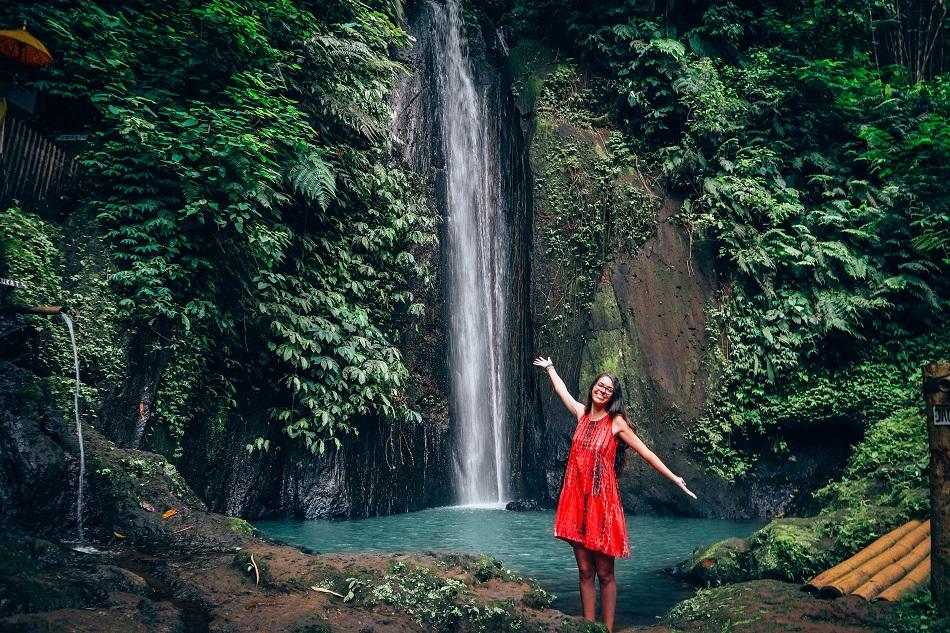 A few kilometres north-east, lies another one of those unexplored places in Bali that will take your breath away. Surround yourself with nature as you meander through lush jungle, with flowers and stone carvings, and only the sound of falling water to disturb the peace.
Hidden deep in the jungle on a beautiful gorge, this is a wonderful spot to unwind and recharge, bathing in the crystal clear pools. While you're there, walk a little further to the intriguing Dedari Waterfall, so beautiful that locals say that angels bathe here. Bangkian Djaran is one of the most beautiful waterfalls near Ubud!
12. Pura Kehen Temple
And now, a sacred place where history, culture and natural beauty merge. Just two kilometres from Ubud in Cempaga Village, lies Kehen Temple, a significant and historical landmark of Balinese Hindu culture.
Thought to have been built between the 9th and 11th centuries, its unique architecture, consisting of several elaborate shrines, stone steps lined with ancient statues of warriors, sculptures and intricate carvings, is like no other temple on Bali. For a list of the best temples in Bali, click here.
The outer section of the temple features a massive 400 year-old banyan tree with a monk's cell high up in the branches. It's believed that if a branch breaks, it will be followed by a disaster. Visiting this temple may be one of the best secret things to do in Bali.
13. Leke Leke Waterfall
A few kilometres north-west, is the spectacular 32 metre high Leke Leke Waterfall. Getting to this waterfall requires a 20 minute trek on a well-maintained path. At the end of the trek you'll be welcomed with a stunning scenery, before reaching the crystal turquoise pool below the waterfall. A truly magnificent sight! Don't forget your swimming suit and enjoy a refreshing swim in the crystal-clear water.
Being in such a remote area, Leke Leke Waterfall is one of the most beautiful hidden spots in Bali, certainly worth visiting.
14. Nungnung Waterfall
If you're looking for a truly magnificent natural wonder without being swamped by tourists, them Nungnug Waterfall is just the place for you. Falling 50 metres vertically, it's one of the highest waterfalls on the island and certainly one of Bali's best kept secrets.
Reaching the pool below requires a long trek descending 500 steps down to the lush gorge. And then, there's the return trip, which takes three times as long! The trek however is a spectacle all on its own, with breathtaking scenery every step of the way.
Once you reach the bottom, take your time to marvel at nature all around you, take pics and enjoy a refreshing dip in relative peace. There will be mist and you will get wet, so bring a towel and a poncho.
15. Gitgit Waterfall
There are 2 Gitgit Waterfalls. Gitgit Twin Waterfall is a little smaller and less crowded, while Gitgit Waterfall is much bigger and a little bit more touristy.
The 45 metre high Gitgit Waterfall is another Bali hidden gem, but this one is easily accessible. A 15 minute walk through the forest and across some small gorges, will lead you the stunning pool below the falls. You may even spot a few wild monkeys along the way or drinking water at the pool.
You can relax in the rock pools and even swim directly below the cascading water. Changing rooms and toilets are available, as well as souvenir shops and an eating joint near the car park.
16. Brahmavihara-Arama Temple
A few kilometres from the island's northern shore and close to Lovina Beach, lies Bali's largest Buddhist Monastery that is a sight to behold. Here you can find flower gardens dotted with fish ponds, Balinese architecture, statue-lined stone stairways, and numerous statues of Buddha in various postures. All set in front of a landscape of lush green hills and the ocean in the distance.
Even if you're not spiritual, don't be surprised if a calming sense of peace descends upon you when entering this sacred and beautiful place. It's one of the most beautiful temples in Bali!
17. Jatiluwih Rice Terrace
Located almost in the centre of the island at an altitude of 700 metres above sea-level, this exotic and significant landscape of artfully manicured rice paddies, is an absolute must-see for all hikers, bikers, photographers and outdoor lovers.
Enjoy rice-covered valleys as far as the eye can see, with the impressive Batukaru Mountain as a backdrop. Sunsets here are truly memorable. Numerous restaurants and viewing spots are dotted everywhere to pause for a bite and take in the splendid scenery on display all around you.
Go by car, by bike, or book a day tour, but just go there!
18. Melasti Beach
Although closely located to a luxury resort, Melasti Beach remains a fairly low-key spot, which is surprising, as it is absolutely stunning. Surrounded only by dramatic, high, limestone cliffs and a vast blue ocean, it's situated on the southernmost tip of Bali.
An excellent beach for swimming, snorkelling along the shallow reefs and surfing. If you're into adventure, some fantastic cliff-jumping spots are a stone's throw away. For camera freaks, the high cliffs also offer spectacular scenery in every direction.
19. Amed
Tucked between seven fishing villages on the east coast, the black-sand beaches of Amed are surprisingly among the most hidden spots in Bali. This coastline is an absolute gem providing some of the most spectacular snorkelling, fishing, sailing and scuba diving on the island.
Here you'll find crystal blue water, rich marine life and interesting wrecks like the US Liberty and the Japanese Wreck, barely 20 metres from the shore. Amed is one of Bali's hidden gems!
This picturesque shoreline is littered with secluded coves as well as lush gardens and sacred temples in the interior, all watched over by the mighty Mount Agung just behind Amed. Each sunset a masterpiece.
20. Suwat Waterfall
Just 30 minutes from Ubud, a scenic road takes you to this small yet stunning waterfall cascading into a water pool deep enough to swim, kayak, and even rock jump. A five minute easy walk on a bamboo-lined path and down a few steps, leads you to this serene and uncrowded setting, few tourists even know about.
Below the falls is a hidden cave, a beautiful spot to take photos or just chill listening to nothing but the sounds of falling water and the breeze blowing through the dense jungle vegetation. One of the most underrated and certainly unexplored places in Bali.
21. Pura Batukuru
About 40 kilometres north of Denpasar, on the slopes of Mount Batukaru, is the ancient and impressive temple of Pura Batukaru. Thought to have been built either in the 11th or the 17th centuries, it is nevertheless a temple of high spiritual significance in Hindu culture. This is one of nine temples that protect Bali and its inhabitants from evil spirits.
Sitting at 1300 metres above sea level, and surrounded by dense rain forest, it provides a majestic viewing point of the landscape around it. The temple features typical Balinese architecture and numerous multi-tiered shrines, pavilions, courtyards, and ancient moss-covered structures.
22. Bhuana Sari Waterfall
Set in the northern part of Bali, Bhuana Sari Waterfall is part of the Banyu Wana Amertha Waterfalls; not the highest, but some of the prettiest on the island. While you're there, make every effort to see them all.
A 20 minute hike through the forest, across bamboo bridges and rock pools, will get you to the bottom of the first falls, with signs directing you to the others. Some waterfalls fall into small pools perfect for a dip, while others cascade down across many tiers of leaf and moss-encrusted rock formations. All are gorgeous, each with their own personalities.
Where to stay in Bali
Ubud, Canggu and Seminyak are the most popular areas for tourists. If you'd like to stay close to the beach, I recommend Canggu (more laid-back) or Seminyak (more touristy). If you prefer to be close to the jungle and rice terraces, then Ubud might be the perfect choice for you.
No matter what you choose, I've got you covered. Below you can find the best accommodation in each area.
Accommodation in Ubud:
Budget – Pondok Massas – beautiful pool, good location, friendly staff, good breakfast
Mid-Range – Ulun Resort – view towards the rice fields, beautiful view, good location, excellent breakfast
Luxury – Alena Resort – incredible pool, excellent service & breakfast, comfortable rooms
Accommodation in Canggu:
Budget – Oma Biuh – friendly owners, quiet area, clean and spacious rooms, comfortable beds
Mid-Range – The Sloth – good location, excellent facilities, spacious rooms, friendly owners, beautiful pool
Luxury – Como Uma – excellent location, incredible pool, excellent amenities, luxurious rooms, frinedly staff
Conclusion
Keep in mind that ladies are required to have their bodies covered when entering any temple, and sarongs and scarfs are available at the receptions of most sites. Also, many of the attractions have an entry fee. No card machines are available, so always carry cash.
I hope you enjoyed some of Bali's off-the-beaten-track wonders that have not yet been discovered by the tourist masses. If you have any questions, don't hesitate to let me know in the comments section.
May the travel bug bite you!
Disclosure: Please note that this post may contain affiliate links. If you make a purchase through these links, I will earn a small commission at no extra cost to you. I only recommend companies and products that I trust and the income goes to keeping this website running. Thanks!