Bali is one of the most beautiful islands in the world. I was lucky enough to spend almost 8 months here and in this time, I explored most of the tourist attractions on the island. From gorgeous waterfalls to endless rice fields and beautiful temples, Bali always surprises me.
Also known as "The Island of Gods", Bali is home to many temples dedicated to various Hindu gods. With intricate details, fish ponds, healing springs and meru roofs, the temples in Bali are simply stunning.
You can't visit this island without stopping at some of the temples listed below. There are 20,000 temples in Bali. In fact, almost every small village has at least one temple. For the local community, the temples play a crucial role in the daily life. If there is one thing that characterises the Balinese people, it's their strong spirituality.
If you're looking for the best temples in Bali, you're in the right place. I've searched for the most beautiful ones and I listed them below. But first, let's talk about a few important aspects you need to know when visiting any Bali temple.
1. Bali religion and beliefs – Interesting facts
Even if Indonesia is a Muslim country, the majority of Balinese people practice Balinese Hinduism. This is a distinct form of Hinduism, similar to the one practiced in India but unique at the same time. It combines the Shiva sect of Hinduism with Mahayana Buddhism.
Unlike Indian Hinduism that worships many gods, Bali Hinduism only worships one god called Acintya, the supreme god. There are a few other gods who are believed to be manifestations of Acintya.
Interesting fact – The Balinese calendar is also different to the one we're used to. It only has 210 days.
One of the most fascinating celebrations in Bali is the Galungan. During the celebration, the streets are decorated with penjor – tall bamboo sticks with offerings hanging above the street. Each house has such a stick in front of it, in the street, creating a stunning spectacle of colors.
Another unique celebration in Bali is Nyepi, also known as "The Day of Silence". During this day, all stores and restaurants are closed, including the airport. People have to stay inside their home and the Balinese families spend time together. It's forbidden to get out on the streets, and in some parts of the island the internet and electricity are cut.
No time to read now? Pin it for later!
2. Bali temple etiquette
Before planning to visit any of the beautiful Balinese temples below, keep in mind that you need to dress appropriately. You'll have to cover your knees with a sarong or scarf.
When I explored the temples of Bali, I always carried a scarf with me. However, at most temples, you can also rent a sarong at the entrance. Sometimes it's free, other times you have to pay a small fee of IDR 5 K – 10 K.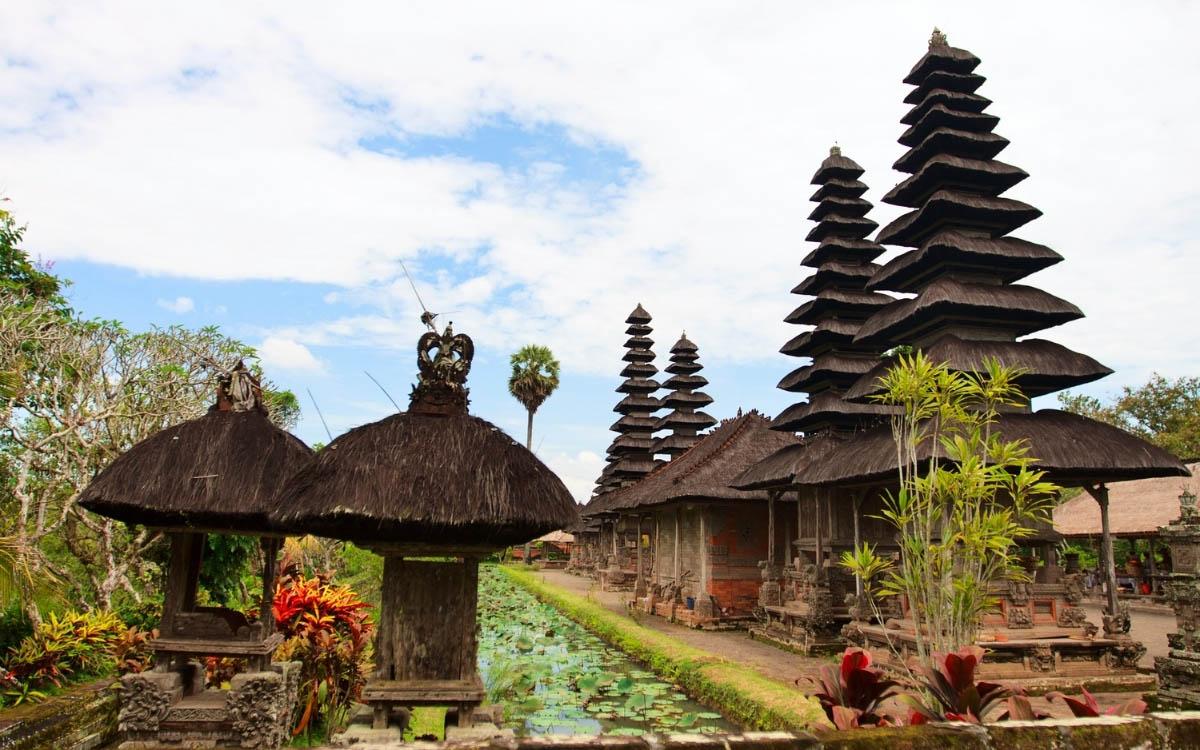 Another thing to keep in mind is that you shouldn't visit any Balinese temple if you're bleeding. If you have a cut or you're a woman and you're menstruating, you shouldn't enter any temple. Also, pregnant women shouldn't enter the temples.
It's also important not to point your feet towards the shrines. Some temples might require to take your shoes off. If you see a pile of flip-flops at the entrance of some of the temples, take your shoes off too.
Good to know – Most Balinese temples require a small entrance fee. Make sure to always have cash with you.
3. Map of Bali temples
To see where each temple is located, click on this Bali temples map.
I've listed below some of the most beautiful temples in Bali. To make things easier, I grouped them according to their location. These are the best Bali temples! Psst, temples in Bali are called pura.
4. The best temples in Bali – NEAR UBUD
Ubud is one of the most popular tourist destinations in Bali. I spent one month in Ubud exploring the city and its surroundings. From incredible waterfalls to stunning rice paddies and the popular Monkey Forest, Ubud has a lot to offer.
Here are the top temples near Ubud. Make sure to add them to your itinerary!
Pura Saraswati
Every Ubud temple tour should include the fabulous Pura Saraswati, also known as the Ubud Water Palace. Dedicated to the goddess Saraswati, this temple complex is located in Ubud, north of Denpasar, and is mostly recognized for its enchanting ponds with lotus flowers.
Although it was built relatively recently in 1951-1952, it has become extremely popular for its fascinating landscaping and architectural features, but also its spiritual importance.
Pura Tirta Empul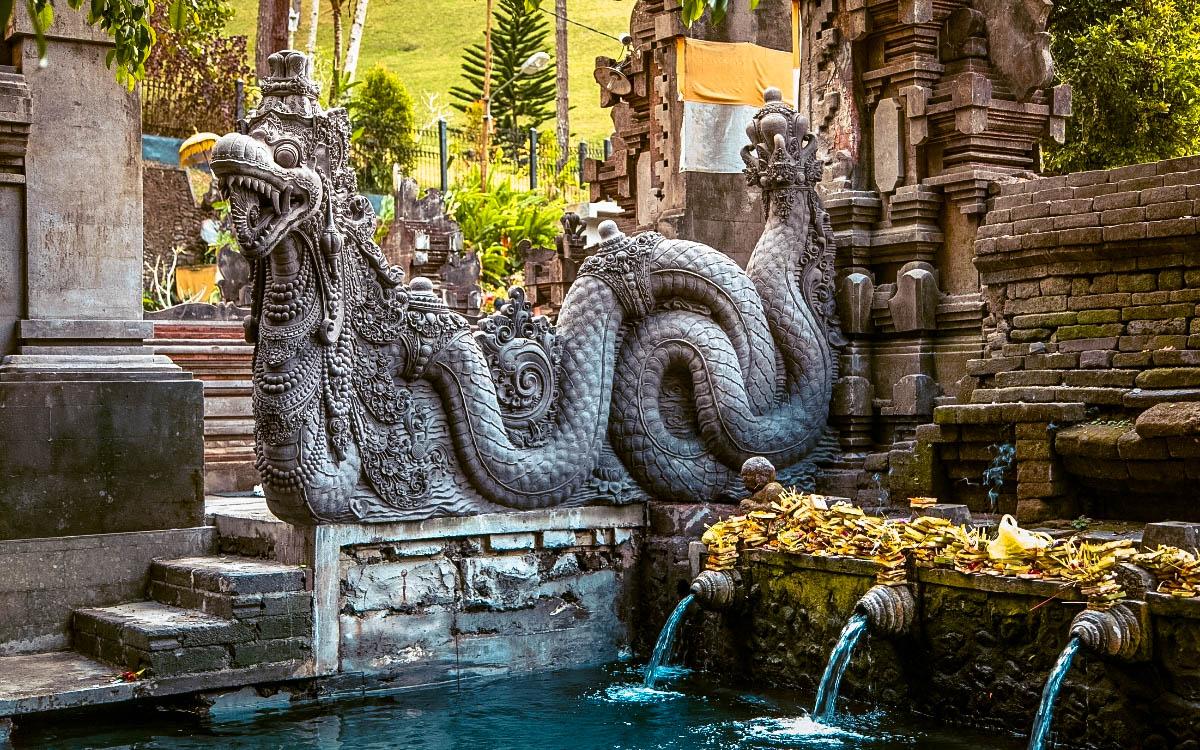 This is one of the most popular water temples in Bali, known for its holy springs. Hindus from Bali often come here to perform the ritual of purification, bathing in the waters of the spring. When I visited the temple, I also saw a few tourists bathing in the springs.
Tirta Empul is extremely old, dating from the 10th century, and is located near the town of Tampaksiring in central Bali. Apart from its religious importance, the temple is quite spectacular. The sacred ponds are surrounded by old stone shrines, statues, walls and gardens. Another important attraction that can be visited nearby is the Summer Presidential Palace.
Pura Taman Ayun
Located just 16 km away from Ubud, in the village of Mengwi, this is one of the top temples in Bali. It's visited by locals and travelers alike, being one of the six royal temples on the island.
Its name translates into "Garden Temple in the Water" and the temple has fascinating historical and architectural features. Built during the 17th century, the temple is mostly recognizable for its intricate decorations and shrines with their multi-tier roofs reaching for the sky. The surrounding pools are embellished with lotus flowers and there are extensive courtyards and gardens to wander around.
Fee – 20,000 IDR (foreigners)
Recommended tour – Best of Bali
Pura Gunung Kawi
This splendid temple complex is located in the Pejeng region of central Bali, next to the Pakerisan holy river. The temple is famous for the ancient shrines carved into the side of a cliff. Four of them are on the western bank, five are on the eastern bank of the river and another one is located to the south.
Gunung Kawi temple is the burial place of the Warmadewa Dinasty and also features some small caves where Buddhist monks used to meditate. The ancient shrines are quite impressive, reaching almost ten meters inside their rock-cut niches.
5. Top temples in NORTHERN BALI
Northern Bali is one of the off-beat areas of the island. However, here you'll find the incredible Banyumala Waterfall, the beautiful Lovina Beach and some stunning temples. These are the most beautiful temples in Northern Bali.
Pura Ulun Danu
This majestic temple is located in a stunning natural landscape, high in Bali's lush highlands, over the beautiful Lake Beratan. Dedicated to the queen of water, lakes and rivers, Danu, this idyllic temple includes four shrines. The most striking shrine has 11 levels and is dedicated to the god Shiva.
Also known as the Floating Temple, the sight of the tall building seemingly hovering over the lake is quite breathtaking. The temple was built during the 17th century and nowadays, it's one of the most famous Balinese temples.
I visited it on my way to North Bali and I was simply amazed by this temple. I took hundreds of photos and spent about 2 hours here, before making my way to Lovina.
Interesting fact – the multi-tier temple roofs are called meru. Meru are a unique feature of Balinese temples and they carry a deep spiritual meaning.
Pura Ulun Danu Batur
Also known as Pura Batur, this temple is dedicated to the god Vishnu and the goddess of Lake Batur. The original temple survived 2 volcanic eruptions, but after the second eruption, it was relocated.
Pura Batur is home to 9 different temples and 285 shrines. It's an amazing experience to explore this temple and admire its beautiful sculptures and details. Not to be mistaken with Pura Ulun Danu, Pura Ulun Danu Batur is one of the most beautiful temples in Bali.
Brahma Vihara Arama
This temple is located close to the northern shore of Bali, about 10 km southwest of Lovina. This complex is quite fascinating, as it features beautiful pagodas, impressive statues, as well as lovely ponds and greenery.
Resembling Borobudur, there are many structures spread around the complex, with various architectural influences and purposes. There is even a gate on the upper level that looks similar to the one at Pura Lempuyang, although usually less crowded than the one at the more famous Hindu temple. You have to cover your legs and shoulders while visiting this religious site.
6. Top beautiful Balinese temples – NEAR DENPASAR
Denpasar is the biggest city in Bali and a cultural melting pot. With lots of stores, restaurants and hotels, Denpasar is the first place you'll see when landing in Bali. Here are the best temples near Denpasar.
Tanah Lot
Definitely one of the most beautiful temples in Bali, Tanah Lot sits atop a picturesque rocky outcrop rising from the sea. The name Tanah Lot means "Land in the Sea". The temple is a popular place to take photographs and watch the sunset.
Nevertheless, it's extremely revered by local worshippers and it gets pretty busy during local celebrations. If you'd like to avoid the crowds, arrive here as early as possible. Near the temple, there are many souvenir shops and restaurants, in case you're hungry.
I liked Tanah Lot, but I think it's a bit overrated. The temple is very busy and with so many people around, it's almost impossible to really enjoy the place.
Pura Batuan
Located in a charming village, about halfway between Ubud and Denpasar, this amazing destination is an interesting example of a traditional Hindu temple in Bali. With splendid stone gates and guardians, three courtyards and tall ornate shrines, this temple is a must-see. Built over a thousand years ago, it's one of the oldest temples in Bali.
Before entering the temple, travelers can borrow traditional sarong from the locals to cover their knees. There is a donation box and everyone can leave any sum of money. A marvellous experience is visiting the temple during the Galungan festival that happens every 210 days.
Vihara Dharmayana Kuta
Built in 1876, this Chinese Buddhist temple in Bali is hidden from the tourists' eyes. Painted in bright colors and embellished with dragons and other mythical creatures, Vihara Dharmayana is a beautiful example of Chinese architecture.
Decorated with beautiful red lanterns, there are a few buildings inside this temple. The main one is called Baktisala, but you'll also find smaller temples and shrines. The temple is bustling with devotees during the Chinese Lunar Year so try to avoid visiting it during this celebration.
7. Famous Balinese temples – EASTERN BALI
Many tourists go to Eastern Bali to see Mount Agung, Tirta Gangga or the famous Amed Beach. Among other tourist attractions, you can also find a few stunning temples in Eastern Bali. Here they are!
Pura Lempuyang
Among the most famous temples in Bali, Pura Lempuyang or Heaven's Gate as it's also known, is one of the most instagrammable places on the island. The iconic photos framed by the sacred gate are all over the internet.
This is one of the most sacred Hindu temples in Bali, part of a larger complex built all around this mountainous area in the eastern extremity of the island. Apart from the popular gate, the rest of the temple is equally fascinating, featuring two distinct levels connected by a long steep staircase. The intricate decorations of the walls and shrines are truly superb, each shrine being different and dedicated to another god.
Pura Kehen
One of the oldest Hindu temples in Bali, Pura Kehen is believed to date back as far as the 9th century. This is the main royal temple of the former Bangli Kingdom. The magnificent complex is located just north of Bangli Town, in a wooded area. The temple features traditional Balinese religious architecture, with several beautiful gardens, stone stairs and ornate shrines.
There are countless statues of various animals and figures, while the tallest shrine has a meru with 11 levels. Inside the courtyard, there is a huge banyan tree that is said to be four centuries old and features a small pagoda perched between the branches. The temple is one of the off-the-beaten-path destinations in Bali and few travelers known about it.
Pura Besakih
Also known as the "Mother Temple of Bali", this majestic complex is simply stunning. It's located in a beautiful area, on the slopes of the sacred Mount Agung where the gods are supposed to live. Surrounded by lush jungle and picturesque mountain scenery, the holiest of Bali's temple complexes includes dozens of different shrines dedicated to various gods.
The complex is over a millennium old and features three main temples dedicated to the three main gods Shiva, Brahma and Vishnu. Each temple and shrine has its own fascinating charm to discover, although some areas are reserved only for Hindu pilgrims.
Pura Goa Lawah
Also known as the "Bat Cave Temple", Pura Goa Lawah is one of the holiest temples in Bali. Located in the village of Pesinggahan, the temple is built on a hilly outcrop, surrounding a cave opening filled with bats.
It's one of the unique temples in Bali and if you're planning to visit the eastern coast of the island, make sure to add this stop to your itinerary.
8. Most beautiful temples in SOUTHERN BALI
Mostly known for the Uluwatu area and stunning beaches like Tegal Wangi Beach or Nyang Nyang Beach, Southern Bali is also home to a few stunning temples. These are the best temples in Southern Bali.
Pura Uluwatu
Perched on a dramatic 70 meters high cliff hanging over the sea, this is one of the most famous temples in Bali. Pura Uluwatu is one of the nine directional temples of the island, located on the western edge of Nusa Dua Peninsula in southern Bali.
Considered one of the most important temples, it's supposed to ward off evil spirits. Its amazing location and unique architecture with the holiest shrine located right on the edge of the cliff make it an extremely picturesque destination. Travelers usually admire it from two vantage points along the coast.
You can also enjoy a Kecak Fire and Dance Show at Uluwatu Temple. This traditional dance will surely be a unique experience, one that you'll always remember.
Garuda Wisnu Kencana Statue
This huge statue located inside the Garuda Wisnu Kencana Cultural Park is one of the most unusual landmarks in Bali. Reaching an impressive 122 meters, the statue takes inspiration from Hindu legends and was inaugurated in 2018 as the tallest one in Indonesia.
The whole project to build the statue lasted for around eight years and it costed about 100 million USD. The cultural park includes many other attractions and various activities, creating a complex travel experience. It's located in the center of the South Kuta peninsula.
9. Top temples in CENTRAL BALI
Vihara Dharma Giri
Known mostly for its splendid sleeping white Buddha statue, this is one of the most beautiful temples in Bali where travelers can relax and explore the grounds freely. The Buddhist temple is located in the village of Pupuan in Tabanan, among the forests and rice fields of central-north Bali.
There are three courtyards, the first one being occupied by gardens, while the second features the large Buddha statue. In the last courtyard, there is another sitting Buddha statue inside a chamber, where people can pray. Visitors must be covered from the waist down and there are sarongs to rent.
Pura Batukaru
Located on the slope of Bali's second-highest volcano at 1300 meters, Mount Batukaru, this temple was rebuilt in 1959. While visiting the temple, make sure to admire the seven-tier meru dedicated to the god of Mount Batukaru.
If you're looking for off-the-beaten-path destinations in Bali, you need to add Pura Batukaru to your itinerary. It's a beautiful temple, with 3 courtyards that deserve to be visited.
10. Final thoughts
Bali is one of the most beautiful islands in the world, a corner of paradise that welcomes tourists with some of the most stunning natural wonders. Among its beautiful rice fields, surf beaches and palm tree forests, Bali is also home to some incredible temples. I hope that this list of unique Balinese temples inspired you to explore Bali's culture.
To read more about Indonesia and how to plan your trip, check out my Indonesia travel guide. It includes important info about costs, transport, food and many tips & tricks.
If you have any questions, don't hesitate to ask me in the comments section below. May the travel bug bite you!
Disclosure: Please note that this post may contain affiliate links. If you make a purchase through these links, I will earn a small commission at no extra cost to you. I only recommend companies and products that I trust and the income goes to keeping this website running. Thanks!