If you ever plan to visit Romania, a road-trip to Transfagarasan is a must. Passing through some of the highest mountains in the country (Fagaras Mountains), Transfagarasan was named by Jeremy Clarkson, the famous Top Gear presenter "The Best Road in the World".
I'm not saying this only because I'm Romanian but Transfagarasan is breathtaking. The winding road and the steep mountains surrounding it create an amazing scenery, unique in the entire world.
Driving on Transafagarasan is not for the faint-hearted, that's for sure! It will be tiring but awe-inspiring at the same time! Connecting Transylvania to Muntenia, driving on this road should be on your bucket-list.
In this post, I'll share with you everything you need to know when planning a trip to Transfagarasan Highway. Let's start with this road's history.
1. The history of Transfagarasan
The name Transfagarasan (Trans + Fagaras) means Fagaras crossing or across Fagaras. Also known as DN7C, this mountain crossing is the second highest road in the country after Transalpina.
It was constructed between 1970 and 1974, at the orders of Nicolae Ceausescu. The road was meant to have a strategic importance and it was going to be used in case of a Soviet invasion.
It's one of the many grandiose projects completed by Ceausescu, together with the Palace of Parliament in Bucharest and the Danube – Black Sea Canal.
The road was constructed by military forces and civilians alike, including people from communist prisons, using around 6 million kilograms of dynamite. The financial impact was huge, as well as the human cost. Although official reports say that only 40 soldiers died constructing Transfagarasan, unofficially it's believed that hundreds lost their lives.
An interesting fact is that construction started at both sides of the mountain at the same time. The road was completed when the workers met and the road was finally united. Today, you can find the Poarta Intalniri monument (The Meeting Gate) marking that place.
The road was finished on September 20th 1974 but paving the road took another 4 years, meaning that Transfagarasan as we know it today was finalized in 1980.
In the memory of those who built this architectural wonder, a monument was built – Poarta Genistilor. You can see it of them along the way.
No time to read now? Pin it for later!
2. Interesting facts about Transfagarasan
It has the longest road tunnel in Romania – 887 meters – Capra Tunnel
Transfagarasan is 91 kilometres long
The highest point is at 2042 meters (Transalpina's highest point is at 2145 meters)
The road has 833 small bridges and 28 viaducts
3. The best time to visit
From late autumn to late spring, Transfagarasan is closed to the public. You can only reach Piscu Negru (in the southern part) or Balea-Cascada Cabin (in the northern part of the road) by car. The road is closed due to heavy snow. If you plan to visit in autumn or spring, it's best to consult with the local authorities to see if Transfagarasan is open.
However, if you want to get to Balea Lake in winter you can always take the cable car. There's even an ice hotel at Balea Lake, very popular among locals.
The best time to visit Transfagarasan is during summer. However, keep in mind that the temperatures at Balea Lake are always lower so make sure to bring warm clothes with you. When I visited, at the beginning of August, there was still snow on top of the mountains.
Good to know – even during summer, Transfagarasan is closed from 10 pm to 6 am
There's one super important thing that you should consider. Keep in mind that Transfagarasan is very popular among locals. Avoid visiting it during the weekends or national holidays because the traffic can become pretty hectic. If you don't believe me, see the picture below.
4. Transfagarasan cable car
For the best views and the best experience, I recommend getting to the top by car. However, If you really want to take the Balea cable car, here's all the information you need.
The cable car is open daily, from 9 am to 5 pm. A one-way ticket for an adult costs 30 RON (6 EUR) while a one-way ticket for children is 15 RON.
The total length of the cable car is 3700 meters while the maximum altitude is 2040 meters.
-> 20 most beautiful cities in Romania
Good to know – In case of strong wind or unfavorable weather conditions, the cable car is not working.
5. What to expect
The Transfagarasan Road covers both sides of Fagaras Mountains. While some prefer to only visit the Cartisoara – Balea Lake section, I recommend exploring the entire road as both sides are unique and breathtaking.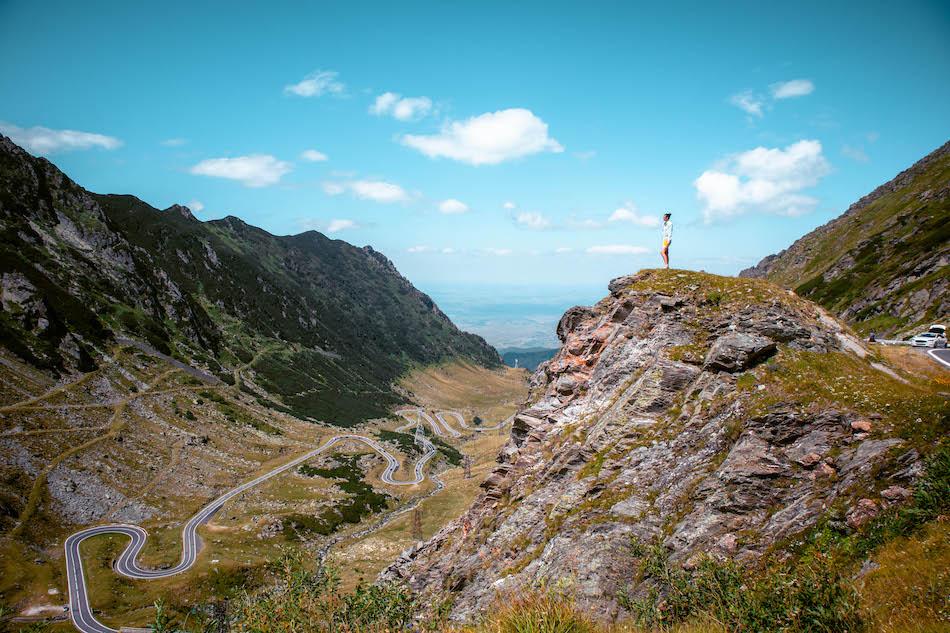 Here is my recommended Transfagarasan itinerary (you can do it both ways). Plan an entire day to see all these tourist attractions.
Clay Castle Porumbacu de Sus – Badea Cartan Museum – Transfagarasan Northern Section – Balea Lake – Transfagarasan Southern Section – Vidraru Dam and Lake – Poenari Fortress – Curtea de Arges Monastery
Bears and Wildlife
Transfagarasan is well known for bear appearances. Many tourists reported seeing bears (both adults and cubs) along the road, especially on the section between Balea Lake and Vidraru Dam.
Keep in mind that as long as you won't get close to the bears, they won't attack you. Also, it's recommended not to feed them or give them snacks. Food only encourages them to come back near the roads when their home should be deep inside the forest.
Cartisoara – Balea Lake Section
From Cartisoara to Balea Lake you'll have to drive 30 km (about 50 minutes without stops). The road will start through thick forest and then, a bit further from the cable car the view will clear and you'll be able to admire the beauty of Fagaras Mountains.
There are a few viewpoints along the way so take your time to admire the views. We stopped at every turn and took hundreds of photos.
This view of Transfagarasan is the one that made this road famous. The open valley, guarded by steep mountains is simply spectacular. The natural beauty of Romania amazes me at every step.
The road to the top can be a bit tiring for the driver. There are multiple hairpin turns and most of the road is built right on the edge of the mountain so drive carefully!
Places to see along this section
In Cartisoara village you'll find "Badea Cartan" Museum. Here you can admire a traditional Romanian house from the 19th century, as well as a collection of icons painted on glass, old photos, ceramics and dowry chests.
The entrance fee to the museum is 5 RON (1 EUR) for adults and 10 RON for photos.
In Porumbacu de Sus, a small village located 18 kilometers away from Cartisoara you'll find one of the most beautiful castles in Romania – The Clay Castle in the Valley of the Fairies.
You can visit this beautiful castle for only 5 RON (1 EUR). It's a magical place, located at the base of Fagaras Mountains. Here you can try traditional dishes, take photos or shop for souvenirs.
The top of Transfagarasan – Balea Lake Section
Balea Lake connects the two sections of Transfagarasan. The most beautiful road in Romania leads to this stunning lake, guarded by mountains. Here you'll find a few wooden cabins as well as a mountain rescue center.
There is a big parking lot (5 RON per hour) where you can park or you can just park for free along the road to the Cabana Balea Lac. The first thing you'll notice is the multitude of wooden shops selling all kinds of souvenirs and snacks.
-> 20 surprising facts about Romania
If you're hungry, now it's the time to grab something to eat. You can try Kurtos Kalacs (a delicious Hungarian dessert), mici with mustard or smoked cheese. You can buy all this from the small shops or head to one of the restaurants from Cabana Paltinu or Cabana Balea Lac.
While you're here, make sure to walk along the lake and take some photos. The view is stunning. You can even visit the "Panorama Transfagarasan" dome for the best view of Transfagarasan.
Several hiking trails are starting from Balea Lake. However, don't venture too far if you don't have adequate equipment. Here are some of the most popular hikes:
Vanatoarea lui Buteanu Peak
Lespezi Peak
Negoiu Peak (2525 meters)
Balea Lake to Curtea de Arges Section
This is the lesser known section of Transfagarasan but honestly, it's my favorite because the mountains are much steeper on this side.
To get to this section, you'll have to cross the tunnel from Balea Lake. Once you'll exit the tunnel, you'll be rewarded with an incredible view of Fagaras Mountains and 2 beautiful waterfalls on the left side of the road, formed on Capra River.
Make your way down the hairpin turns and you'll get to "Complex Turistic Capra". This is a small hotel with a restaurant where you can grab something to eat in case you're hungry.
On this side of Transfagarasan you'll also come across a few friendly donkeys. They'll come to you for scratches and snacks so make sure to bring a loaf of bread with you. As long as you feed them, they'll become your best friends and they'll even pose for selfies.
After a few kilometres you'll arrive at "Conacul Ursului", another hotel and restaurant. If you plan to camp for the night, this is the perfect place since they also have camping facilities.
Vidraru Dam
You'll have to drive about 40 kilometres through the forest to get to our next stop – Vidraru Dam. This part of the drive is tiring and a little boring, compared to the views of Transfagarasan.
Once you get to Vidraru, park your car on the side of the road and stop for a few minutes to stretch and admire the beautiful artificial lake. During the summer, you can even take a boat tour on Vidraru Lake for 10 RON (2 EUR). The trip will take around 30 minutes and you'll be able to relax, while being surrounded by stunning scenery.
You'll notice that at one end of the dam there are some stairs. They lead to a viewing platform but unfortunately, when I last visited Vidraru in August 2020, the stairs were closed.
-> Read everything about the Romanian people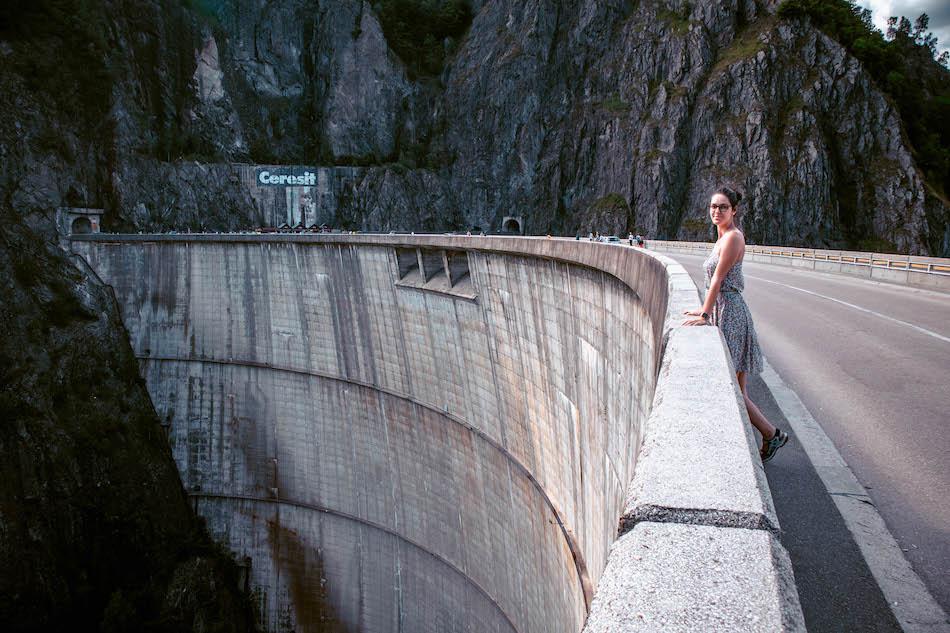 Vidraru dam and artificial lake were built in 1965. On the bottom of the lake sits the former village of Arefu. The legend says that some of the villagers refused to leave their home when the water started accumulating. Also, it is said that on sunny days you can see the ruins of the former city through Vidraru's water.
Poenari Fortress
The former residence of Vlad Tepes, also known as Dracula, Poenari Fortress was built in the 14th century on top of a mountain, 4 kilometers away from Vidraru.
To get to the top, you'll have to climb almost 1500 steep stairs but the hike is worth it. The fortress is in good shape and you can admire the entire valley from the top.
The entrance fee to Poenari Fortress is 10 RON (2 EUR).
Curtea de Arges Monastery
You can't visit Transfagarasan without stopping at this famous monastery. You'll pass by it on your way to or from Vidraru dam and lake.
If there's one thing that you should know about Romanian people is that they're extremely religious. Curtea de Arges Monastery is one of the most important religious sites in the country and it's famous across the country for its legend.
It is said that Manole, the architect of the monastery received a death threat from the Prince because he didn't manage to finish the building on time. When he heard this, Manole came with the idea to place a living woman in the walls of the monastery for good luck.
It was agreed to sacrifice the first woman that came to the monastery the next morning but nobody expected that woman to be Manole's wife. When visiting the monastery you'll see a stamp that's supposed to mark the place where Ana was sacrificed.
The truth is that nobody really knows if this legend is true or not but leaving it aside, Curtea de Arges Monastery is a beautiful place to visit.
6. How to get to Transfagarasan
The best way to get to Transfagarasan is by car. Even though there are a few guided tours available, I recommend visiting this famous Romanian road by car. This way, you'll be able to manage your schedule as you like.
You can only visit Transfagarasan as a day trip if you want to see just one side of the highway. Otherwise, you'll need to sleep somewhere (more details about this below). As I said before, it would be a shame to get to Transfagarasan and not see it all! Both sides are amazing and worth seeing.
Bucharest to Transfagarasan
From Bucharest to Cartisoara there are 270 kilometers (4 hours and a half without stopping). To get to Transfagarasan from Bucharest, you'll have to follow the highway to Pitesti, then head to Curtea de Arges and then to Balea Lake.
From Balea Lake, drive down the famous section of Transfagarasan and spend the night in Sibiu. If you have more time, make sure to visit Sibiu for a few days. It's a beautiful city, with stunning architecture and lots of fascinating museums.
-> To search for the best hotels in Sibiu, click here
-> If you're looking for accommodation in Bucharest, click here
If you don't want to rent a car, you can opt for a guided tour. You'll start early in the morning from Bucharest and then in the evening, you'll be back in the capital city. It will be a bit tiring to do a day trip to Transfagarasan but it's a good option if you don't feel comfortable driving.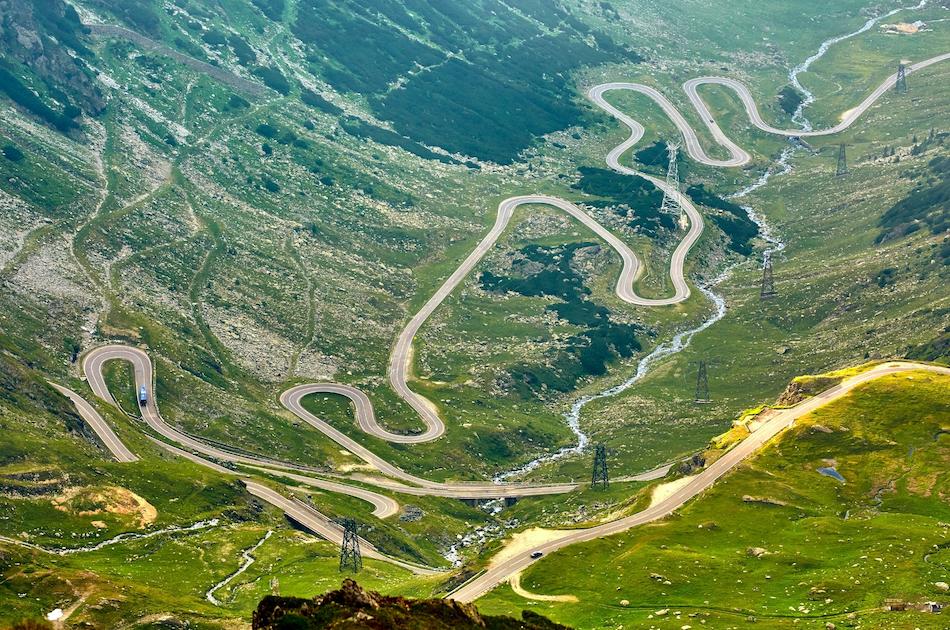 Brasov to Transfagarasan
If you want to visit Transfagarasan Highway from Brasov, you'll have to follow the road to Fagaras city, then turn left to Cartisoara. Before heading to Cartisoara, I would suggest stopping for an hour at the Clay Castle in Porumbacu de Sus. It's one of the most beautiful castles in Romania!
The road from Brasov to Balea Lake takes around 2 and a half hours (without stopping) and is 135 kilometres long. After you've reached Balea Lake you can choose to go back to Brasov, or you can continue your journey on the Southern side of Transfagarasan and visit Vidraru Dam, Poenari Fortress and Curtea de Arges Monastery. In this case, you'll have to spend the night somewhere around Curtea de Arges.
-> For the best hotels in Brasov, click here
-> To look for hotels near Curtea de Arges, click here
As an alternative, you can also book a guided tour to Transfagarasan from Brasov. The tour will take you from Brasov to Balea Lake and back.
Sibiu to Transfagarasan
Getting to Transfagarasan from Sibiu is the easiest. The road to Balea Lake only takes one and a half hours (without stops) and is 80 kilometres long. Don't forget to stop at the Clay Castle (Castelul Zanelor) in Porumbacu de Sus.
From Balea Lake, I recommend continuing your journey to Vidraru Dam, Poenari Castle and Curtea de Arges Monastery. You can spend the night somewhere near Curtea de Arges and then return to Sibiu on Olt Valley, another scenic road in Romania or Transalpina.
-> To look for hotels near Curtea de Arges, click here
-> To book a hotel in Sibiu, click here
As an alternative, there are daily transfers from Balea Lake from Sibiu.
7. FAQ
Is driving on Transfagarasan safe?
Yes, as long as you follow the traffic rules, it's safe. The maximum recommended speed on Transfagarasan is 40km/h.
Which one should I visit – Transfagarasan or Transalpina?
Both roads are beautiful and unique. If you have time, I'd recommend visiting both of them. If time is not on your side, I'd recommend Transfagarasan.
Are there any gas stations on Transfagarasan?
No, there are not. When coming from the southern side, I recommend filling your tank in Curtea de Arges. When coming from the northern side, fill your tank before entering Cartisoara.
How's the weather at Balea Lake?
Balea Lake is known for its low temperatures, even during the summer. Don't be surprised if you'll come across snow in the middle of July. Bring some warm clothes and jackets when visiting Transfagarasan.
8. Final thoughts
Transfagarasan is definitely the best road in Romania, an attraction that any tourist should visit. As a Romanian, it's one of my favorite destinations in the country. If you have any questions, don't hesitate to ask me in the comments section below.
May the travel bug bite you!
Disclosure: Please note that this post may contain affiliate links. If you make a purchase through these links, I will earn a small commission at no extra cost to you. I only recommend companies and products that I trust and the income goes to keeping this website running. Thanks!