I traveled in Southeast Asia for one and a half years and I fell in love with the local cuisine. From delicious street food dishes to unforgettable desserts, there's plenty to discover when it comes to this region's gastronomy.
In this post I'll share with you the cheapest, most affordable dishes in Southeast Asia that you need to try. None of these dishes costs more than $5 so be prepared to gain some weight because they're all delicious!
1. The Philippines
Lumpia
Similar to the Chinese fried spring rolls, and other versions around South-East Asia, Lumpia is a delicious and cheap snack in the Philippines.
Lumpia are tightly tucked, deep-fried rice flour wrappers filled with minced pork, beef or eggs, prepared with aromatics and vegetables for a tasty, crunchy bite. Dipped in a tangy, sweet sauce, these are lovely snacks and appetizers.
Cascaron
Here's another sweet street food treat that you have to try in the Philippines. For just a few dollars you can try the delicious Cascaron.
Filipino people love their sweets, and they're well represented with these glutinous rice and grated coconut fried 'donut wholes' on a skewer. The vendors then drizzle the whole thing with sweet syrup of sweetened coconut milk.
No time to read now? Pin it for later!
2. Cambodia
Num Banh Chok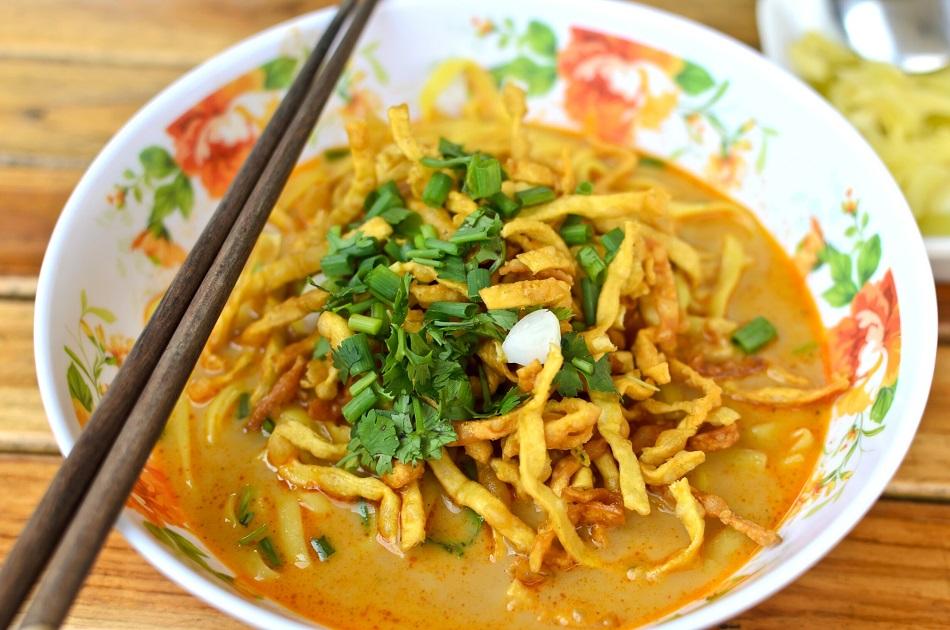 While in Cambodia, you might notice that the locals rarely eat their breakfast at home. Instead, they go to small local eateries where most of the time they order Num Banh Chok.
Imagine one of those dishes that is just messy, but spectacularly flavorful. The brightly yellow colored Num Banh Chok is a fermented rice noodle dish flavored by Cambodia's famous Kroeung yellow curry. It also involves fish paste, lots of veggies and microgreens like banana blossoms. The cooks make the noodles by hand, and legend says this is the first noodle dish ever.
Samlor Kako
This traditional Khmer dish can be found all around the country. It's one of the locals' favorite and it's super-affordable. The non-vegetarian option starts at $4.
The dish has a sea-scented fish broth flavored by the country's yellow curry and fermented fish sauce. The soup is aromatized with lemongrass and ginger and topped with veggies, including long beans, eggplants, green bananas, papaya and others. This is one of Cambodia's signature dishes and often includes chicken or other meats. There are vegetarian versions too.
3. Brunei
Kelupis
This delicious snack is very popular in Brunei and in a few states in Malaysia too. While traveling to Brunei, you can always carry a few Kelupis with you and you'll never be hungry!
When your food is wrapped in green tropical leaves, you know it will be delicious. This is the case with Kelupis, glutinous rice combined with coconut milk and flavored with aromatic pandan leaves, steamed and hanged to dry. These ones are both a filling snack and a gorgeous side dish for curries or heartier preparations. Beauty in simplicity right here.
Ambuyat
There are many delicacies in Brunei that are worth trying and Ambuyat is one of the most delicious ones. Try this gooey dish and you won't regret it!
It's the national dish and looks like nothing you've seen before. A pearly-white sticky purée got from the core of the sago palm tree is a great source of energy. Although it has little noticeable flavor, it really shines when presented with a variety of side dishes, including grilled veggies, curries, or fried sardines.
4. Indonesia
Nasi Goreng
You'll find this simple yet delicious dish all around the country, at every restaurant or warung. It's one of the simplest recipes and one of the most affordable dishes you can eat in Indonesia.
The fried rice is mixed with vegetables such as corn, beans, mushrooms and then, on top, eggs or meat can be added. The most popular variants are with seafood or chicken. Sometimes prawn crackers are added and used to eat this delicious dish. The best part about it is that it's suitable for both vegetarians and non-vegetarians.
Gudeg
Popular in Java, Gudeg is a unique dish, worth trying if you have the chance. You can find it in most restaurants around Yogyakarta for as little as $4.
This sweet and savory dish based on jackfruit pulp, coconut milk, shallots and local spices is incredible. The amount of milk added varies, so some Gudegs are drier, and others have a porridge consistency. The flavor, nevertheless, is always intense and tropical. Gudeg is delicious with rice, and you can order it with eggs or chicken for a whole meal in a bowl.
5. Laos
Larb
Larb is Laos' national dish, although it's also popular in neighboring countries. You'll find it at most restaurants across the country.
You can think of Larb as a meat salad, mostly made with minced beef, chicken or pork, but even fish. What makes this meaty, cold dish special is the intense flavor of fish sauce, the tanginess of lime juice, and the abundant fresh herbs and aromatic spices. There are many variations but order the stir-fried version or Larb Khua for Larb's best expression.
Lard na
Popular in Laos, but also Thailand and China, this meat-based noodle dish is remarkably comforting. It's one of the most affordable dishes in Laos and you can find it at street food stalls.
Add chicken, beef, shrimps, and even tofu to your noodles and let the cook top it with the famous spicy sauce thickened with tapioca. The final dish is a thick noodle soup with lots of fresh veggies that infuses Laos cuisine with Chinese textures.
6. Malaysia
Roti Pisang
One of the cheapest and most popular dishes in SE Asia is Roti. It comes in many varieties and one of them is Roti Pisang.
If you're looking for a sweet treat, enjoy a slice of Roti Pisang, an Indian-style freshly made flatbread stuffed with banana slices and sugar; all fried to become golden sweet bread. Topped with even more sugar or condensed milk, this street food dish is not only tropical but decadently tasty.
Keropok Lekor
If you're looking for cheap dishes in Malaysia, try Keropok Lekor. There are actually two types of Keropok Lekor – Keropok Lekor Goreng which is shaped like sausages and Kerook Lekor Keping which is cut into slices.
Malaysia's most addictive snack, these odd-shaped long dumplings, are made with ground fish and sago flour to become crispy one-biters that are sublimely hearty. Keropoks and better contrasted with a tangy and spicy chili sauce. You'll find a boiled version of Keropok Lekor but go for the deep-fried version instead, they have a crunchier texture.
7. Myanmar
Mohinga
In search of the most affordable dishes in SE Asia, we arrived in Myanmar. One delicious dish you need to try is Mohinga.
There's not one Mohinga in Myanmar, but many; there are endless variations, but they all comprise a dense rice noodle soup flavored with fish paste and aromatics, including lemongrass, onions, ginger and garlic. Some versions are spicy, while others are prodigiously fresh for the generous serving of local herbs like coriander and spring onions. This one is a local's favorite.
Khow Suey
Another dish you need to try in Myanmar is Khow Suey. Myanmar is known to be one of the cheapest countries in Southeast Asia. Therefore, you can try all the dishes you want without breaking the bank.
Burmese people love soups. Amongst all varieties, the Khow Suey, an egg noodle soup thickened with coconut milk and toned with curry paste, fried garlic, and lots of veggies, is an entire meal in itself. What makes this noodle soup different from the rest is the rich coconut milk; it makes the dish quite creamy and unique.
8. Singapore
Roti John
If you think you can't find affordable food in Singapore, you're wrong. One of the cheapest dishes in the country is Roti John.
Made famous in the city's hawker stalls, a Roti John is, in three words, a grilled omelet sandwich — a French-style baguette loaded with a mixture of eggs, meat, vegetables and spices. The vendors slice the sandwich in manageable pieces and serve it with a chili-based sauce. It's incredibly filling!
Hainanese Chicken Rice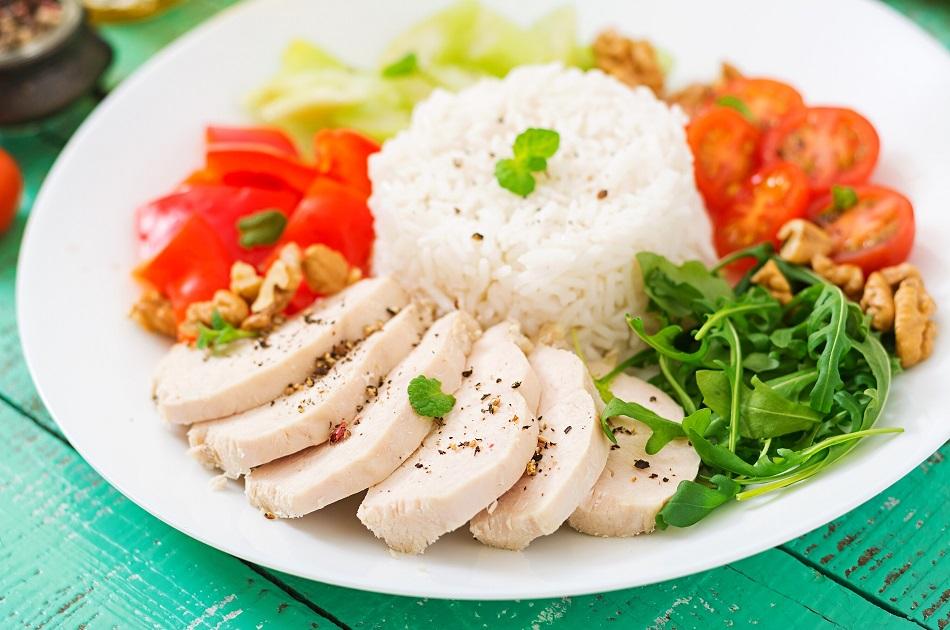 Another popular dish in Singapore is Hainanese Chicken Rice. It's the perfect dish for those who are on a budget as it only costs a few dollars.
This Chinese-style, slow-cooked chicken might look uncomplicated, but there are many hours of hard work behind it. The secret is in the vibrant and concentrated chicken broth where the whole chicken is cooked before being sliced and served with rice. Cooks also prepare the rice in the thick chicken broth resulting in what might very well be the best chicken dish in Asia.
9. Thailand
Pad Thai
In my search for affordable dishes in Thailand, I came across the delicious Pad Thai. This dish is so good that you'll find it in traditional Thai restaurants across the globe.
More popular with tourists than with locals, it's still a delightful dish to try. The secret behind this stir-fried noodle dish is balance — balanced sweetness from the tamarind sauce, spiciness from the chili peppers, crispness from lime juice, and the saltiness of the fish sauces add up for a noodle dish more complex than the sum of its parts.
Mango Sticky Rice
If you're looking for cheap sweet foods in Southeast Asia, you have to try Mango Sticky Rice. It's one of my favorite desserts in the world!
Sweet foods are not an afterthought in South-East Asia, and they're particularly good in Thailand because they're straightforward and pure. The mélange of ripe, local mango with glutinous rice mixed with sweetened coconut milk shows that great ingredients are all you need for a satisfying sweet snack. You'll find Mango Sticky Rice in both street stands and high-end restaurants; it's a classic.
10. Vietnam
Banh Mi
During my 2 months in Vietnam, every time I was on the road and hungry, I had a Banh Mi. You can find it pretty much anywhere and it's super-affordable.
You can see the French influence in Vietnam in the ubiquitous Bahn Mi. A baguette filled with everything from sliced pork, paté, sausages or meatballs to sardines. Pickles, veggies, including cucumber, and lots of fresh herbs, like basil and mint, add new layers of flavor to a unique sandwich that just tastes like Vietnam.
Pho
One of the most delicious soups in Asia is Pho and can be found in Vietnam. There are many varieties of this soup but they're all memorable!
You want to pronounce this one 'fuh,' and you want to say it right because you'll be ordering it often — a hearty beef broth with rice noodles, beef or chicken, veggies and herbs. The broth steals the spotlight as it's aromatized with ginger, anise, cinnamon, coriander seeds, and many other local aromatics. There are noodle soups, and then there's pho, it comes as no surprise you can find it in Vietnamese restaurants all over the world.
11. East Timor
Ikan Pepes
Not many tourists visit East Timor but if you plan to visit this beautiful country, it would be a shame not to try some of the local dishes. One of them is Ikan Pepes.
I could describe this as fish in curry, but it's much more than that. We're talking a whole fish smothered in spicy yellow curry and tamarind sauce, wrapped in green banana leaves and grilled. The result is a hearty fish with layers of flavor and gorgeous Asian aromatics. Drizzled with fresh lime juice, this might be the most flavorful white fish you've ever tried.
Batar Da'an
This much loved vegetarian dish can be found in almost any restaurant. If you're looking for something light, you have to try it! It's one of Southeast Asia's most affordable dishes and it's delicious!
The combination of mung beans, corn and squash might look simple but the Batar Da'an is beautifully balanced between savoriness and sweetness and has a smooth, almost silken texture. The ingredients, all staples in East Timor, are diced and sautéed with garlic and onion to become a fabulous vegetarian dish that can be the star of the show or a compelling side dish.
Final Thoughts
If you were looking for cheap Asia dishes, I hope that you enjoyed this post. Choosing only two dishes for each country was extremely hard since there are plenty of delicious foods that are worth trying in Southeast Asia.
If you're traveling on a budget, these affordable Asian foods can be a life-saver! If you have any questions, don't hesitate to ask me in the comments section below!
May the travel bug bite you!
Disclosure: Please note that this post may contain affiliate links. If you make a purchase through these links, I will earn a small commission at no extra cost to you. I only recommend companies and products that I trust and the income goes to keeping this website running. Thanks!