I like big cities. I love skyscrapers, shopping malls, and museums. When I started traveling full time in Asia, one of my goals was to visit both Singapore and Hong Kong. I was fascinated by their architecture and culture and I wanted to experience all of it first-hand.
I visited Singapore first and a few months later I had the chance to explore Hong Kong. They're both beautiful cities, with some pretty incredible views and attractions but they're quite different.
Depending on your preferences, you might end up loving one and hating the other. If you're wondering which city is worth visiting – Singapore or Hong Kong, I'm here to help you.
I'll compare them based on the following criteria: transportation, prices, people, restaurants, tourist attractions, nightlife, shopping, and accommodation.
So which one will you choose – Hong Kong or Singapore?
1. How many days do you need to visit Singapore and Hong Kong?
Singapore is a big city with a population of almost 6 million. There are many tourist attractions, museums, parks, and shopping malls that you can visit. This city has something for everyone.
You can even go skiing. I'm not kidding. There is an indoor skiing area in Singapore where you can go and ski in the middle of summer. 
No time to read now? Pin it for later!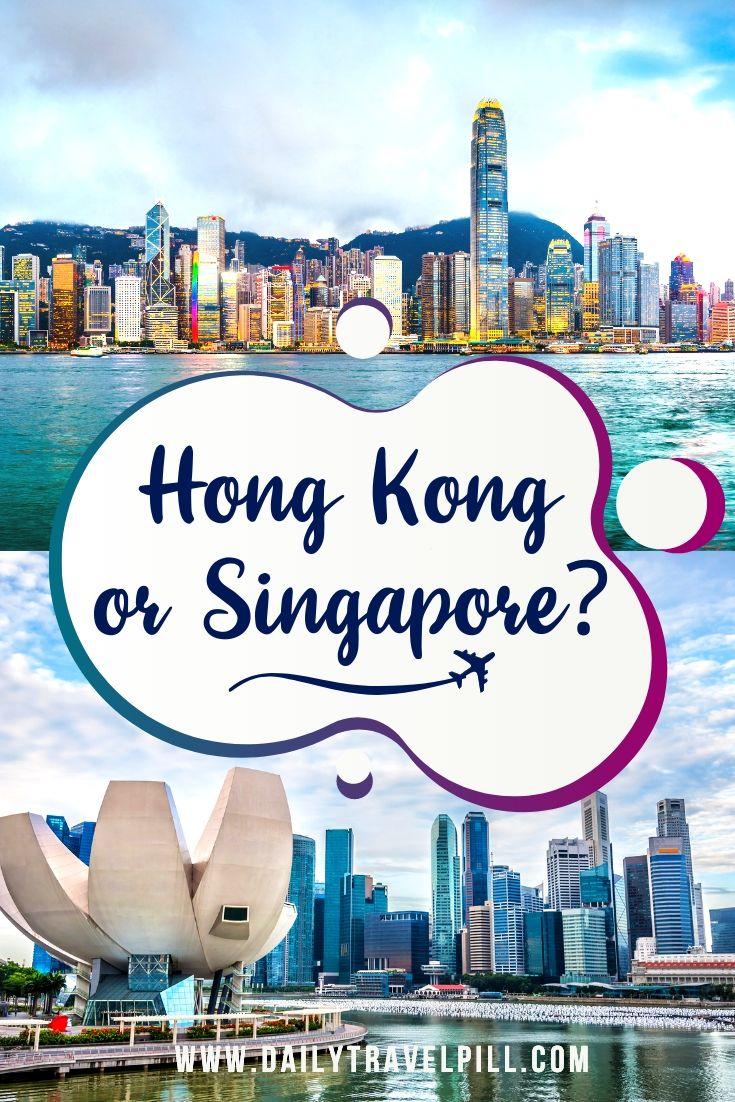 If you really want to taste the city's culture and vibe, I recommend spending at least 3 days in Singapore. If you're looking for adrenaline, I recommend spending one day at the famous Universal Studios Singapore.
But what about Hong Kong?
Even though Hong Kong is a bit bigger, with a population of a little over 7 million, I think that 3 days should be enough to visit the main attractions. If you don't want to rush, then think about staying 4 or 5 days in Hong Kong.
2. Singapore or Hong Kong
2.1. Transportation
Public transport is well developed in both cities. You can easily use it to get anywhere and it's affordable too. The subway is the fastest form of public transport and I highly recommend it, especially if you're spending just a few days in one of these cities.
Sometimes I prefer using the bus because it gives me the opportunity to see more of the city I'm visiting. When in Hong Kong, I highly recommend taking a double-decker bus at least once. It's a unique experience.
Good to know – I recommend getting a Hong Kong transport pass to save money.
Taxis are expensive in both cities. However, there are some alternatives – Uber and Grab. In Singapore, I recommend using Grab while in Hong Kong only Uber is available.
When it comes to airports, both cities have huge international airports.
2.2. Prices
Overall, the prices in Hong Kong are lower compared to Singapore. Lots of Chinese goods are easily flown down leading to a lower cost of living.
The prices in Hong Kong are usually between 10% and 20% lower than in Singapore. For example, a meal at an inexpensive restaurant is 20% more expensive in Singapore while a bottle of wine is 40% more expensive.
It's not a big difference but if you're on a tight budget, I recommend visiting Hong Kong. You'll get more for less.
2.3. People
People in Singapore have high respect for authority. The city is well known for being clean, crime-free, and very well organized. Also, Singapore is known for having some weird rules and regulations.
Did you know that chewing gum is banned from Singapore? Bringing chewing gum into the country is illegal and the fine is up to $1000. Also, not flushing the toilet is illegal and can get you a fine. To read about more weird regulations in Singapore, click here.
I feel like people in Hong Kong are a little bit more open-minded. The people in both countries are well educated and respectful. They usually speak English and are happy to help tourists in search of directions.
2.4. Restaurants and food
Are you hungry? Let's compare Singapore and Hong Kong in terms of restaurants & food options. I feel like in Singapore the food is highly varied given the multicultural background of the country.
In Singapore, you can easily find Cantonese food, Indian food, Malaysian food, Chinese food, and Western food. You'll find lots of options, no matter if you're on a budget or not.
On the other hand, Hong Kong is famous for Cantonese food. While there are Indian restaurants and other cuisines, these restaurants are harder to find. If you're interested in a food tour in Hong Kong, click here.
When it comes to Singapore vs Hong Kong in terms of food, Singapore is the winner!
2.5. Tourist attractions
There are lots of things to do in both Singapore and Hong Kong. However, I feel like Hong Kong has a lot more tourist attractions. You can easily spend one week in HK and not get bored.
Let's talk about each of these cities and see which are the most visited tourist attractions in each of them.
Singapore tourist attractions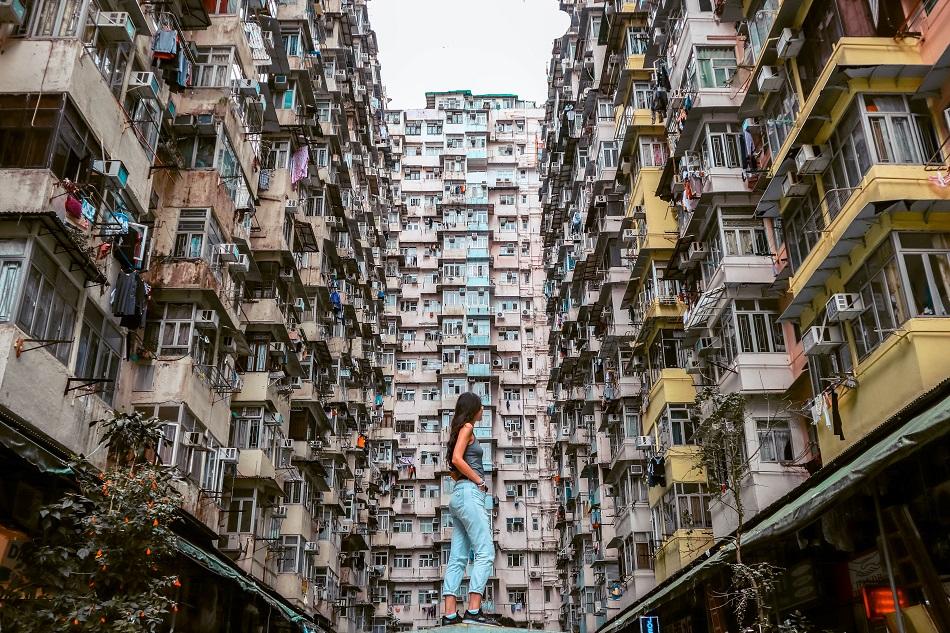 Hong Kong tourist attractions
Disneyland – Located on Lantau Island, Disneyland Hong Kong is the perfect place for a fun day. Hop on the roller-coasters and meet your favorite characters. Make sure to book your tickets in advance!
Victoria Peak Tram – This is one of the most famous tourist attractions in Hong Kong. Take the Victoria Peak Tram and enjoy a spectacular view over the city. To skip the line, book your tickets online.
Monster Building – Have you seen those photos taken in front of a tall and busy apartment building? They're taken at the famous Monster Building. This building has been featured in the Transformers movie.
Choi Hung Estate – Another popular place for photos in the city is the Choi Hung Estate. It features a colorful basketball court hidden between colorful apartment buildings.
Temple Street Night Market – You can't visit Hong Kong without stopping by the Temple Street Night Market. Here you'll find cheap electronics, clothes, accessories, and souvenirs.
Lugard Road – As an alternative to Victoria Peak, you can take a walk on Lugard Road and admire the breathtaking views over Hong Kong.
Kowloon Walled City Park – Where once was the infamous Kowloon Walled City you can nowadays find a peaceful park. Inside the park there is a small museum explaining the history of Kowloon City. If you know nothing about this place, make sure to watch this intriguing documentary.
Day trip to Macau – Do you want to escape the chaos of Hong Kong? Take a day trip to Macau, a former Portuguese city, and admire its giant shopping malls and casinos.
Lantau Island – Head to Lantau Island and visit the famous Tian Tan Buddha and Ngong Ping Cable Car. The island is also well known for fishing villages.
2.6. Nightlife
When it comes to pubs and bars, both cities have a lot to offer. When the sun goes down, the skyscrapers shine and the clubs wait for their customers in both cities.
In Singapore, the nightlife is an unmissable experience. Due to the alcohol laws, the parties in Singapore might seem a little dull but you can have lots of fun! In terms of prices, expect to pay around $10 for a beer.
Some of the best nightlife areas in Hong Kong are Soho, Tung Choi Street, and Lan Kwai Fong. You can easily find both luxurious places and more budget-oriented pubs and bars.
Both Singapore and Hong Kong offer a variety of clubs, bars, and nightclubs. Release your inner party animal and have some fun!
2.7. Shopping
When it comes to comparing Singapore and Hong Kong in terms of shopping, I have to say that Hong Kong wins. In Singapore, almost all the shopping malls are the same. You'll find the same brands and the same merchandise.
In Hong Kong there are so many choices that it's pretty hard to choose only one product. And they're cheap too. This is mostly because Hong Kong easily imports merchandise from China.
2.8. Accommodation
Where can you find the best hotels? In Singapore or in Hong Kong? Both cities are huge and have all kinds of accommodation – hostels, hotels, and guest houses. You can find options for any budget.
I've searched for the best accommodation in these cities for every budget. Below are my recommendations.
Hotels in Singapore
Budget – Tribe Theory – excellent location, comfortable beds, included breakfast, friendly environment
Mid-Budget – Holiday Inn Express Clarke Quay – amazing rooftop pool, comfortable & modern rooms, excellent location, included breakfast
Luxury – W Singapore Sentosa Cove – the definition of luxury, incredible pool & spa, one of the best restaurants in Singapore, excellent location in an exclusive location
Hotels in Hong Kong
Budget – Owl Hostel – excellent location in the heart of the city, clean rooms, friendly staff
Medium budget – Kerry Hotel – incredible infinity pool, great value for money, excellent views
Luxury – Hotel Icon – excellent service, incredible views and infinity pool, spacious rooms
3. Conclusion
I loved both cities. However, when comparing Singapore vs Hong Kong I have to say that I love Hong Kong a little bit more. I love chaos and I thrive in it and Singapore is anything but chaos.
However, every person is different and you might like Singapore more. I hope that this comparison helped you make the best decision.
Which one will you choose – Hong Kong or Singapore? Let me know in the comments!
May the travel bug bite you!
Disclosure: Please note that this post may contain affiliate links. If you make a purchase through these links, I will earn a small commission at no extra cost to you. I only recommend companies and products that I trust and the income goes to keeping this website running. Thanks!