Nusa Penida is one of the most beautiful islands near Bali and there are many awesome photography places to explore here. From exotic beaches to stunning viewpoints and spectacular natural wonders, Nusa Penida has a diverse landscape, a dream for any photographer.
After spending a few days on this island and exploring many tourist attractions and off-the-beaten-path places, I fell in love with Nusa Penida. As a travel blogger, I always invest a lot of time in taking photos at each place I visit. In Nusa Penida, taking beautiful photos was an easy task.
It seems like the landscape and natural beauty of this island are super-photogenic from any angle. If you're looking for the best photography spots in Nusa Penida, you're in the right place.
In this post, I'll share some of the most incredible places where both amateur and professional photographers can take stunning photos. Let's get to it!
1. Nusa Penida BEST photography places
1.1. Atuh Beach
Located on the eastern side of the island, Atuh Beach is one of the most beautiful beaches in Nusa Penida. Unlike Diamond Beach, which is located nearby, Atuh Beach is less crowded.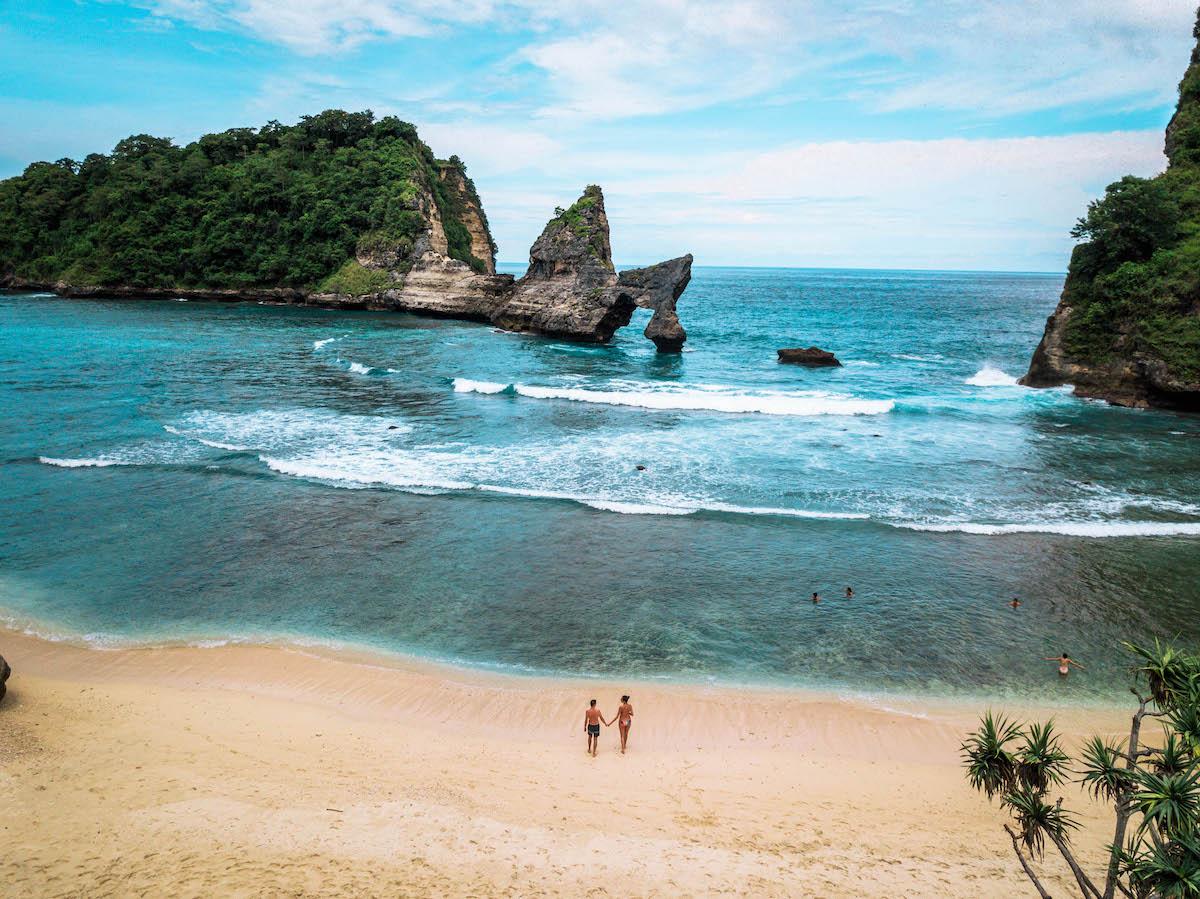 To get to Atuh Beach, I recommend parking your motorbike/ car in the parking lot near Diamond Beach. From there, it's a 20-minute descent to Atuh Beach. While climbing down the stairs, take a few moments to admire the beach and take some photos because the views are breathtaking.
Once you arrive at Atuh Beach, explore it from one end to another. You'll find many great angles for photos. The main attraction at this beach is the huge rock located right in front of the seashore. On the right side, the rock has a beautiful arch that creates the perfect background for photos.
We spent a few hours here, photographing the place and taking a few videos with our drone. In my opinion, Atuh Beach is one of the most Instagrammable places in Nusa Penida and one of the best places to visit on this island. Click here to read more about Atuh Beach.
1.2. Diamond Beach
Diamond Beach is one of the top tourist attractions on the island and an incredible place for photographers. I recommend arriving here before 9 am because afterward hundreds of tourists start to arrive and they all want to take the same photo, so the stairs leading to Diamond Beach get really busy.
We arrived here early and we managed to take lots of photos on the Instagram-famous stairs leading to the beach. However, I recommend climbing all the way down to Diamond Beach.
At the bottom of the cliff, there is a nest and a swing where you can take photos. If the tide is low, you can walk on the beach and take some photos with the diamond-shaped rocks. Diamond Beach is one of the top photography spots in Nusa Penida and a must-see for any traveler visiting the island.
1.3. Diamond Beach Viewpoint
Another incredible Instagram location in Nusa Penida is the Diamond Beach Viewpoint. Instead of climbing down the stairs to Diamond Beach, continue walking for 2 minutes. On your right side you'll see a cliff. Go to the top of it and you'll be rewarded with one of the best views on the island.
We lifted our drone here and we weren't disappointed. You can also take photos with your camera. Either way, take into account that there is no shade at this viewpoint and if you arrive in the middle of the day, the heat can become unbearable. Here are more incredible places in Nusa Penida.
No time to read now? Pin it for later!
1.4. Thousand Island Viewpoint
Just a short drive away from Diamond Beach and Atuh Beach is the Thousand Island Viewpoint. From the parking lot, you'll have to walk a bit and climb down a set of stairs to reach this viewpoint.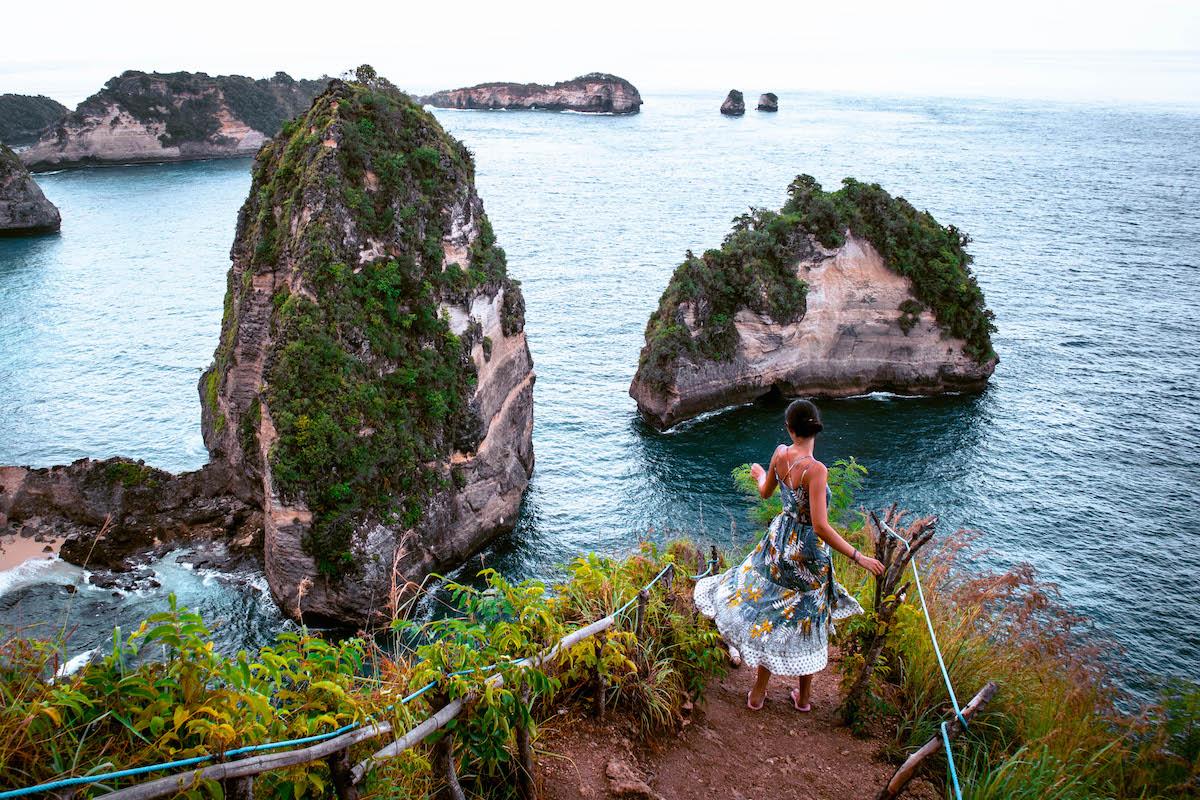 Even though there are some fences, be extra-careful because the rocks can be slippery. From this viewpoint you can admire a beautiful bay and you can even see a small part of Diamond Beach.
There are a few huge rocks scattered into the ocean, creating the perfect backdrop for any photographer. If you're looking for places to photograph in Nusa Penida, make sure to add the Thousand Island Viewpoint to your itinerary. Read more about this viewpoint here.
1.5. Rumah Pohon Treehouse
From the Thousand Island Viewpoint, make your way further down to the Instagram-famous Rumah Pohon Treehouse, also known as the Nusa Penida Treehouse.
Although this is an Airbnb and people can rent it, most tourists come here to take photos. Watching the sunset from the treehouse's stairs is simply breathtaking. If you're looking for unique places to photograph in Nusa Penida, Rumah Pohon Treehouse is the best choice!
1.6. Peguyangan Waterfall
Famous for the beautiful blue stairs leading to the Waterfall, Peguyangan is a sacred place for the locals and an oasis for visitors. Located at the base of a tall cliff, on the edge of the ocean, Peguyangan Waterfall is a unique place, full of spirituality.
To get to the waterfall, we first climbed down some stairs that seemed to never end. The good part was that the views were breathtaking and there was also a local holiday, celebrated by the locals. Many people were going to the temple while carrying offerings on their heads – an incredible sight to witness.
Once we got to the waterfall, we admired the small temple and then we explored our surroundings a bit more. If you pass by the temple, you'll get to a beautiful natural infinity pool, overlooking the ocean.
There are many photography opportunities here – the blue stairs, the temple, the waterfall and the infinity pool, just to name a few. Read more here.
1.7. Kelingking
Also known as T-Rex due to its shape, Kelingking is definitely one of the most photographed places in Nusa Penida and one of the most visited places on the island. There are a few viewpoints where and you can also follow the stairs to Kelingking Beach.
A wide lens or a phone with a wide-angle camera is recommended here. Also, we decided to fly our drone and we managed to take some stunning aerial shots.
When visiting Kelingking, keep in mind that this is one of the most popular tourist attractions on the island. If you want to have the place to yourself, make sure to arrive here before 8.30 am.
1.8. Broken Beach
One of the most photogenic places in Nusa Penida is the incredible Broken Beach, a place wrapped in mystery and legends. Even if you can't actually reach the beach, the views at Broken Beach are stunning.
Basically, a part of the land collapsed, creating a hole in the ground. This small bay is connected to the ocean through an arch. I recommend walking around Broken Beach and photographing it from every angle.
Since we spent more days in Nusa Penida, we arrived here in the morning and the place was quite empty. Tourists started arriving at about 9.30 am. We took many photos, lifted our drone and enjoyed this place to the maximum. Broken Beach is one of the top photo locations in Nusa Penida.
1.9. Angel Billabong
Right near Broken Beach is the beautiful Angel Billabong, a natural infinity pool connected to the ocean. To see the best of this place, check the tide and visit it during low tide.
When the tide is high, the water floods the infinity pool and the waves make the water muddy. During low tide, the water is crystal-clear.
Keep in mind that the rocks here are pretty sharp. If you want to enter the natural pool, I recommend wearing water shoes or flip-flops. Also, don't venture too close to the edge of the pool because the currents can drag you in the ocean.
Read more about Angel Billabong here.
1.10. Crystal Bay Beach
One of the best places you can visit as a photographer in Nusa Penida is the beautiful Crystal Bay Beach. The beach is beautiful and right in front of it there is a big rock with a temple on top. If you're looking for a nice vantage point, follow the trail on the left side of the beach and you'll reach a viewpoint.
From here, you can take awesome shots and enjoy the view. Also, if you'd like to explore the marine life, this is one of the best places on the island for snorkeling! So grab your GoPro or your waterproof camera and discover colorful fish and corals.
-> The best beaches in Nusa Penida
2. Where to stay in Nusa Penida
Nusa Penida is a touristic island, with many hotels, hostels and guesthouses. Finding the perfect one might prove challenging, but I'm here to help you. I searched for the best accommodation on the island, for every budget. Here are my recommendations.
Budget – Double-G Guesthouse – excellent location, spacious rooms, air conditioning, friendly staff
Mid-Range – NG Sweet Home – beautiful pool, quiet area, good location, spacious & clean rooms, continental breakfast included
Luxury – Adiwana Resort – excellent location, incredible pool, beautiful views, luxurious rooms, excellent facilities
3. How to get around Nusa Penida
To get to Nusa Penida, you'll have to take the boat from Bali. The trip takes around one hour. When it comes to tickets, you have two options. You can buy your tickets from the port or you can purchase them online.
If you want to visit Nusa Penida as a day trip from Bali, here are some of the best tour options available:
If you choose to explore Nusa Penida by yourself without a tour, you can rent a motorbike for around IDR 80 K per day or you can hire a driver with a car to explore the island (prices start at IDR 500 K for 8 hours per car). When we visited, we chose to rent a motorbike because it was cheaper and we wanted to be in charge of our schedule.
4. Final thoughts
I'm sure that you'll love all these photography spots in Nusa Penida. Each of these places is unique, but they're all part of the best tourist attractions on the island. I would recommend planning at least 2 days to explore Nusa Penida, but 3 days are ideal.
If you have any questions, don't hesitate to ask me in the comments section below. May the travel bug bite you!
Disclosure: Please note that this post may contain affiliate links. If you make a purchase through these links, I will earn a small commission at no extra cost to you. I only recommend companies and products that I trust and the income goes to keeping this website running. Thanks!