There are many beautiful islands close to Bali and Nusa Penida is one of the most popular. Located just a short boat ride away from Bali, Nusa Penida will welcome you with stunning beaches, crystal-clear water, beautiful temples and an incredible marine life.
After spending quite some time on this island, I'm here to share with you the top things to do in Nusa Penida. I've included all the must-see places and must-do activities and I'm sure that you'll create some unforgettable memories.
Good to know – At the end of this blog post, you can find info about how to get to Nusa Penida, transport on the island and some advice about accommodation.
1. Top places to visit in Nusa Penida – MAP
Click on the map below to see where each of these tourist attractions is located.
2. Best things to do in Nusa Penida
There are many tourist attractions in Nusa Penida, for any traveler. From relaxing activities such as spending your time at the beach to more adventurous activities such as cliff jumping and diving, Nusa Penida has it all!
2.1 Diamond Beach
One of the most famous beaches on the island is Diamond Beach. It became famous due to the countless Instagram pictures taken on the picturesque stairs carved into the cliff, leading to the beach.
The beach is surrounded by tall cliffs and there are a few huge rocks resembling diamonds inside the bay. If you're planning to visit Diamond Beach, make sure to check out the tide. If the tide is high, you won't be able to explore the beach because the waves will entirely cover it. To read more about this incredible place, click here.
2.2 Atuh Beach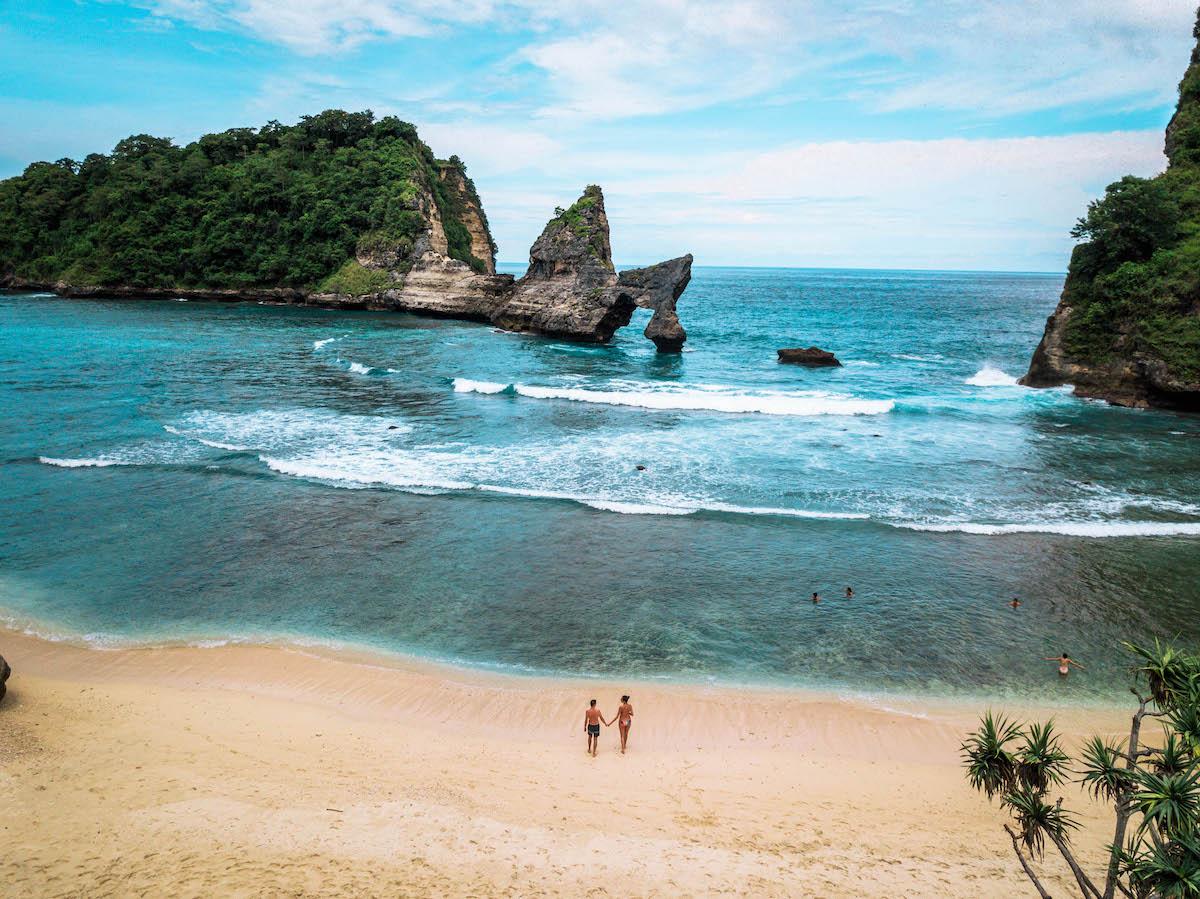 Just a short walk away from Diamond Beach is Atuh Beach, a less-crowded place, but with stunning views. What makes this beach unique is the incredible rock formation sitting inside the bay that looks like a dinosaur. When the tide is high, you can even cliff-jump from the top of this cliff.
I chose to rent a sunbed for a few hours and enjoy the views while drinking a Bintang. The beach is beautiful and it's definitely one of the things to see in Nusa Penida. To read more about it, click here.
2.3 Thousand Island Viewpoint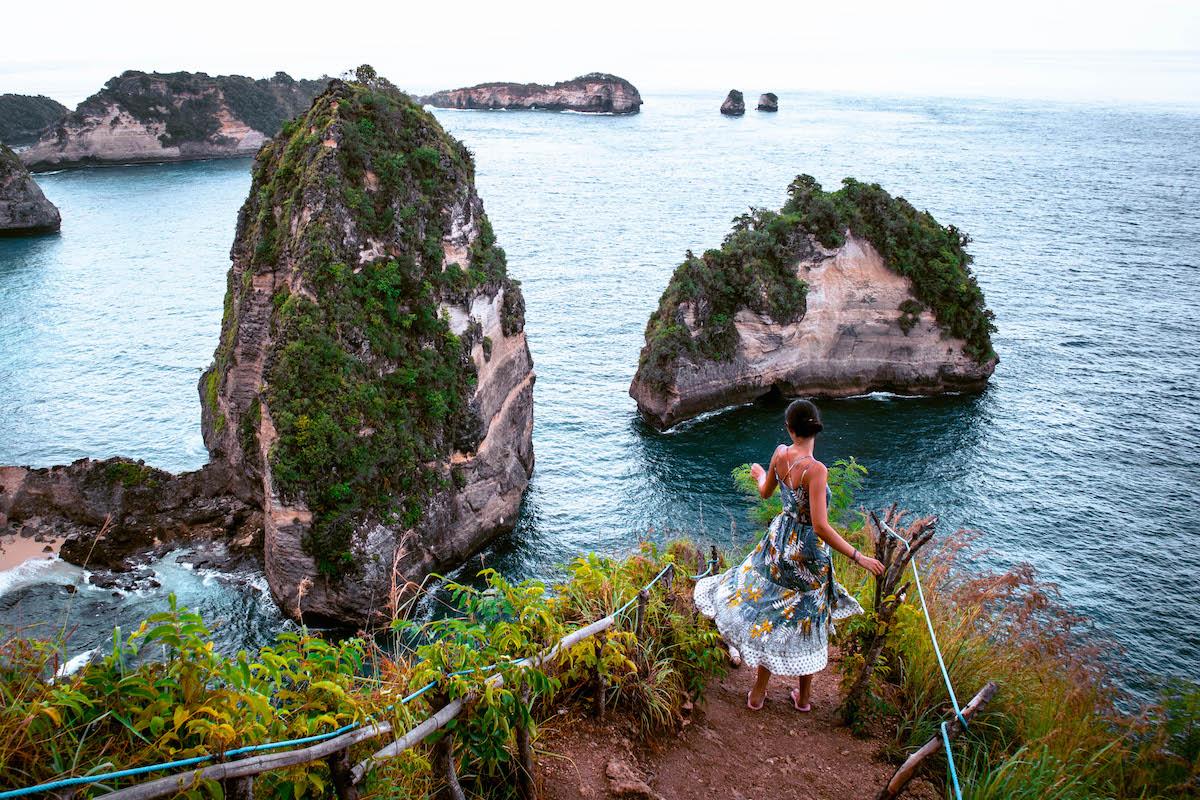 One of the best places to see in Nusa Penida is the Thousand Island Viewpoint. It's one of the most spectacular viewpoints on the island. From here, you can see a beautiful bay that separates the Thousand Island Viewpoint from Diamond Beach and a few huge rocks scattered into the ocean.
The viewpoint is right at the edge of a cliff, so be careful when visiting. Don't get too close to the edge!
2.4 Rumah Pohon Treehouse
From the Thousand Island Viewpoint, continue downhill and in about 5 minutes you'll reach the famous Rumah Pohon Treehouse. This wooden treehouse is now one of the instagrammable places in Nusa Penida. Hence, there will be many people here trying to take photos.
If you want, you can actually rent this treehouse for a few nights. However, you'll have to book your stay well in advance (about 2-3 months in advance).
2.5 Peguyangan Waterfall
The blue stairs leading to Peguyangan Waterfall are quite famous. Even though reaching the waterfall might be an easy task, climbing the 700 stairs back up is a bit challenging. It took me about 40 minutes to climb the stairs, but the views were worth it.
Peguyangan Waterfall is actually a series of springs that the locals use to purify themselves when visiting Peguyangan Temple. If you pass the temple, you'll reach a beautiful natural infinity pool where you can relax while enjoying the views.
2.6 Tembeling Beach & Forest
Unfortunately, when I tried to visit Tembeling Beach & Forest, the road was in such a bad shape that we had to turn back. However, I've heard that recently, the local authorities invested a lot of money in rebuilding the roads on Nusa Penida.
Tembeling Forest is home to a couple of natural pools where you can swim and relax. You can also head to the beach, but unfortunately, swimming here is a bit difficult. Tembeling is a Nusa Penida must-see if you're looking for hidden places, tucked away from the masses of tourists.
2.7 Broken Beach
One of my favorite Nusa Penida tourist attractions is Broken Beach. Even if you can't really reach the beach, the views here are pretty amazing. The broken arch connecting the Broken Beach to the sea is quite impressive.
Many legends are surrounding this place, giving it a mystical vibe. I visited Broken Beach after visiting the Angel Billabong and I spent about an hour here taking photos and admiring the views. There are a few restaurants nearby, just in case you get hungry. To read more about Broken Beach, click here.
2.8 Crystal Bay Beach
One of the best beaches in Nusa Penida is Crystal Bay Beach. With stunning views, crystal-clear water, Crystal Bay is proof of Nusa Penida's natural diversity.
This beach is quite popular among tourists. Here you can find a few shops, restaurants and sunbeds to rent. You can also rent snorkeling gear or rent a boat to go diving. During my stay in Nusa Penida, I've been to Crystal Bay Beach quite a few times, but its beauty never ceased to amaze me. Read more about it here.
2.9 Diamond Beach Viewpoint (Jogglo Viewpoint)
Not many tourists know about this place which is great if you're looking for off-the-beaten-track places in Nusa Penida. Instead of following the stairs to Diamond Beach, walk for another 2 minutes and you'll see a beautiful cliff on your right side. Climb to the top of it and you'll be rewarded with one of the best views on the island!
I took a few minutes to take some photos here and fly my drone. I'll leave the photo talk for itself.
2.10 Teletubbies Hills
Similar to the famous Chocolate Hills in Bohol, Teletubbies Hills are round-shaped hills surrounded by rice fields. The views are quite impressive and the best part is that not many tourists visit this place.
In my opinion, Teletubbies Hills are part of the top things to do in Nusa Penida and I recommend adding this place to your itinerary. Plan about an hour to visit it and if you have a drone, make sure to fly it! You'll be amazed by the views!
2.11 Banah Cliff Point
There are many viewpoints on the southern side of the island and Banah Cliff is one of the best. If you're looking for places to see in Nusa Penida, add this viewpoint to your itinerary!
You can admire the cliffs falling into the milky-blue ocean. There are also a few rocks scattered in the ocean with interesting shapes. For a unique experience, try to visit Banah Cliff Point at sunset.
2.12 Kelingking (T-Rex)
Everybody who visits Nusa Penida wants to see the famous Kelingking. It's a beautiful cliff, shaped like a T-Rex and covered in thick vegetation. I visited Kelingking early in the morning to avoid the crowds and I managed to enjoy this place for a few minutes by myself.
When I first saw Kelingking, I was amazed by Mother Nature's powers. The sun was barely rising, the monkeys were starting to wake up and the locals were about to open their shops. For a few moments, I felt like the entire place was there for me to watch it.
2.13 Mentigi Beach
Far from being as popular as Diamond beach or Crystal Bay, Mentigi Beach is a small beach located in the northern part of Nusa Penida. The reason why this beach stole my heart is because from here you can clearly see Mount Agung in Bali on a sunny day.
The view is pretty spectacular and even though Mentigi Beach is a bit more remote, I believe it deserves to be visited if you're planning to spend more days in Nusa Penida.
2.14 Suwehan Beach
If you're looking for off-the-beaten-path places in Nusa Penida, head for a few hours to Suwehan Beach. Not many tourists come to this beach and the views are breathtaking. In my opinion, Suwehan Beach looks a bit like Diamond Beach, but without the crowds.
Climbing down to this beach is a bit challenging and I recommend wearing comfortable shoes. Also, bring some water and snacks with you because there are no shops or warungs at Suwehan Beach.
2.15 See the Mola-Mola fish
One of the things to do in Nusa Penida if you're visiting during July-October is to see the Mola-Mola fish, a giant sunfish that can reach a few meters in length.
During these months the temperatures are cooler and Mola-Mola comes closer to the surface near the Crystal Bay Beach. You can arrange a diving trip and the guides will guide you to the places where you'll most propbably see the incredible Mola-Mola.
2.16 Watch the sunset at Penida Colada Beach Bar
With a relaxing atmosphere and delicious food, Penida Colada Beach Bar is the perfect place to spend the evening and admire the sunset. Here you can find delicious smoothies, vegan dishes and delicious avo toast.
However, the best part is the view. From this beach bar, you can see the impressive Mount Agung in Bali. How cool is that?
2.17 Kelingking Beach
If you have more time to spend at Kelingking, head down to the beach. The stairs leading to the beach are not in the best condition and they're quite abrupt, so I recommend avoiding wearing flip-flops. Also, make sure to bring a bottle of water with you because there are no shops on the beach.
Once you get down to Kelingking Beach you'll be rewarded with an incredible view and crystal-clear water. If the waves are too strong, don't venture too far from the shore because many accidents happened here over the years.
2.18 Pandan Beach
Just a short trek away from Crystal Bay Beach, Pandan Beach is one of the hidden gems in Nusa Penida and one of the best beaches on the island. To reach it, follow the path from the left side of Crystal Bay and walk for a few minutes through the forest.
At the end of the trail, you'll be rewarded with a beautiful empty beach. There is a small shop where you can buy drinks, but apart from this, Pandan Beach is still untouched. It's one of the tourist spots in Nusa Penida that not many people know about.
2.19 Take a day trip to Nusa Lembongan & Nusa Ceningan
Nusa Lembongan and Nusa Ceningan are two incredible islands, located right between Bali and Nusa Penida. These two islands are connected through a bridge, also referred to as "The Yellow Bridge", so you can cross between them.
I loved Nusa Lembongan and its beautiful beaches like Mushroom Beach and Dream Beach and I also loved Nusa Ceningan and its stunning beach bars (make sure to go to Sea Breeze).
To get to these two islands, you'll have to go to the Nusa Penida port and talk to the local boatmen. There are no official ferries or boats between Nusa Penida and Nusa Ceningan or Lembongan. However, you can arrange a private boat for about IDR 100 K one-way.
2.20 Lumangan Beach
Searching for the best places to visit in Nusa Penida, I stumbled about the beautiful yet hidden Lumangan Beach. Tucked away from the tourists' eyes, this beach is the perfect hideout for those looking to relax while being surrounded by stunning scenery.
When visiting Lumangan Beach, keep in mind that there are no shops or warungs here. I recommend bringing a bottle of water and some snacks with you.
2.21 Devil's Billabong
Similar to Angel Billabong and Devil's Tears on Nusa Lembongan, Devil's Billabong is one of the unknown places in Nusa Penida. The powerful waves crash into the rocks, creating a unique phenomenon here.
Be extremely careful when driving to Devil's Billabong because the road is in bad shape. However, the views are worth it, especially at sunset.
2.22 Kimanis Sunset Point
Looking for a place to watch the sunset in Nusa Penida? Head to the incredible Kimanis Sunset Point and admire a magical sunset over the surrounding hills.
I recommend adding Kimanis Sunset Point to your itinerary only if you're planning to spend more than two days on the island. Other popular sunset locations are Crystal Bay Beach and Broken Beach.
2.23 Angel Billabong
This natural infinity pool is one of the Nusa Penida attractions. If you want to admire Angel Billabong in all its beauty, make sure to check the tide and visit it during low tide.
When the tide is high, you can't swim in the billabong due to the strong waves and currents. If you'd like to avoid the tourists, arrive here before 9 am. Later in the day, the tour buses start to arrive, bringing tens and hundreds of tourists. To read more about Angel Billabong, click here.
2.24 Swim with Manta Rays
One of the best activities you can do in Nusa Penida is to swim with the manta rays. Even though they can reach 3 meters in length, the manta rays around Nusa Penida are harmless.
You can book a tour from the port or you can book it online. No matter which option you choose, all tours take place in the southern part of the island at Manta Bay, Manta Point and Crystal Bay. For a 2-hour tour you can expect to pay around $15, while a half day trip costs around $20.
2.25 Seganing Waterfall
From Tembeling Beach & Forest, it's a 10-minutes trip (by car or motorbike) to the beautiful Seganing Waterfall. You'll have to park your car on top of the cliff and then follow a path down to Seganing. The path is not very safe so pay extra attention!
The waterfall flows over a series of rocks that are covered in bright green moss. The view is pretty spectacular! There are also a few natural pools where you can refresh yourself.
Keep in mind that there are no shops near the waterfall. Bring a bottle of water with you and some snacks.
2.26 Saren Cliff Point
There are many viewpoints on the southern side of Nusa Penida and Saren Cliff Point is one of the best ones. Here you can peacefully enjoy the island's stunning scenery and relax. I loved how the milky-blue water contrasted with the green and orange cliffs.
Honestly, in my opinion, the view from Saren Cliff Point is comparable to that from Kelinking only without the crowds. It's one of the must-see places in Nusa Penida, a viewpoint that shows you how incredible this island really is.
2.27 Paluang Cliff
If you're looking for an alternative viewpoint from where you can admire Kelingking, head to Paluang Cliff. It's located just a short walk away from Kelingking and, from here, you can admire the T-Rex rock without all the crowds.
There is also a wooden platform shaped like a boat from where you can take incredible photos. I really liked this viewpoint and I recommend visiting it after you explore Kelingking. Remember, the earlier you arrive, the fewer the tourists.
2.28 Analemma Beach Bar
One of the best things to do in Nusa Penida is to spend an evening at the incredible Analemma Beach Bar. Located on the eastern side of the island, north of Atuh Beach and Diamond Beach, Analemma Beach Bar serves delicious food at affordable prices and the views are breathtaking.
This bar reminds me of those in Gili Islands. With seats directly on the beach and sunbeds, this is the perfect place to relax in Nusa Penida.
2.29 Pura Goa Giri Putri Cave
One of the unique things to do in Nusa Penida is to visit Pura Goa Giri Putri Temple. To enter this temple located in a huge cave, you'll have to slip through a narrow crack in the ground. Before entering the cave a local will bless you.
To enter the temple, you'll have to wear a sarong or scarf to cover your knees. You can rent a sarong at the entrance. There is no entrance fee to the temple, but donations are welcome.
2.30 Gamat Bay Snorkeling
One of the most popular snorkeling spots in Nusa Penida is Gamat Bay. Here you can admire the colorful corals and fish and if you're lucky, you can even see turtles. It's a nice place where the marine life is thriving.
2.31 Manta Bay Viewpoint
If you're afraid of the water and you're not into snorkeling or diving, you can head to Manta Bay Viewpoint, a beautiful place from where with a bit of luck, you can see manta rays swimming in the ocean.
This viewpoint is located just across from the Broken Beach.
2.32 Nusa Penida Car Temple (Pura Paluang)
Nusa Penida is a diverse island not only when it comes to natural wonders but also when it comes to spirituality. Near Kelingking you can find an unusual temple known as the Car Temple or Pura Paluang.
The history of this temple is wrapped in mystery. Nobody knows when it was built. Some say that the temple was built before cars were actually invented. Either way, this temple is one of the must-visit tourist spots when in Nusa Penida.
2.33 Puyung Beach
From Pandan Beach, walk a few minutes and you'll reach Puyung Beach, one of the remote beaches in Nusa Penida. You won't find many tourists here, but the beach is quite beautiful.
It's located inside a small bay and the sides are covered in thick forest. If you're into snorkeling, bring your snorkeling gear because at Puyung Beach you'll discover colorful fish and many corals.
2.34 Stay in a beautiful cottage
There are many incredible places where you can stay in Nusa Penida, but two of my favorites are Jungle Paradise and Penida Bambu Green. These wooden cottages are stunning and on top of that, both places have beautiful pools.
2.35 Rent a motorbike to explore the island
Probably the best way to explore Nusa Penida is on a motorbike. You'll have the freedom to be the master of your schedule and spend as much time as you want at each place you visit. Also, along the way, you can stop wherever you want to admire the views.
When I visited Nusa Penida I chose this option and I rented my motorbike directly from the guesthouse where I was staying for IDR 80 K per day. To this, you have to add the gas which costs around IDR 10 K per litre.
3. How to get to Nusa Penida
There are many ferries each day from Bali to Nusa Penida and most of them leave from Sanur Beach. To buy your tickets, you can head directly to the port or you can save money and time and buy them online. When I visited Nusa Penida, I chose to buy them directly from the port, but I ended up paying more.
The boat ride from Bali to Nusa Penida takes about one hour. Sometimes, when the sea is rough, the waves can get pretty big and the ride can be bumpy.
If you only want to visit Nusa Penida for one day, I recommend booking a guided tour from Bali that includes hotel transfer, boat tickets, transport on Nusa Penida and a guide.
4. How to get around Nusa Penida
Nusa Penida is a relatively small island, but getting from point A to point B might be difficult. When I visited, the roads were in terrible condition. However, the local authorities recently invested a lot in rebuilding the roads and making them more accessible to tourists.
You have two options to explore the top tourist attractions in Nusa Penida. You can rent a motorbike or hire a driver.
I chose to rent a motorbike for about IDR 80 K per day. I rented it directly from my guesthouse, but you can also find motorbikes for rent in the harbour.
If you don't feel comfortable driving a motorbike, I recommend hiring a driver with a car. Prices usually start at IDR 500 K per day (8 hours). This is the best option if you're a group of more than 2 people.
5. Where to stay in Nusa Penida
There are many hotels, guesthouses and hostels in Nusa Penida, each catering to a different budget. I searched for the best accommodation on the island for every budget and below are my recommendations.
Budget – Double-G Guesthouse – excellent location, spacious rooms, air conditioning, friendly staff
Mid-Range – NG Sweet Home – beautiful pool, quiet area, good location, spacious & clean rooms, continental breakfast included
Luxury – Adiwana Resort – excellent location, incredible pool, beautiful views, luxurious rooms, excellent facilities
6. Final thoughts
When planning to visit Bali, make sure to plan a few days for Nusa Penida. I recommend spending 2-3 days in Nusa Penida to really get to experience the island and explore the main tourist attractions.
I hope that you enjoyed this article. I tried to include all the things to do in Nusa Penida and help you have an unforgettable trip. If you have any questions, don't hesitate to ask me in the comments section below.
May the travel bug bite you!
No time to read now? Pin it for later!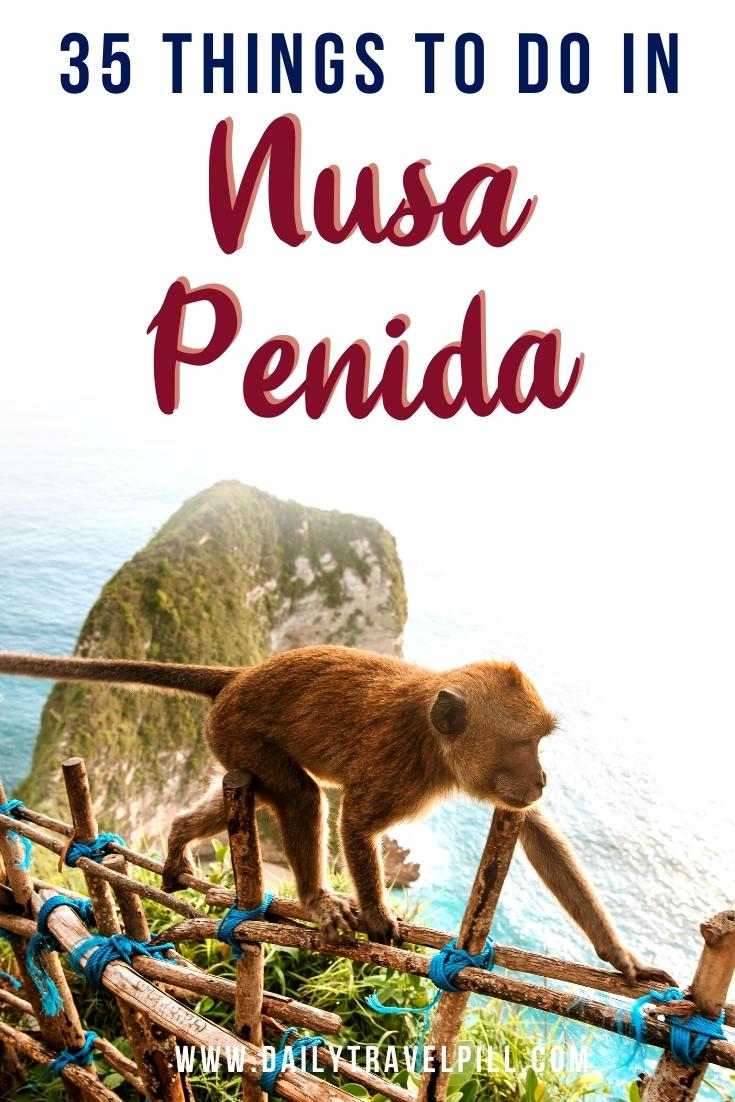 Disclosure: Please note that this post may contain affiliate links. If you make a purchase through these links, I will earn a small commission at no extra cost to you. I only recommend companies and products that I trust and the income goes to keeping this website running. Thanks!