And another year is almost gone. December is one of my favorite months. I love everything about Christmas – the markets, the food, the decorations, the time spent with family. I spent the last Christmas in Bali and I missed terribly all these things.
This year I decided to make the most out of the holidays. Here is a summary of what December looked like for me.
If you want to read about what 2019 meant for me, check out my year in review.
1. Travel
A road trip to Sibiu, Romania
Dan and I started the month with a short celebration. We celebrated 7 years of being together by going on a road trip. I can't believe that 7 years have passed since I met this wonderful guy, with whom I share so many incredible memories. I never dreamed of finding someone who loves and supports me as much as Dan does.
To celebrate these wonderful 7 years of our lives, we booked one night in Sibiu, one of the most beautiful cities in Romania. I haven't been to Sibiu since I was in high school so I was really excited about this trip.
On our way to Sibiu we made a quick detour to the Clay Castle of the Valley of Fairies. This incredible castle built by a Romanian couple is situated at the base of the Carpathian Mountains. Its unique architecture attracts hundreds of tourists each day. We had a lot of fun taking pictures and then we continued our journey to Sibiu.
After arriving in Sibiu, the first thing we did was heading to the Christmas Market. Walking on the city's narrow streets I couldn't help but notice how interesting the rooftops were.
Here, in Sibiu, houses have high rooftops with small windows that resemble the human eyes. It was like all the houses were watching us. I haven't seen this type of architecture anywhere around Romania until now.
The Christmas Market of Sibiu takes place in the Grand Square. There are hundreds of wooden shops, a skating rink, a big wheel, and many other attractions. There were so many people that we could barely move.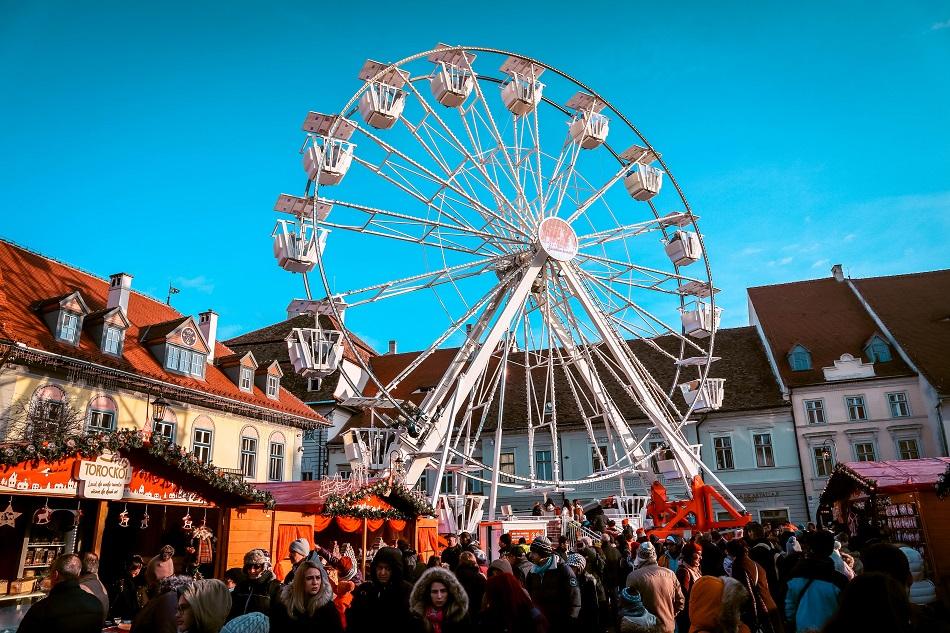 We bought a few souvenirs and then we queued for about 20 minutes to buy one of my favorite desserts – Kurtos Kalaks, also known as Chimney Cake.
We came back to the market in the evening when all the lights were turned on and there were even more people. I loved the Christmasy vibe and after drinking some delicious cinnamon wine, we headed to our accommodation.
The next day in the morning we decided to visit the famous Brukenthal Museum. Unfortunately, we only had time to visit the history & national treasure section. Next time when we'll be back in Sibiu we'll save one day only for visiting all the Brukenthal Museums.
We had lunch at the oldest restaurant in Romania, Butoiul de Aur, the place where the famous ruler Mihai Viteazul dinned a long time ago. The restaurant was quite small, but it had nice decor. We ordered papanasi, my favorite Romanian dessert. They were good but not great.
It was time to hop in our car and head back to Bucharest. It was a short trip but it was enough to relax and explore the city.
Christmas time!
We spent the Christmas holidays with our family. We first visited Dan's parents in Targu Mures and then we visited my parents in Brasov.
One of the things that really brings the Christmas vibe into my heart is snow. Unfortunately, this year there was no snow in Brasov. However, we did a day trip to Bran and Predeal (Dracula Castle and the surrounding villages) and it snowed. It was finally Christmas!
We spent our time eating lots of traditional food and sweets. I get hungry only when I think about it.
2. Travel plans
We have no specific travel plans for January but we want to go skiing in Bansko, Bulgaria. Also, at the beginning of February we planned an awesome trip to Portugal.
I've been dreaming about visiting Portugal for such a long time and I can't believe it's finally happening. We will spend a few days in Lisbon and a few days in Porto and I'm really excited about the food and the sights we're going to see. Stay tuned for some awesome photos and detailed guides about Portugal.
3. Daily life updates
I've been struggling with some allergies for quite a long time and it doesn't seem to get better. I've seen a couple of doctors but nobody seems to figure out what's wrong with me. My allergies are probably the ones that are causing my cough too.
I still have a few tests to do and hopefully, I will get the right treatment.
One a happier note, I've started a new TV series – The Vikings. I LOVE IT! The characters are well-built and the story is very entertaining.
4. Blog updates
The Google gods have turned their faces back on me! After experiencing a dip in traffic at the beginning of November, my traffic is almost back to normal. With more than 110k monthly page views, my blog is growing again.
I have also invested a lot of time in publishing new content. Here are the blog posts published in December:
Thanks for staying up to date with my life. See you next month!
May the travel bug bite you!
Pin it for later!
Disclosure: Please note that this post may contain affiliate links. If you make a purchase through these links, I will earn a small commission at no extra cost to you. I only recommend companies and products that I trust and the income goes to keeping this website running. Thanks!