I'm a little late publishing this journal but the past month has been CRAZY to say the least. If you've been following me for a while, you probably know that for the past one and a half years me and my boyfriend Dan have been traveling full time around Asia.
You know what they say – all good things have to come to an end, our journey included. After much thought, we decided to give up to nomadic lifestyle and return home to Bucharest, Romania for around one year.
I will tell you more about our decision in this journal but now let's talk about some awesome places we've visited in Bali and Athens before our trip back to Bucharest.
1. Travel
Last weeks in Bali
Bali has been our home for about seven or eight months during our full-time-journey and it felt only right to explore more of it before returning back home. Since we never explored the northern part of the island, we decided to hop on our scooter and set for a 5-day adventure to some incredible waterfalls and temples.
After driving for a few hours, we stopped at Pondok Nyoman guesthouse. This super-affordable guesthouse is a true oasis of tranquility and beauty. Overlooking the endless rice fields and with a beautiful infinity swimming pool, Pondok Nyoman is one of the best accommodations we've ever had.
-> Read all my Bali travel guides
We couldn't help ourselves to take some photos around this awesome guesthouse and after this we decided to start exploring some nearby waterfalls. Our first stop was at the beautiful Nungnung Waterfall. There is one thing you should know about the waterfalls in Bali – to get to them you will have to climb a LOT of stairs.
Our legs were shaking, our skin was covered in sweat but we were welcomed by this incredible waterfall surrounded by tall stone walls and lush vegetation.
On our way back to the guesthouse, the rain threatened to ruin our plans but we were lucky enough to arrive back untouched by it. We ordered some Nasi Goreng and Mie Goreng and sat down, amazed by the rice fields and endless mountains sitting in front of us.
The next day we woke up early and set for Leke Leke Waterfall. This was one of the main attractions I wanted to see. Although this waterfall is quite small, there is something special about it. The small stream of water and the surrounding walls covered in moss and small plants make Leke Leke Waterfall truly special.
Given the fact that we arrived there early, there was nobody around and we managed to take many photos at this beautiful location and still had time to admire its beauty. On our way out we made a stop at some of the most famous nests in Bali.
If you don't know yet, nests and wooden hearts are a thing in Bali and everyone wants to take photos in them. We couldn't resist and we decided to take advantage of this opportunity and shoot some romantic, cliche photos. Let me know in the comments what you think (Shhh… Dan was not very happy about taking photos here but I think that the end result was worth it).
After our stop to Leke Leke Waterfall, we headed to one of the most popular temples on the island – Pura Ulun Danu. This place is known for the tall temple standing in the middle of the Danau Beratan Lake. Even though the temple is beautiful, I was a bit disappointed.
The place is flooded with tourists and honestly, I expected the temple to be much bigger and impressive. I'm not saying I didn't like it but it just wasn't what I expected.
Following the path of other millions of instagrammers, we decided to also stop at the famous Handara Gate. Apart from the entrance fee to the gate and the tens of tourists standing in line, waiting to take a shot, this gate is one of the hundreds of similar gates one can find in Bali. We decided to continue our journey and skip it.
We stopped for the night at a beautiful guesthouse called Woodstock In The Village and the next day we headed to the Hamsa Resort, near Lovina Beach. We initially booked 2 nights here but we loved the place so much that we decided to book another night.
-> Read all my Bali travel guides
On our first day, we visited the beautiful Gitgit Waterfall and an off-the-beaten-path temple called Brahmavihara-Arama and I have to say – I LOVED IT! Full of beautiful statues and fascinating shrines, this temple stole my heart. It's my favorite one in Indonesia!
I loved the mushroom-shaped pagoda, the temples, and the beautiful gate. It's a place that should be on everyone's itinerary when visiting Bali.
The next day we headed to some of the most popular waterfalls in Bali – Munduk Waterfall and Banyumuala Twin Waterfall. After driving on some steep hills and witnessing some incredible views we finally made it to Munduk Waterfall. Once we arrived there, we found out that there is another waterfall we can visit within walking distance.
On the way to the second waterfall, we found a wild avocado which looked edible. The jungle also welcomed us with coffee trees, papaya trees, and ferns. It was a spectacular walk, right in the middle of the jungle.
Melanting Waterfall was beautiful and less crowded than Munduk which was awesome!
Once we climbed all the stairs back to our motorbike, we headed to the next destination – Banyumuala Twin Waterfall. I'm not gonna lie, this is a quite touristic and busy waterfall but its beauty is indisputable. We spent about half an hour there but then we had to rush back to our accommodation since the rain was threatening us again.
Back at Hamsa Resort, we spoiled ourselves with a magical sunset and a swim in our awesome infinity pool facing the sea.
We knew this was our last road trip until going back home so we tried to enjoy and take advantage of every moment. After traveling around the world for more than a year, it's quite nerve-wracking to think about going back home but more about this in the next section.
-> Read all my Bali travel guides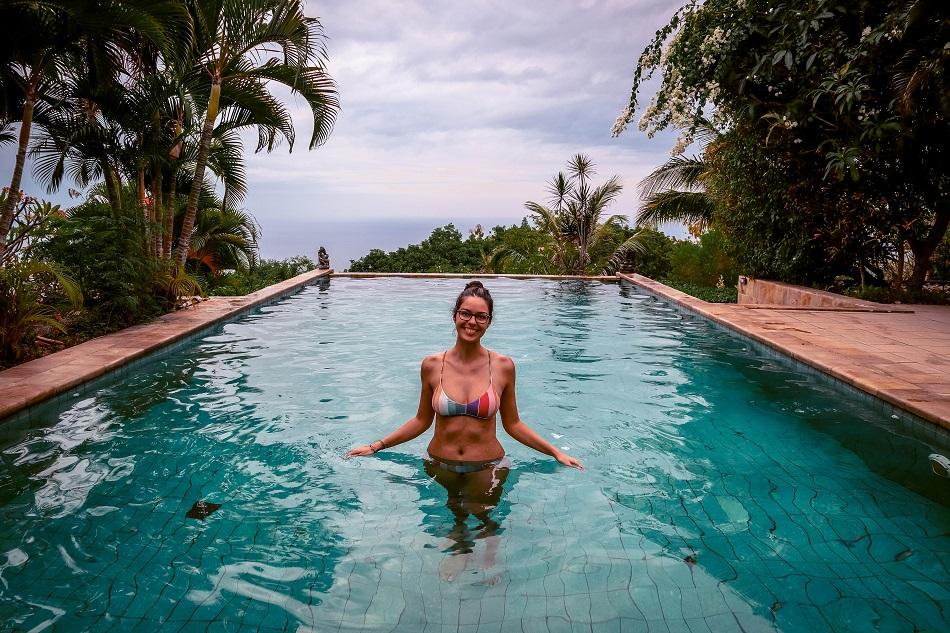 The hardest goodbye we had to say was to Milo. This cute ball of fluff made our days in Bali brighter and happier. He was the dog of the couple who own the villa we rented in Canggu, the same villa where we spent about 8 months in total during our trip to Asia.
When we first arrived he only had a few weeks and we basically watched him grow. We became very attached to Milo but I am sure that sometime we will go back to Bali and pay him a visit.
A quick stop in Greece
One our way back to Bucharest we had a layover in Athens and we took the opportunity to explore the city and its surroundings. It was our second time in Greece and honestly, I was really excited about all the cheese I was about to eat.
If there is one thing that I really missed while traveling in Asia, it's the cheese. Asian people don't consume dairy products and I am a big fan of milk, yogurt, and cheese. Being in Greece and eating tons of Greek salad was all I wanted to do.
We rented a small studio for a few nights and on our first two days, we explored all the ruins and tourist attractions in Athens. I was really impressed by the Acropolis. It's incredible how such a big part of history is still standing today, allowing tourists from all over the world to admire it.
-> Check out my awesome Athens itinerary!
Some other locations that I loved in Athens are – Athenian Agora, Little Kook, Acropolis Museum, and Olympieion.
On our last day in Athens, we decided to take a one-day cruise to three nearby islands. We woke up early, got on the boat and listened to Greek music while heading to our first stop – Egina Island.
It was a terribly hot day but nothing could ruin the beautiful views we were about to see. We had about two hours on Egina and the first thing we did was to buy ice cream. After enjoying our refreshing ice cream, we started exploring the city.
Our second stop was at Poros Island. We only had 45 minutes here and we really wanted to get some drone shots so we focused on doing that.
Towards the end of the day, we finally got to Hydra Island and had a few hours to explore this place. I loved all three islands but in my opinion, Hydra is the most beautiful one. I will let the pictures speak for themselves.
-> Read more about our day cruise from Athens here
2. Returning to Bucharest
Well, you might think that we're crazy. We traded the digital nomad lifestyle for going back home. The truth is that we were tired. Very tired. After one and a half years on the road, we've had enough of changing our accommodation every other day.
We wanted to have a place for ourselves, a place we can call home. You might think that traveling full time is all fun but it's not. Imagine being in a foreign country, changing cities every 3 days, searching for food & accommodation, not having your loved toiletries, washing clothes by hand, and visiting tourist attractions almost every day. Now imagine doing this for more than a year.
It's life-changing, incredible, one of the best experiences of my life but also one of the most tiring ones.
Returning back home means going back to routine, to family & friends, and comfort. We needed a break, some time to breathe and not think about which bus are we going to take or where are we going to spend the night.
Does this mean that we're never going to travel full time in the future? NO!
We're already planning our next full-time journey in about one year from now. We want to go to the USA for a few months and do an epic road trip around the country. And that's not all! We plan to take a cruise to get there!
I'm super-excited about this trip and I'm sure it's going to be epic but until then, I'm enjoying the comfort of being back home. I want to catch up with friends, spend time with my family, go to the movies, attend some festivals, and do all the things I couldn't do in Asia.
What happens next? you might ask. I've decided to continue investing my time in this blog since during the past year I have built an incredible, supporting audience. I am going to be a full-time blogger. During the next year be prepared for over 100 travel guides with practical tips & tricks about all the destinations that I have visited. I have huge plans for this blog!
Meanwhile, Dan is going back to his old job, working for the same company he worked for when we left Romania.
Working from home is something totally new for me since I've only worked in big companies until now in marketing and advertising. I will have to resist the temptation of opening the TV and procrastinating but I have to keep myself motivated and focused on our next journey to the USA.
3. Travel plans
Since we're back in Europe, our goal is to explore more of this beautiful continent and visit some new countries. Our first stop will be in London at the beginning of September. We will be there for a few days to attend an exciting blogging conference – Borderless.
We're pretty happy and scared to attend this conference since it is our first one. I don't know what to expect and I'm really curious to see what's the vibe. Attending such conferences is a great opportunity to meet fellow bloggers and partner with brands.
Apart from London, we don't have any travel plans yet but I will keep you updated!
4. Blog
Although I've been traveling a lot, I managed to post some fresh content on my blog. This blog now receives more than 110,000 monthly page views and I'm super proud of it. Below is a list of some awesome articles, fresh from the oven.
If you read all this, you're the real MVP. Thanks for following my journey and if you have any questions, don't hesitate to ask me in the comments section below. See you next month with other updates!
May the travel bug bite you!
Read more:
Pin it for later!
Disclosure: Please note that this post may contain affiliate links. If you make a purchase through these links, I will earn a small commission at no extra cost to you. I only recommend companies and products that I trust and the income goes to keeping this website running. Thanks!