Are you planning a trip to Southeast Asia and you're wondering what to bring with you? After traveling non-stop for almost 2 years in Asia, I'm here to share with you the ultimate packing list to Southeast Asia, backpackers' edition.
Unlike other packing guides, this guide is tailored specifically for backpackers. I know how hard it is to pack your life in just a backpack, but I'm here to help you and guide you. You can travel light and efficient and I'm going to show you how.
I've compiled this packing list for Southeast Asia, keeping in mind that space is the most important. I have a few tricks under my sleeve that took me years of backpacking to learn that helped me travel light.
This packing guide is suitable for a wide range of activities (hiking, swimming, city walks and more). After traveling through a wide range of climates, I learned which items are a must and which are a burden.
Here are the must-have items when traveling to Asia.
1. Choose a backpack – the most important item
Like a turtle carries its shell, you'll carry your backpack everywhere you'll go. It's crucial to choose a comfortable, sturdy and spacious backpack, tailored for your height and physical strength.
The size of a backpack is measured in litres.
If you're a girl planning to backpack in Southeast Asia, I recommend a 40-50 litre backpack. If you're in good physical shape and you're tall, you can choose a 60 litre.
If you're a boy planning to backpack Southeast Asia, I recommend a 60 litre backpack. You can carry electronics in it, clothes and if you're traveling with your girlfriend, you'll have enough space for some of her stuff too.
Personal story – Every time I and my boyfriend go backpacking, my travel bag is always full. If we decide to buy souvenirs, he's the one who carries them. That's why Dan always saves a small space in his backpack for souvenirs and unplanned items.
Going back to backpacks, here are my recommendations.
Travel backpacks for girls
Osprey Farpoint 40L – Perfect for girls, this Osprey backpack is small enough to be carried on long walks and spacious enough for all the things you need. It's sturdy, comfortable and affordable!
Osprey Farpoint 55L – If you need a little extra space, I recommend the 55L option. It has a detachable daypack you can use to carry your laptop.
OneNice 50L – If you're looking for a more affordable option, I recommend this backpack for girls. It's spacious, it has lots of compartments to put your stuff and it's super-comfortable.
Travel backpacks for boys
High Sierra Pathway 60L – This backpack is perfect for traveling for a longer period. It's sturdy, it has many compartments and it's durable.
Mountaintop 65L – This backpack is spacious enough for all your gear. It's designed to be comfortable and easy to carry on long walks. It has many compartments and it's affordable.
Osprey Atmos 65L – With anti-gravity suspension, this backpack is super-easy to carry no matter how much you plan to carry with it. It's on the high-end section of backpacks, but the Osprey Atmos is one of the most comfortable and reliable backpacks on the market.
2. Security items for traveling to Southeast Asia
One of the most important things to me is keeping my stuff safe. Being a travel blogger means carrying lots of electronics with me (drone, laptop, camera, GoPro and much more). Even as a regular traveler, you'll have some valuable items with you. Maybe a laptop or a camera to capture those unforgettable moments.
It's important to take some precautions when backpacking in Southeast Asia. Apart from paying attention to where you leave your valuables, there are some other ways to keep them safe. Here are a few items to help you.
Travel padlocks – These TSA accepted locks are great to prevent theft. You can use them to secure your backpack while on the move or in hotels.
Anti-Theft crossbody for girls – This anti-theft crossbody is perfect for exploring cities. When in crowded locations, this crossbody is the perfect choice to keep your valuables safe.
Anti-Theft money belt – This belt travels with me everywhere. I keep my passport and money in it and I wear it under my clothes, around my waist. It's the perfect item for keeping your money and small valuables safe and away from the pickpockets' eyes.
Anti-Theft scarf – Another way to keep small items safe is to hide them inside this anti-theft scarf. Trust me, nobody would expect you to have something hidden inside your scarf.
3. Waterproof items that will protect your valuables
Going island-hopping is a must while in Southeast Asia. I remember my first island hopping trip in El Nido. I woke up early in the morning; the sun was rising over the nearby islands and I hopped on a boat together with some other tourists to explore El Nido. It was simply amazing! The water was incredibly blue, the exotic islands were surrounding us and we visited some amazing places.
Throughout the trip, I kept my camera and phone in a waterproof bag. I can't imagine hopping on a boat without keeping my gear safe. However, about two weeks later when we were in Siargao, Dan forgot to put this camera in his waterproof bag and when he got off the boat on Guyam Island, a wave made him loose his balance and he stumbled into the water.
The camera was gone, but the drone inside the waterproof bag was fine. So learn from our mistakes and buy some waterproof items to keep your valuables safe. These are some of the travel essentials while in Southeast Asia.
Waterproof dry bag – This is a life-saver when going on island hopping trips. This bag will keep your electronics dry.
Waterproof phone case – If you don't have a waterproof phone, this case is everything you need! You can wear this case around your neck when going to the beach or when going island-hopping.
Waterproof storage bags – These waterproof ziplocks are perfect for keeping dry smaller items. I used them for my passport and documents.
Backpack Waterproof Cover – to keep your backpack dry during rain
4. Travel clothes for Southeast Asia
You won't need many clothes when traveling to Southeast Asia. As a girl, I only had a few clothes and whenever I needed more, I headed to the closest local market and I bought some. You can find many beautiful clothes in Asia at affordable prices.
Also, due to the region's climate, drying clothes is super-easy and fast. I chose to hand-wash my clothes, but you can also find many laundries that only cost a few dollars.
The packing lists below are designed to cater to the average traveler's needs. If you're more into adventure sports or water sports, you'll have to slightly adapt this list.
Southeast Asia packing list for Women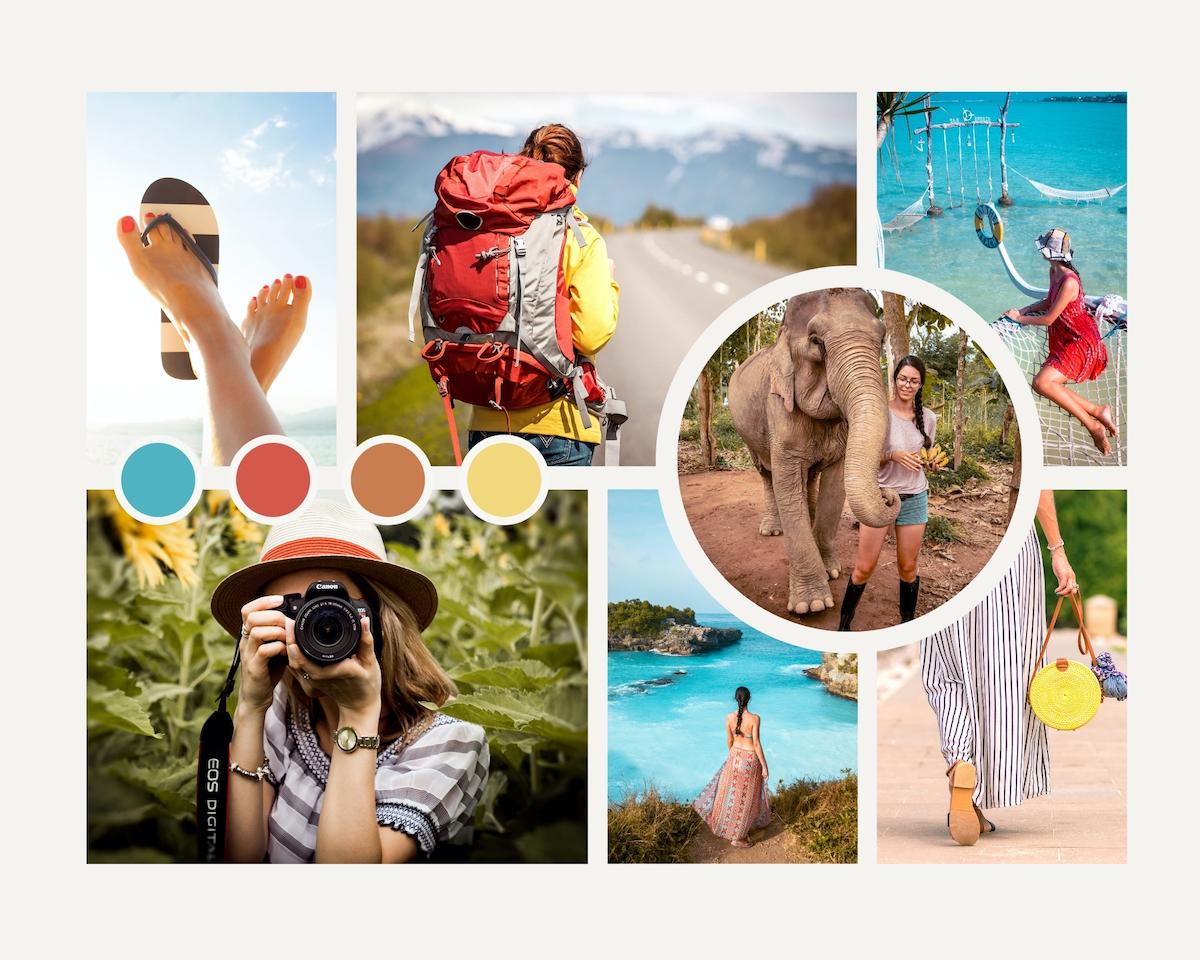 Southeast Asia packing list for Men
I don't pack pyjamas when traveling. Usually, I only wear a t-shirt and a pair of shorts that can also be worn outside. I recommend you do the same – you'll save precious space.
5. Other travel essentials you'll need when backpacking in Southeast Asia
As a backpacker, you have to make the most out of the available space in your backpack. That's why I recommend buying some reliable packing cubes and microfiber towels. Also, below I've included a few other items that will make your life easier!
6. Electronics packing list for Southeast Asia
Southeast Asia is incredible. From beautiful islands in the Philippines like Bohol and Siquijor, to stunning waterfalls in Bali and beautiful cities like Kuala Lumpur, this region is full of places to see. I'm sure you'll want to take photos in all the incredible places you'll visit.
Here are some gadgets you'll need.
7. Toiletries packing list for Southeast Asia
The most important item you'll want to buy is a mosquito repellant. The mosquitos are devious in Asia and you'll want to stay away from them.
You'll find toiletries everywhere in Asia, but it might be difficult to find your favorite brand. If you only use one type of shampoo or only one type of face cream, I suggest bringing it with you.
Good to know – I recommend buying refillable small bottles (under 100 ml) to keep your shampoo, shower gel and other creams or gels. You can then refill these bottles and they are small enough to be carried in your hand luggage when traveling by plane.
Toiletries for Women
It's pretty hard to find tampons in Asia since the locals use mostly pads. When you find them eventually, you'll have to pay a lot for tampons. I recommend bringing enough with you.
Alternatively, you can try a menstrual cup. I haven't tried one yet, but I've heard excellent reviews about them. Get used to the cup a few months before traveling, just to be safe and comfortable on the road.
Toiletries for Men
8. Backpacking Asia checklist – the most important items
Asia packing checklist for women
Asia packing checklist for men
9. Transport and Accommodation in Southeast Asia
If you're planning to visit more than one country in Southeast Asia, planes might be the best option for you. However, if you plan to travel within a smaller area, I recommend buses. There are many bus companies operating in Southeast Asia and most of them offer excellent services and connections.
For booking buses, I always used 12go.asia , a website where you can find buses in countries like Thailand, Vietnam, Malaysia, Cambodia and more.
When it comes to accommodation, I only use Booking.com. There are other websites like Agoda, but I had some bad experiences with them and I can't recommend them.
10. Southeast Asia backpacking inspiration
If you're on a budget, check out my article about the best budget destinations in Southeast Asia. I've traveled for almost two years in Southeast Asia and here are some of my favorite destinations and experiences:
11. Final thoughts
I hope that you've found useful this packing list for Southeast Asia. I've included all the items that I carried with me while backpacking in Asia. As a backpacker it's important to use the space wisely and I'm sure that this guide will help you organise your bag.
If you have any questions, don't hesitate to ask me in the comments section below. May the travel bug bite you!
Pin it for later!
Disclosure: Please note that this post may contain affiliate links. If you make a purchase through these links, I will earn a small commission at no extra cost to you. I only recommend companies and products that I trust and the income goes to keeping this website running. Thanks!